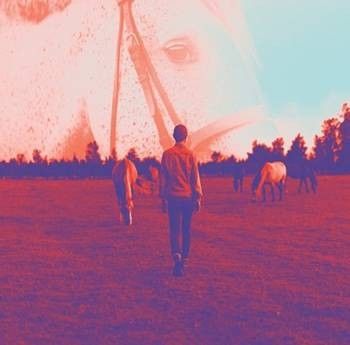 Erki Pärnoja - Efterglow
Estonian songwriter and multi instrumentalist Erki Pärnoja releases new melancholic and meditative single 'Efterglow' out 10th February. This will be the first single from his new album of the same name out 21st March.

The track evokes the idea of cinematographic music without the actual film. Ethereal grieving synthesizer sounds are blended with a distinctive cutting guitar, surfing on a shimmering wave of reverb – Best described as cinematic, acoustic, synthetic and mystical.

Speaking more about the track and album Erki goes on to explain how, "'Efterglow', like all the songs on the upcoming album, carries a certain moment, experience or a picture in it. Every melody line, every riff or chord is just a detail of a bigger construction that helps me position myself somewhere in time, revive/recapture an emotion or memory, experience or a lesson in life."

Erki is also a part of the well known Estonian art-pop group Ewert and the Two Dragons. His new solo album 'Efterglow', arriving March 21st, was recorded and produced in Tallinn, Estonia by the same team as his debut EP 'Himmelbjerget'. The producer/keyboardist Filip Leyman and drummer Ulrik Ording have both worked with critically acclaimed Swedish singer Anna von Hausswolf and Gothenburg singer-songwriter Albert Af Ekenstam. Erki will be performing this February at Kino Siska in Slovenia and Tallinn's Music Week Festival and Jazzkaar Festival.

Erki Pärnoja's 'Efterglow' is a journey in time, a moment for reflections and remembrance. When the single drops on 10th February, its melancholic and contemplative sound will be a hard one to forget.