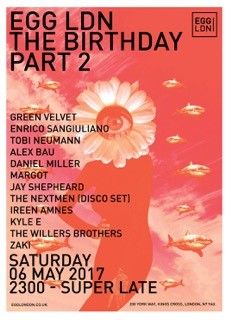 EGG LDN BIRTHDAY WEEKEND PART II GREEN VELVET, ENRICO SANGIULIANO,TOBI NEUMANN & MORE
Looking to another defining producer and DJ for the main event – Egg London's Birthday Weekend Part II welcomes the legendary techno trend setter, Green Velvet, also known as Cajmere, Chicago's very own Curtis Jones. With his trademark bright green mohawk and wraparound shades, darkly humorous tracks such as 'Flash', 'Answering Machine', 'La La Land' and 'Bigger Than Prince' have proven his unmatched talents as a both a producer and lyricist, putting him in a league of his own since the early '90s. With his DJs set also featuring live vocals though his headphones, expect something truly special.
Joining him in the Main Room them both is Enrico Sangiuliano, part of the seemingly unstoppable Drumcode family and a representative of Italy's ever growing techno community. He finished 2016 as Beatport's No.1 selling techno artist, no doubt helped by remixing Moby's classic 'Why Does My Heart Feel So Bad'.
Added to this is the equally influential is Daniel Miller, founder of Mute Records. Starting the label in 1978 to release his own 'Warm Leatherette' cult electronic track under the name The Normal, and later covered by Grace Jones, Mute introduced the world to Depeche Mode, Erasure, Fad Gadget, Goldfrapp, Moby, New Order, Nitzer Ebb, Wire, Yazoo and many more. Having returned to DJing after an invite to perform with Sandwell District at Berghain, expect a lesson in techno from the man who laid its foundations.
Turned onto the dance scene after attending the '95 Love Parade, Berliner Tobi Neumann is a pillar of the city's house and techno community with his riverside studio. Whether known for his productions for techno/electro acts such as Chicks On Speed, 2Raumwohnung and Miss Kittin, collaborations with the likes of Masomenos and Christian Burkhardt, or a continuous globe-trotting DJ schedule as part of the Cocoon crew, he'll bring a sound as deep and varied as his own history.
Italian duo Margot join in the Birthday fun as their 'Er Suonone' track continues to rock dance floors and a big tune for both Monika Kruse and Sven Vath, who included it on his 'The Sound Of Cocoon' 17 album. The Margot remix of 'Weval' on Kompact Music is also firing up the floor and watch out for some Exclusive techno action on the 6th.
Alongside techno you can catch Jay Shepheard famed for his EPs on Compost and work with influential artists such as Faze Action and Robert Owens, house it up on the Ground Floor alongside London's respected Muak team of Zaki & Mannish, whose Muak nights and label have built up a strong following with its 40+ releases including gems from Shur I Kan, Giom, Le Roi,and Kyodai.
A huge part of the Egg London Birthday Weekend celebrations are the Resident DJs Kyle E, Ireen Amnes and The Willers Brothers. Hugely enthusiastic talents, the trio regularly spin in Berlin and Ibiza, as their recent productions are scoring them even wider dance floor success, and watch out for their releases Egg Ldn's new What Came First label.
Transitioning from daytime to night time, Gold Diggers in The Loft welcomes DJ/Producers, The Nextmen playing an Exclusive 'disco' set fuelled by their super selection of mash-up edits, bootlegs, specials and remixes. Perennial festival faves built on their party podcasts, DJ sets and live shows, and get ready for the get down.
Egg Ldn: The Birthday – it's all about the right music, right people, right attitude and those with enough stamina can party long past sunrise.