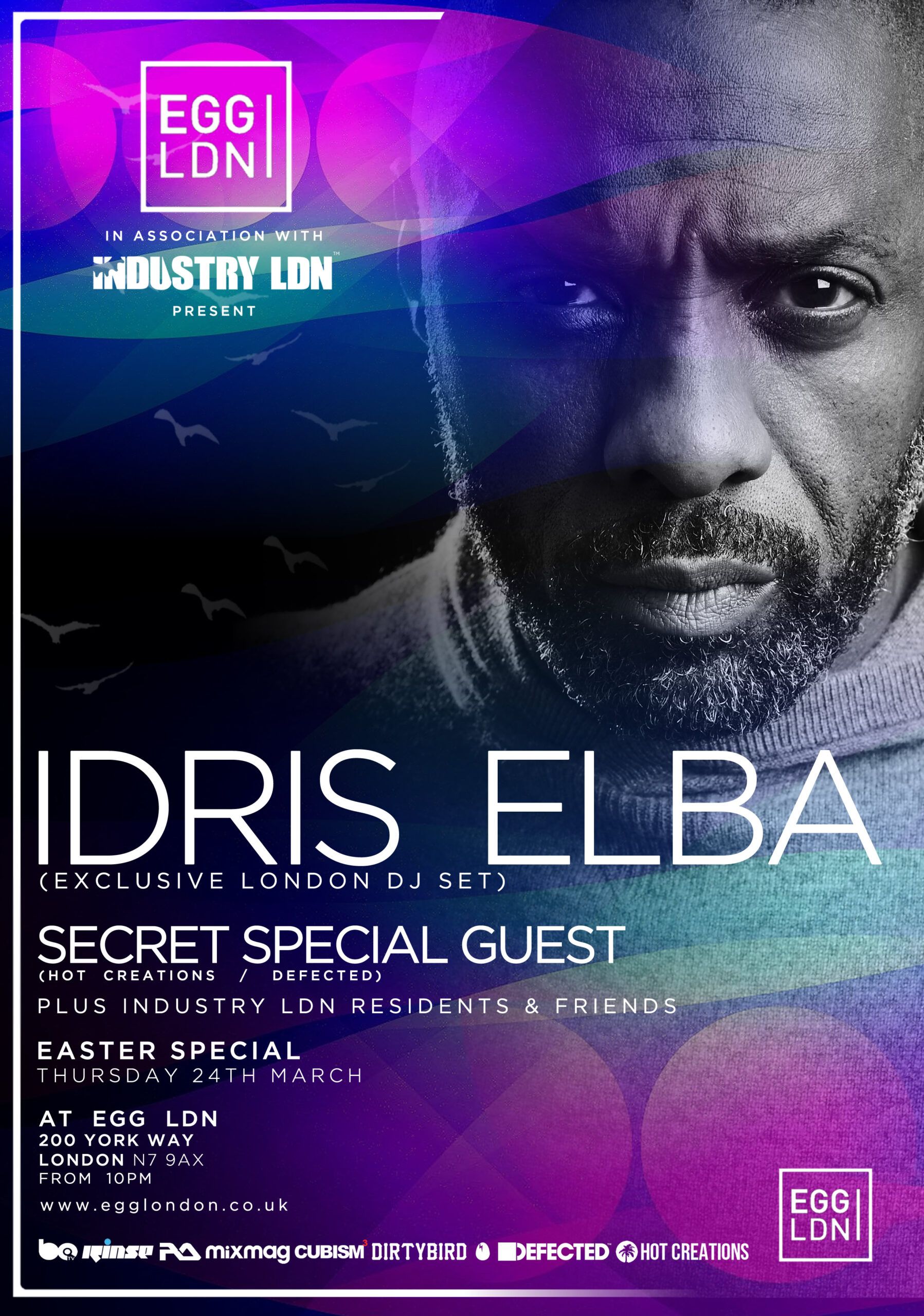 Egg Ldn & Industry Ldn present Idris Elba Easter Special + Surprise Special Guest
Secret Special Guest Headliner (Hot Creations/Defected)
Thursday March 24th
"That's reinvention. Come on, man, this is art, man; we've all had a paintbrush, we all can't paint the same landscape."Idris Elba, The Guardian
Style and acting icon, Idris Elba, makes his Exclusive Debut at Egg Ldn on Thursday March 24th headlining the Easter Special alongside an announced Secret Special Guest from the Hot Creations/Defected stables. Set to smash Egg Ldn, this is where the Easter weekend starts…
"Elba is the kind of guy who can make the unexpected happen. A bit of an everythingist. He writes, he directs, he DJs, he raps; not so long ago he broke a landspeed driving record." The Guardian, Dec 2015
His acting roles have seem him tackle everything from hardened cop, 'Luther' to Baltimore gangster, Stringer Bell in 'The Wire', as well as starring in fantasy flicks such as 'Thor' and 'Pacific Rim', a statesman in 'Mandela: Long Walk To Freedom' and coming up is a role in the new Star Trek movie, 'Prometheus'. His rugged, affable charm has seen him launch his own line for clothing company, Super Dry which he mixes with high profile DJ sets around the world including stints in Ibiza and on tour with Madonna. Egg Ldn warmly welcomes Idris Elba for a London Easter Exclusive where he will headline their much talked-of new garden warehouse room alongside a Secret Special Guest DJ from the Hot Creations/Defected stables.
Egg Ldn and underground clubbing party, Industry, welcome back leading UK label,Cubism Records in Room 2 headlined by an explosive Live show from Saytek alongside DJs Barber, Mark Gwinett, Deano Loco and Ash Blewer. Playing to packed out crowds around the country, Cubism's quality house and techno music is set to smash Egg Ldn on Easter Thursday March 24th.
On The Terrace Pete Graham (Dirty Bird) and Rinse FM's Lance Morgan house up the crowds whilst disco and house reigns on the top floor Loft. Topping if off the D.S.U.B crew takeover Egg's club-within-the-club Apothecary with their own deep house sound and party people.
Renown for its hedonistic parties and leading production, Egg Ldn's unique party atmosphere is set to go up another gear this Easter with the Exclusive debut of Idris Elba. Bearing all of this in mind, please get your tickets early to avoid disappointment, and Early Birds are £10.00 and see you on the dance floor!!
Listing Info
event: Easter Special with Idris Elba
date: Thursday March 24th
at: Egg Ldn, 200 York Way, Kings Cross, London, N7 9AX
times: 11pm-6am
Line Up: Main Room: Idris Elba (DJ set), Secret Special Guest Headliner (Hot Creations/Defected), Ripley, Si Hesling and Tom Finn
Room 2: Cubism Records with Saytek Live + DJs Barber, Mark Gwinett, Deano Loco and Ash Blewer.
The Terrace: Pete Graham (Dirty Bird), Rinse FM's Lance Morgan, Jakki Degg and Smokin Ace
Loft: Kenzie, Shaun Samuel, Troglodyte Disco and L.E.D
Apothecary: D.S.U.B hosted by Loskiboy with DJs Junior Buzz, Swayzee, Jacques Groove, Jus' Me & Jawzy and LJ Laurie & Tony King
DJ support across the rooms from Smoking Ace, Ben Murphy, Ross Donworth, Kayne & Sanchez, Ninety7, LIam Moriarty, Them Noisy Neighbours, Darren Pasley, Kiyo, Benjamin Buttons, AN:ON and DJ Wheels
Tickets: £10 Early Bird, students and £15, more on the door
Tel No: 020 7871 7111
For table bookings please contact:[email protected]
web: www.egglondon.co.uk orhttps://www.facebook.com/events/1554128094879300/
Twitter: @egglondon @industrylondon1@PhutureTrax1