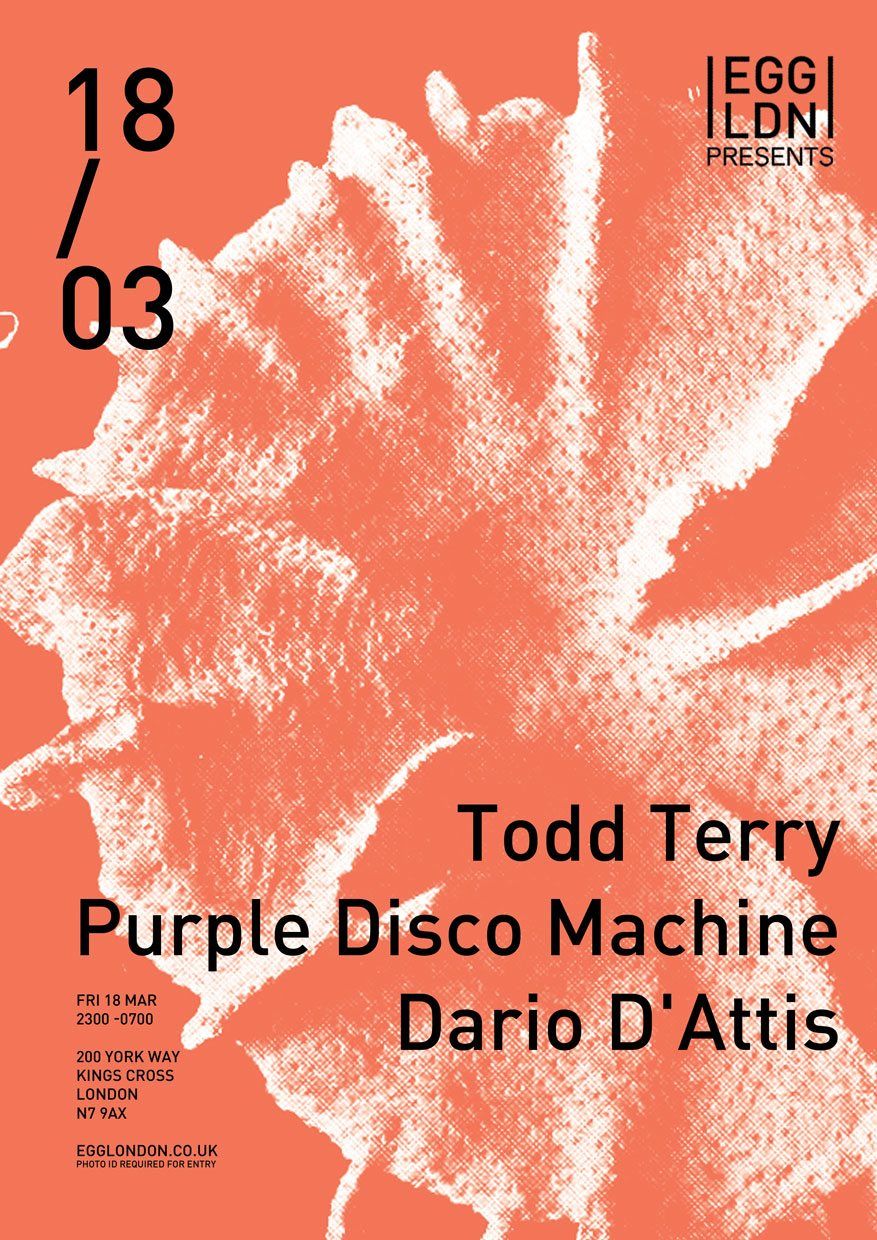 Egg Presents…Todd Terry, Purple Disco Machine, Dario D'Attis
Egg Presents…welcomes all to the church of house music presided over by 'Todd the God' on Friday March 18th and flanked by Purple Disco Machine and Dario D'Attis. Are you a believer?

Todd Terry helped define New York's house music during the 1980's 'Acid House' explosion & his pioneering raw sample-heavy house sees him continue to be celebrated as one of the leading figures in dance music for the last two decades.

Cutting classic underground tracks such as Jungle Brothers 'I'll House You', Royal House 'Can You Party', Black Riot 'A Day In The Life', Orange Lemon 'Dreams Of Santa Anna' and 'Weekend', a cover of Patrick Adams's disco group Phreek, Todd's music is essential and ground breaking. Marked by a heavy and creative use of samples, an inspiration taken from his beloved hip hop, plus his distinct, peak time percussion sound, Todd Terry became one of the most recognisable mixers and wanted remixers in house music, going on to work with the likes of Everything But The Girl on the worldwide smash 'Missing', Bjork, Kylie Minogue and Michael Jackson. Todd continues to produce and grace the decks at leading festivals, world-branded club nights and Egg Presents on Friday 18th of March.

Joined by the ministers of 'deep funk', Purple Disco Machine, whose "My House" lifted them to a new level and stormed the Beatport House charts for months. Following up with tracks like 'Move or Not', 'Let It Whip' and 'I House You' and numerous PDM remixes, they've carved out their own niche and return to fire up Egg London once again.

Rounding off the headliners is Swiss DJ, Dario D'Attis, famed for sets at Mad in Lausanne, Kaufleuten, Supermarket & Club Q in Zurich and Club Duo in Bienne. As a producer he has notched up releases on Purple Music such as 'Dollars' with Lisa Millet,'Can U Feel It' with Freda Goodlett and 'Syndia', 'Spanish Harlem' & 'Skunk' on Purple Tracks as well as remixing Lisa Shaw and Jordan Fields.
Listings Info
event: Egg Presents…Todd Terry, Purple Disco Machine, Dario D'Attis
date: Friday March 18th 2016
at: Egg Ldn, 200 York Way, Kings Cross, N7 9AX
Line Up: Todd Terry, Purple Disco Machine, Dario D'Attis
Times: 11pm-7am
Tickets: £10 in Advance online from www.egglondon.co.uk or http://http://www.residentadvisor.net/event.aspx?791415
For table bookings contact: [email protected]
web: www.egglondon.co.uk