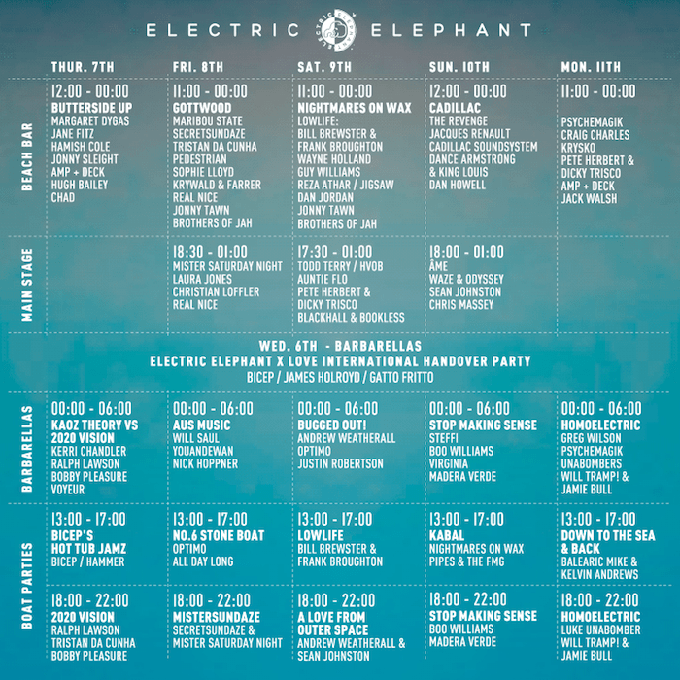 Electric Elephant festival announces complete line-up and day tickets
Taking place from 7-11 July at The Garden Tisno festival site in Croatia, Electric Elephant is one of Croatia's original founding festivals. This year's line-up boasts a diverse range of sounds across the electronic spectrum, including performances from Ame, Andrew Weatherall, Craig Charles, HVOB, Jacques Renault, Jane Fitz, Kerri Chandler, Laura Jones, Margaret Dygas, Maribou State, Mister Saturday Night, Optimo, Steffi, The Revenge, Todd Terry and many, many more. The full schedule for 2016 is revealed today and with guaranteed sunshine and good vibes a plenty this year's edition is set to be the biggest yet.
The action starts on Wenesday 6th July at open-air club Barbarellas as preceeding festival Love International hands over the reigns to Electric Elephant with a joint party featuring Bicep, James Holroyd and Gatto Fritto. Then, from Thursday 7th July to Monday 11th July Electric Elephant takes control of The Garden Tisno with a stellar line-up, twice daily boat parties and a spectacular run of dusk to dawn parties at Barbarellas hosted by partners including A Love From Outer Space, Aus Music, Bicep's Hot Tub Jamz, Gottwood, Lowlife, Nightmares on Wax, Secretsundaze and many more.

All aboard the Argonoughty!
No visit to Electric Elephant is complete without setting sail across the glistening Adriatic for one of Electric Elephant's legendary boat parties which this year feature acts including Andrew Weatherall, Bicep, Bill Brewster, Boo Williams, Nightmares on Wax, Optimo, Mister Saturday Night and more. The final Boat Party tickets, priced at £25, are on sale now. Book your place at http://www.electricelephant.co.uk/tickets-and-packages/purchase-tickets.
Dance beneath the stars at Barbarellas
As night falls, party revellers gather together at the stunning open air club Barbarellas Discotheque to dance beneath the stars until the sun comes up, surrounded by friends and like-minded people. This year's all night extravaganzas feature guest artists including Kerri Chandler, Will Saul, Steffi, Optimp, Andrew Weatherall, Justin Robertson, Virginia, Psychemagik, Unabombers and Greg Wilson. Remaining tickets for Barbarellas are on sale now.
Book yours at http://www.electricelephant.co.uk/tickets-and-packages/purchase-tickets.
Set in a magnificent natural amphitheatre with gently rolling hills leading down to a private bay, a shimmering sandy beach and crystal clear waters, Electric Elephant offers the perfect fusion of holiday and festival. For five days, the leading names in House, Disco and Electronica, perform across three stages, daily boat parties and the magnificent open-air club Barbarella's. Boutique accommodation, luxury Shikar tents, apartments and villas are available on site, with the coastal village of Tisno offering further options and a host of restaurants and cafes, all within easy reach of the festival.
The stage is set for another sun-kissed and music-fuelled adventure. Tickets are now available, priced at £110, plus a limited number of day tickets priced at £35. Book your place at www.electricelephant.co.uk.
ELECTRIC ELEPHANT 2016 LINE-UP
1ST TIER
Âme (DJ) / Andrew Weatherall / Auntie Flo / Bicep / Boo Williams / Christian Loffler / Craig Charles / Greg Wilson / HVOB (live) / Jacques Renault / James Holroyd / Jane Fitz / Justin Robertson / Kerri Chandler / Krysko / Laura Jones / Low Life: Bill Brewster & Frank Broughton / Margaret Dygas / Maribou State / Mister Saturday Night / Nick Hoppner / Nightmares On Wax / Optimo / Pedestrian / Psychemagik / Ralph Lawson / Sean Johnston / Secretsundaze / Steffi / The Revenge / Tristan Da Cunha / Todd Terry / Unabombers / Virginia / Voyeur / Waze & Odyssey / Will Saul / Youandewan
2ND TIER
AMP & DECK / Blackhall & Bookless / Bobby Pleasure / Brothers of Jah / Cadillac Soundsystem / Chris Duckenfield / Chris Massey / City Fly / Dan Jordan / Disco Deviance: Dicky Trisco & Pete Herbert / Down To The Sea and Back: Balearic Mike & Kelvin Andrews / eLDOKO / Gatto Fritto / Guy Williams / Hamish Cole / Hugh Bailey / Jacques Adda / Jamie Bull / Jonny Tawn / Krywald & Farrer / Lemmy Ashton / Madeira Verde / Real Nice / Sophie Lloyd / The Hat / Winston, Pipes & The FMG / Will Tramp!
PARTNERS
2020 VISION / A LOVE FROM OUTER SPACE / AUS MUSIC / BICEP'S HOT TUB JAMZ / BUTTER SIDE UP / BUGGED OUT / CADILLAC / DOWN TO THE SEA AND BACK / ELECTRIC CHAIR / FESTIVAL NO.6 / GOTTWOOD / HOMOELECTRIC / JAUNT / KABAL / SECRETSUNDAZE / STOP MAKING SENSE
MEDIA PARTNERS
RESIDENT ADVISOR / STAMP THE WAX / GROOVE / SOUNDWALL
TICKETS
£110.00
Book now at www.electricelephant.co.uk