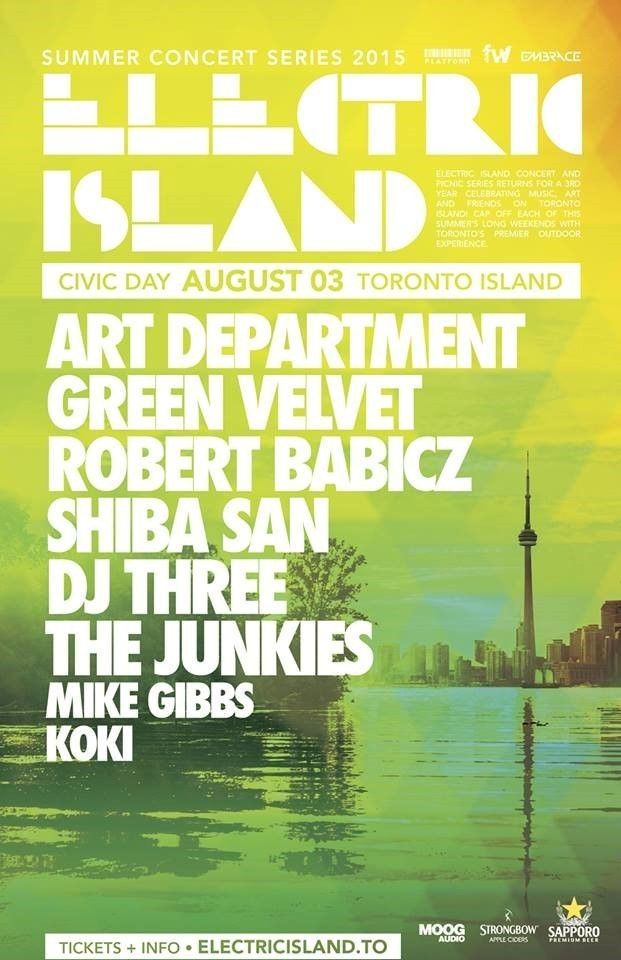 ELECTRIC ISLAND CIVIC HOLIDAY
This past Canada day Electric Island was an incredible success, with beaming sunshine and smiling faces over on Hanlan's Point. After a weekend of incessant rain, it was good karma that welcomed the sunshine back to Toronto, just as Electric Island geared up to open its doors to 7,000+ people on July 1st. Dennis Ferrer, Lee Foss, Sasha and Marcel Dettmann brought an eclectic mix of deep sexy house and upbeat techno to Toronto's Island, for a well-rounded day of music, friends and fun!
On Monday August 3rd Coda, Platform and Embrace brings us the third instalment of the Electric Island concert and picnic series. This next line-up hosts a number of artists near and dear to our city. Toronto's beloved hometown legend Art Department makes his Electric Island debut! Chicago House veteran Green Velvet never fails to leave a lasting impression on our city. With his vibrant sounds and enthusiastic spirit, he'll be joining us on the island once again. We can't wait to have him back!
Electric Island showcases versatile sounds of electronic music, and with German producer Robert Babicz, we'll get to enjoy sweet exotic melodies and experimentally deep sounds beneath the sun. Picking up the pace, and upping the bass ante, Shiba San gives the island a dose of raw, bouncy G-house. A frequent name to the Dirtybird family, and widely recognized by his track "Okay." DJ Three joins us on the island, with his experimental twist on New York house and techno, bringing in deep elements, while maintaining techno's classic essence.
Toronto's international duo The Junkies, will warm up the island with their pummelling basslines and tantalizing techno. The stacked line-up will be supported by local talent Koki and Mike Gibbs. Be sure to take a walk around the grounds to enjoy Electric Island beyond the music. Acro Buddhas will perform together as they work in-sync using strength and balance, to pose into beautiful positions one couldn't imagine was possible. Natasha Kudashkina will be onsite offering her trademark body art for Electric Islanders. Don't forget the food trucks! Electric Island will offer delicious food options such as The Gourmet Bitches, Bacon Nation, Tiny Tom Donuts and more!

You can purchase your tickets now at: http://electricisland.to/
Electric Island is accessible via the Hanlan's Point ferry, which can be boarded at 9 Queens Quay West, near the Westen Harbour Castle hotel. The ferry runs every 30 minutes. Full schedule and more information can be found at http://tinyurl.com/nthdcks