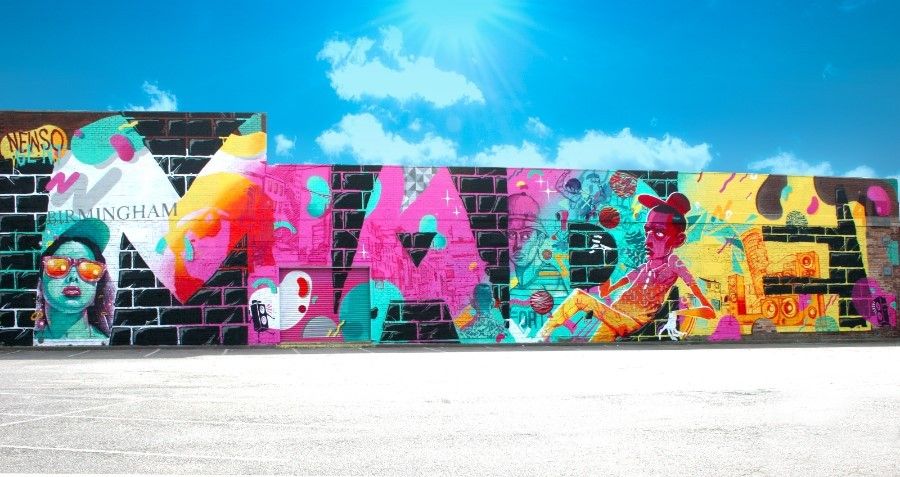 MADE BIRMINGHAM 2015
With only a matter of weeks to go until the 2 day event taking place in the Digbeth Triangle 25-26th July, 2014 Best Metropolitan Festival nominee, MADE Birmingham reveals its very own 400m graffiti wall, lovingly crafted by art collective, Fortyeights as well as details of the multifaceted night time event, MADE…My Night.
Fortyeights is an arts production and independent commercial creative company. It was started by two Birmingham born and bred graffiti artists, Gent and Newso. Its focus is on commercial commissions of their collaborative mural work.
Gent and Newso have collaborated on murals for over a decade. They have painted together and been involved in urban art for more than 18 years.
They continue to stay close to their roots with their graffiti work. Recognised nationally and internationally, the duo have spent the last seven years making Digbeth more inspiring.
"We've been looking forward to this commission, it's a good feeling to have such an open brief and have the chance to create art that's representative of our strong visual identity. We're both passionate about our home city and hope that this wall cheers and inspires others. The mural that we are painting over this week, we painted last year and based it on our cities motto, 'Forward'. A big thanks to Custard Factory and Rainbow Venues for allowing us the wall and giving us continued support" Newso
"What we hope to represent through the design is the vibrancy of MADE and of our area of Birmingham, Digbeth. Over the years we have been working hard to transform this area with our artwork and open up new walls to paint. We've tried to help make Digbeth similar to those places we found on painting travels across Europe. We get invited to other cities to paint these sorts of walls so its good to have more opportunities to have our work brought back to our own city" Gent48
MADE are also announcing details of their official night time event, MADE…My Night, which will take place from 11:30pm to 6am on Saturday 25th July after the festival at a host of venues across the city. After hours crowds will enjoy a line up of acts from the main event as well as a number of special guests outside of the festival programming.
Defected in the House will bring the noise with sets from DJ S.K.T, Sonny Fodera and Sam Divine, the event brand arm of the famed, Defected Records will be throwing their after party at The Warehouse. Revellers who chose Sunrise Party's blowout at The Terrace will enjoy a special sunrise set from Claude Vonstroke back to back with Doorly as well as music from Lee Foss and Santero. Seedy Sonics will be holding their MADE…My Night party at Blackbox with the likes of Kove and Endor topping their bill. And finally, The Garden will see DJ performances from a number of DJ's including the winner of the MADE Mixcloud DJ Competition. One ticket gains you access to all the events.
TICKETS ON SALE NOW www.madebirmingham.com

MADE…MY NIGHT
Saturday 25th July 2015
11:30pm – 6am
The Rainbow Venues, Birmingham

The Warehouse – Defected In The House
DJ S.K.T
Sonny Fodera
DJ Sam Divine
Ten Story

The Terrace – Sunrise Party
Claude VonStroke B2B Doorly (Sunrise Set)
Lee Foss
Santero
Neil Navarra

The Blackbox – Seedy Sonics
Kove
Endor
LFM & Mali
Dirtbox
Drytek
Glokey

The Garden
Ashley Fearn
Dave Angle
Jess Monroe
JNR Bilko
Joe Quinn
K.Bsides
Matty Morris
Paul Lonsdale

**VIP Ticket holders will gain free access before 1am**

FESTIVAL LINEUP
Saturday and Sunday 25th and 26th July
12:00pm – 12:00am
Digbeth Triangle, Birmingham

SATURDAY
MK, WILKINSON
BEARDYMAN, BLONDE (LIVE), CLAUDE VONSTROKE, DAVID RODIGAN,
DOORLY, DORSIA, DUSKY, FONO, FRICTION, THE HEATWAVE, HEIDI, JASPER JAMES, JULIO BASHMORE, KURUPT FM, LEE FOSS, MATRIX & FUTUREBOUND, LOW STEPPA, NIGHTMARES ON WAX (DJ SET), NORMAN JAY MBE, PALEMAN, PHILIP GEORGE, PLEASURE STATE (LEE FOSS, MARC KINCHEN, ANABEL ENGLUND), STANTON WARRIORS, SUBB-AN & ADAM SHELTON, TOM SHORTERZ, TROJAN SOUNDSYSTEM (DEX N FX), 99 SOULS

SUNDAY – MIDDAY – 8PM
FOOD PROGRAMMING FROM DIGBETH DINING CLUB:
PLATINUM PANCAKES, MEAT SHACK, CANOODLE, ESMIE'S, SAVANNA GRILL, BIG, DADDIES DINER, DELIZIE ITALIANE, BUDDHA BELLY, HABANERO, FYBIN AND LOIN, BAKED IN BRICK, MEATHEADS, FAT DUCK SPUDS
REAL ALE & CRAFT BEER FESTIVAL, LANGLEY'S NO.8 GIN BAR, RETRO GAMING STREETFIGHTER COMPETITION FROM DEAD PIXELS, LIVE GRAFFITI FROM CITY OF COLOURS, COMEDY FROM CHEEKY MONKEY COMEDY CLUB. PLUS LIVE MUSIC, DJ's and FAMILY ENTERTAINMENT FOR ALL AGES.
DOOR PROCEEDS GO TO LOCAL CHARITIES


Fourth Release and VIP tickets for Saturday and £5 tickets (proceeds to charity) for Sunday are on sale now from http://www.madebirmingham.com