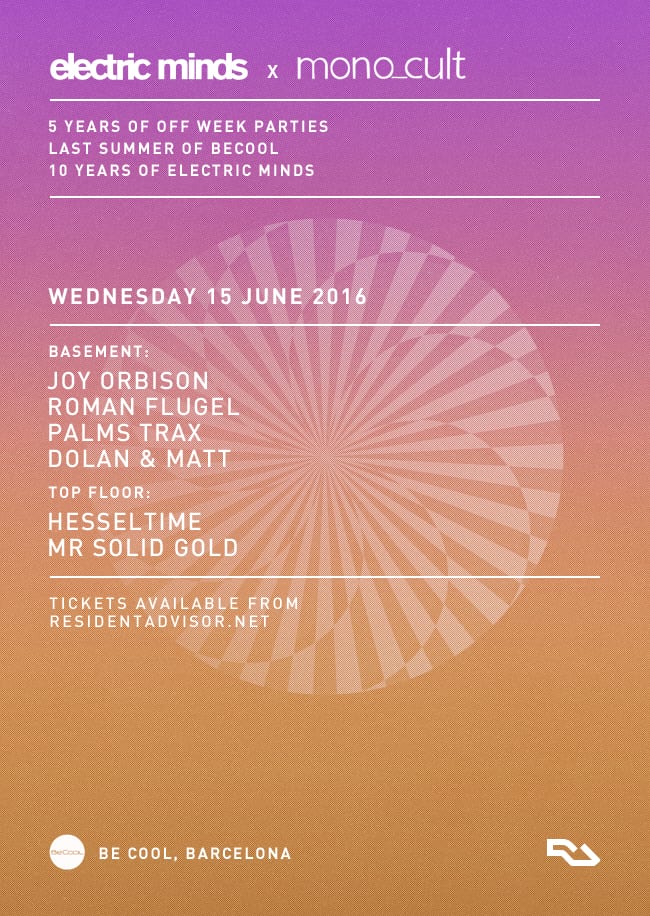 electric minds announce Off-Week party…
electric minds join forces with mono_cult as they continue their tenth anniversary celebrations and return for the fifth year to host their annual Off-Week party at Barcelona music institution BeCool.
Having firmly established themselves as a true highlight in the Off-Week programme, which traditionally runs alongside Sonar Festival, electrics minds present a lineup of impeccable standards headlined by Joy Orbison. The notoriously enigmatic producer is bestowed with a rare ability to connect with the dancefloor, seamlessly weaving beats from the freshest cuts to forgotten gems.
Joy O will be joined by club culture chameleon Roman Flügel and the irrepressible talents of Dekmantel and Lobster Theremin stalwart Palms Trax with electric minds founder Dolan Bergin going back-to-back with mono_cult head-honcho Matt Long.
Providing the soundtrack for BeCool's top floor are the master-minds behind two of London's most respected and forward-thinking event series; Teif's Hessletime and Trouble Vision's Mr Solid Gold.
Much-loved Barcelona night-spot BeCool recently announced that 2016 is to be their final season, making electric minds and mono_cults off-week party an unmissable opportunity to enjoy the club, at it's best, before it closes it's doors for the last time.
As this event has sold-out in advance every year, party-goers are advised to move fast to avoid disappointment.
10pm – 6am | Wednesday 15th June 2016 | €10 – €30
LINKS & FURTHER INFO
ELECTRIC MINDS & MONO_CULT PRESENT OFF-WEEK AT BECOOL
BASEMENT:
JOY ORBISON
ROMAN FLÜGEL
PALMS TRAX
DOLAN & MATT
TOP FLOOR:
HESSLETIME
MR SOLID GOLD