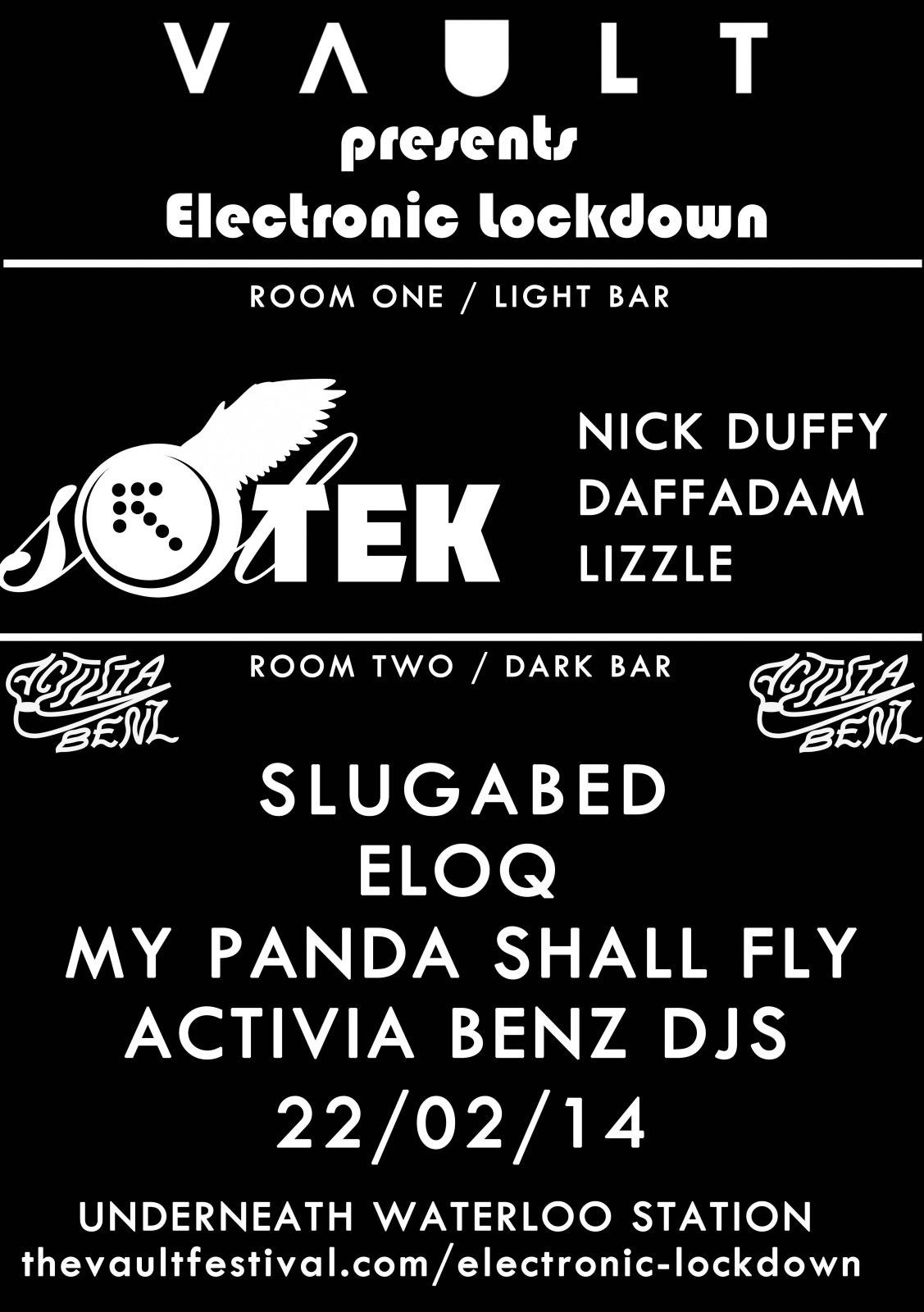 Electronic Lockdown – Vault Lates
Taking over the subterranean world of The Vault Festival for one night only, Electronic Lockdown will bring you an eclectic mix of electronic music in a labyrinth of old access tunnels and secret chambers.
Activia Benz: Slugabed / ELOQ / My Panda Shall Fly / Activia Benz DJs
Filling the cavernous tunnel of the Dark Bar will be the twisted beats of Activia Benz Djs. Activia Benz, the warped brainchild of London based producer Slugabed and his good friend Jake, is a record label / lifestyle / beer drinking collective. The groundbreaking label will curate the space with anything from garage classics to brand new beat-scene weirdness. Representing the diverse sounds the label has to offer, Activia Benz is bringing Copenhagen's Eloq along with brand new signing – My Panda Shall Fly. To make this an extra extra special event we are celebrating label boss & headliner – Slugabed's birthday, so get ready for his own Technicolor brand of hip-hop, grime, club music, drum trax and anything in between and beyond.
Soltek DJs: Daffadam / Nick Duffy / Lizzle
Hosting the Light Bar we are proud to announce London-based DJ collective Soltek. With their eclectic and forward-thinking approach to underground music the DJ trio – Daffadam, Nick Duffy and Lizzle – will be bringing you dance music with soul. Since its launch in 2010, Soltek has fast developed a reputation for attracting good vibes and good crowds with their diverse and exciting programming.

Mind your head, Heed your mind…you may lose both in here….

www.facebook.com/ElectronicLockdownLDN

www.facebook.com/SoltekUK
www.facebook.com/ActiviaBenz
VAULT FESTIVAL – ELECTRONIC LOCKDOWN
22 February 2014

Early Bird Tickets: £6.50