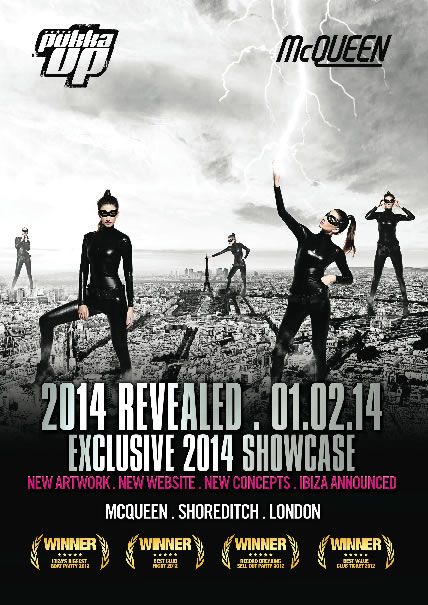 Pukka Up takeover McQueen in Shoreditch!
Join us in one of our favourite London locations as we head back to McQueen in Shoreditch for a very special launch party. As we put another hugely successful year behind us, breaking records in Ibiza and across the world, we embark on our most exciting year to date.
To celebrate the launch of what is set to be another fantastic year, we will be showcasing new artwork, a brand new website and most importantly a completely new Ibiza package.
Until this exclusive date there will be no online press whatsoever! We will be giving away our secrets in the comfort of McQueen's upstairs lounge area on the night so if you are as excited as we are, make sure to get there early!
To celebrate we will be giving very special discount codes to the first 20 people to come through the door for a one off discount on the first of our 2014 Ibiza tickets!
The soundtrack to our new year will be played by 4 lucky competition winners who will be playing for the unique prize of DJing on our Ibiza boat party and at one of our top secret after parties which will be revealed on the night. This will all be kicking off at 8pm so make sure to get down there early!
We will also be joined by long standing Pukka Up resident DJ Scott Giles who will be complimenting McQueen's stylish ambience with smooth house music and uplifting beats well into the early hours.
McQueen will be extending their usual 3am license so as we carry on the party downstairs, our lucky guests will be fortunate enough to continue the celebrations with us until 5am.
See you on the dance floor! X
Saturday February 1st 2014
Price on the Door: £10 b4 8pm £15 after
Guestlist/table enquiries contact: [email protected]
Opening/Closing times: 8pm – 5am
Address: McQueen Shoreditch, 55 – 61 Tabernacle Street, London, EC2A 4AA
www.facebook.com/pukkaupfanpage
www.pukkaup.com