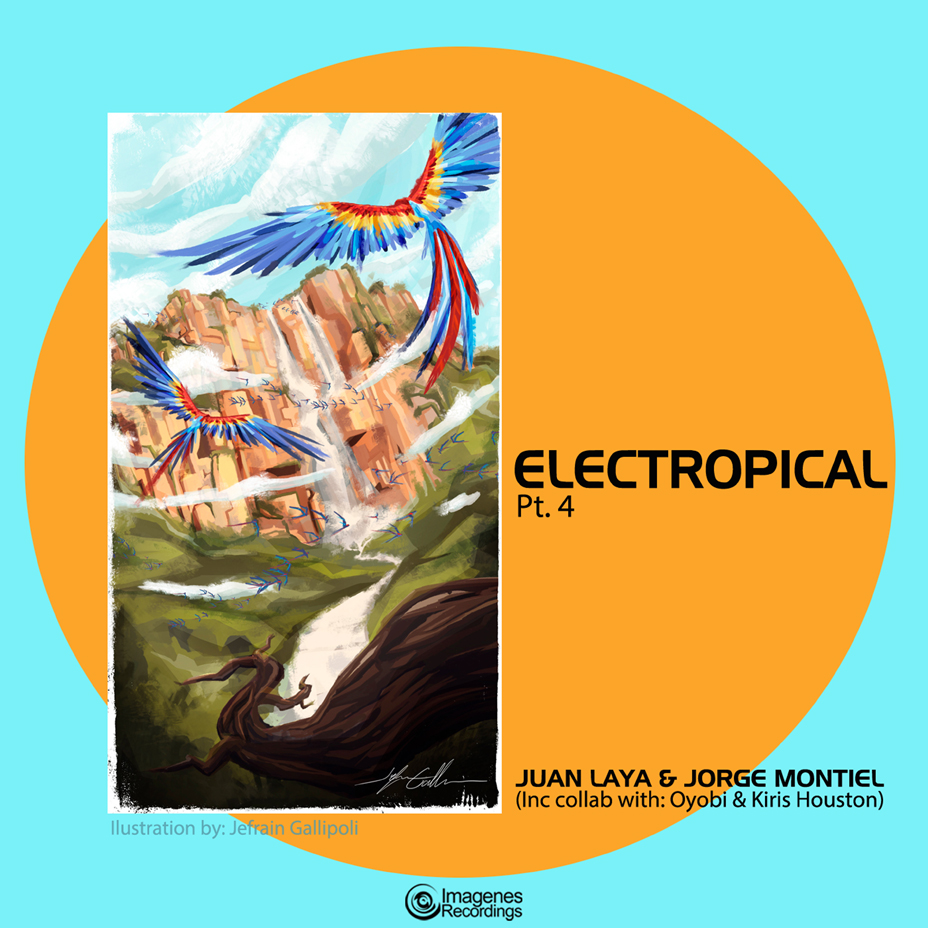 Electropical Vol 4 – Juan Laya & Jorge Montiel
Electropical Pt.4 takes a deeper excursion into Afro-Latin music to create a unique blend of timeless, acoustic 'Roots' and contemporary leftfield production. This latest instalment of this acclaimed project helmed by Juan Laya & Jorge Montiel, the duo behind the much loved Los Charly's Orchestra, evokes the spirit of the Amazonas forest, the beating heart of their native Venezuela. The sounds are born of the earth and nurtured for the soul.
The EP features performances and remixes from longstanding friends and musical allies: Oyobi, who's recently been working with AtJazz and Aroop Roy, brings a burst of intensely vibrant energy to Kalimba Vibration while the mighty Andre Espeut lends his utterly distinctive voice to Abstract Fragments Of A Dream. As for multi instrumentalist & producer Kris Houston he puts his signature touch on Beyond Civilizations. 
As always the music is brought to life by a pool of superior players who are the house band for the Imagenes label. Saxophonist-flautist Marcelo Andrade, guitarist Raphael Delphino, percussionist Emeris Solis, and bassist Mateus Nova ensure that the grooves are tight and that the magic of a live session enhances the precision guided aesthetic of programming and sequencing.
Committed to their quest to represent Venezuelan culture as imaginatively as possible, Laya and Montiel are turning the Electropical series into an essential document of music that has heartfelt respect for heritage in the most complete sense of the term, from the people to the land. Engaging with contemporary technology, the result is truly compelling music that succeeds in bridging the gap between past, present and future.
Notes by Kevin Legendre
Ilustration by Jefrain Galipolli
Having released over 100 releases on their Imagenes label over the last decade, Juan Laya & Jorge Montiel's impressive musical projects include collabs with UK soul icon, Omar, Andre Espeut's Quintet, as well as side projects including Boogie Magic and The Boogie Man. Building their reputation on classic cuts such as 'All Around The World', 'Everlasting Love' & 'Sunshine', Juan and Jorge's A List supporters include Radio 1's Pete Tong, BBC 6's Gilles Peterson and Craig Charles' as well as Jazz FM. Their latin-infused grooves can be found on best-selling compilations including 2020's 'Cafe Del Mar' edition, Defected Records, Expansions  and Universal with esteemed producers John Morales, Joey Negro, Dimitri From Paris, Jose Padilla and Opolopo delivering wonderful remixes.
One of London's most effusive champions of latin music Jorge Montiel is Resident DJ at El Pastor, Soho August 13th; Resident DJ on Thursdays at the Latin Lounge at Annabel's club in Mayfair and is a longstanding Resident DJ of the Barrio bars. He is also about to start a monthly podcast with CDM radio.
The 'Electropical Part 4 EP' by Juan Laya & Jorge Montiel featuring Collabs and Remixes from Oyobi & Kiris Houston is out on Imagenes Recordings on July 30th.
https://www.facebook.com/imagenesrecordings