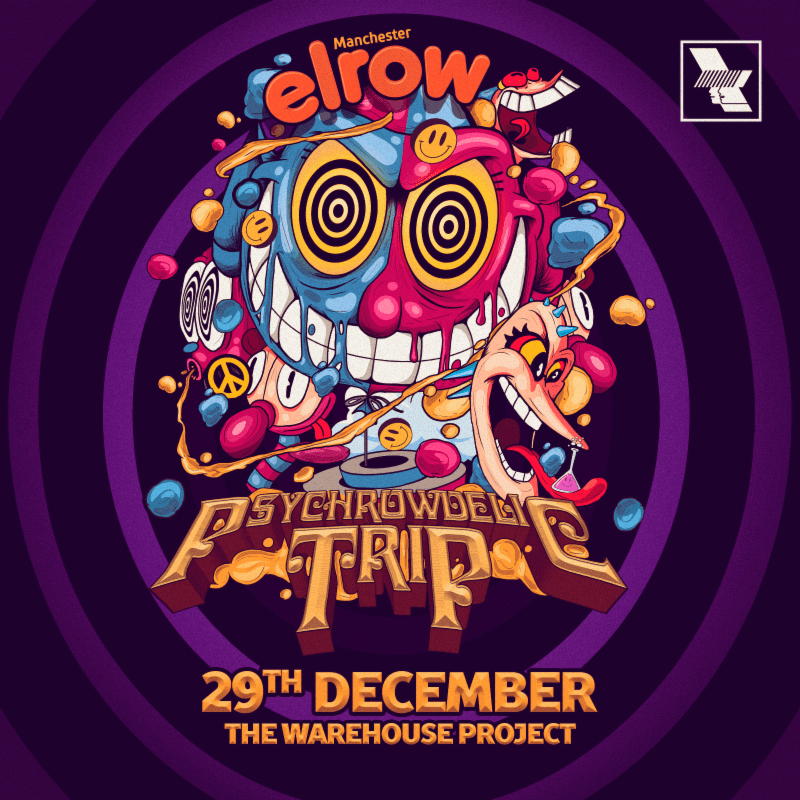 elrow Announce All-Day Extravaganza At The Warehouse Project
elrow make eagerly-anticipated return to Manchester with all-day party at The Warehouse Project on Saturday 29th December.
The perfect post-Christmas tonic, elrow's notorious Psychrowdelic Trip theme arrives in the city with its flower-powered arsenal of peaceful protestors, delirious chemists and scruffy guitarists. With a cry of "make elrow, not war", you're accepted into the bustling hippy commune where the only rules are to spread love and laughter, as the grooving characters take Manchester on the most unique feel-good trip.
While the lineup is yet to be announced, expect the bill to feature an array of elrow's most reliable and acclaimed selectors, providing the soundtrack for The Warehouse Project's most far-out party of the season, celebrating the final trip to Store Street in style.
Sign up for pre-sale tickets – on sale Wednesday 24th October at midday.
SIGN UP NOW FOR ACCESS TO TICKETS:
Click 'GET STARTED' via FB messenger http://bit.ly/ELROWFB
Via email on our website – http://bit.ly/WHPELROW
Attend the event on Facebook here: http://bit.ly/WHPEVENT
ABOUT ELROW:
elrow is an award-winning experiential event concept and party series founded in 2010 by Cruz and Juan Arnau Lasierra; the sixth generation from a dynasty of entrepreneurs also responsible for creating Monegros Festival and legendary Club Florida 135 in Fraga, Spain. From their head-quarters in Barcelona, elrow have taken the world by storm with their unforgettable party style, pairing elaborate production, interactive performers and zany characters with the best electronic music, placing them as a global reference for circus inspired parties with tickets to the visual spectaculars usually selling out in minutes. A myriad of different themes and concepts makeup elrow's zeitgeist with sub-brands including 'Rowlympics'; their own take on the Olympic games, their Brazilian jungle carnival theme, 'Sambodromo de Brasil' and flag-ship theme 'Singermorning'.
With lauded residencies in Ibiza, Madrid, London and Amsterdam already in place, 2017 has seen a game-changing partnership with live entertainment platform, Providence-Superstruct, allowing elrow to push to new heights with a Shangai debut and a festival-scale event at the Queen Elizabeth Olympic Park in August.
LINKS & FURTHER INFO
www.elrow.com
www.facebook.com/elrowofficial
https://twitter.com/elrow_
www.youtube.com/user/ElRowChannel
www.instagram.com/elrowofficial