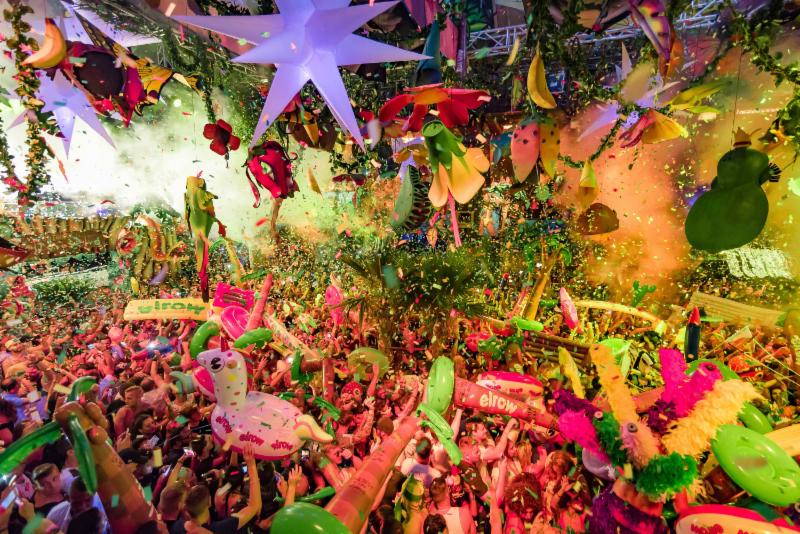 elrow Announce Belfast Date As Part Of Debut Irish Tour
After the record sell-out of their debut show in Dublin, elrow unveil their first ever Belfast date at The Telegraph Building on Friday 23rd November 2018 in collaboration with esteemed promoters Shine.
Expectations for elrow's debut shows in Ireland are undoubtedly sky-high and the Belfast date, forming part of elrow's first ever Irish tour, promises to be a breathtakingly vibrant introduction. Intoxicating jungle rhythms, tropical creatures and exotic Samba dancers merge under the rainforest canopy as part of elrow's acclaimed Sambowdromo do Brasil theme, transforming the city's iconic Telegraph Building into a vivid paradise. With an exciting bill of names providing the soundtrack, it's an unmissable stop on elrow's highly-anticipated Irish odyssey.
Don't miss out on joining your favourite DJs on a colourful adventure into territory no explorer has stepped foot, dancing or otherwise.
ABOUT ELROW:
elrow is an award-winning experiential event concept and party series founded in 2010 by Cruz and Juan Arnau Lasierra; the sixth generation from a dynasty of entrepreneurs also responsible for creating Monegros Festival and legendary Club Florida 135 in Fraga, Spain. From their head-quarters in Barcelona, elrow have taken the world by storm with their unforgettable party style, pairing elaborate production, interactive performers and zany characters with the best electronic music, placing them as a global reference for circus inspired parties with tickets to the visual spectaculars usually selling out in minutes. A myriad of different themes and concepts makeup elrow's zeitgeist with sub-brands including 'Rowlympics'; their own take on the Olympic games, their Brazilian jungle carnival theme, 'Sambodromo de Brasil' and flag-ship theme 'Singermorning'.
With lauded residencies in Ibiza, Madrid, London and Amsterdam already in place, 2017 has seen a game-changing partnership with live entertainment platform, Providence-Superstruct, allowing elrow to push to new heights with a Shangai debut and a festival-scale event at the Queen Elizabeth Olympic Park in August.
LINKS & FURTHER INFO
www.elrow.com
www.facebook.com/elrowofficial
https://twitter.com/elrow_
www.youtube.com/user/ElRowChannel
www.instagram.com/elrowofficial