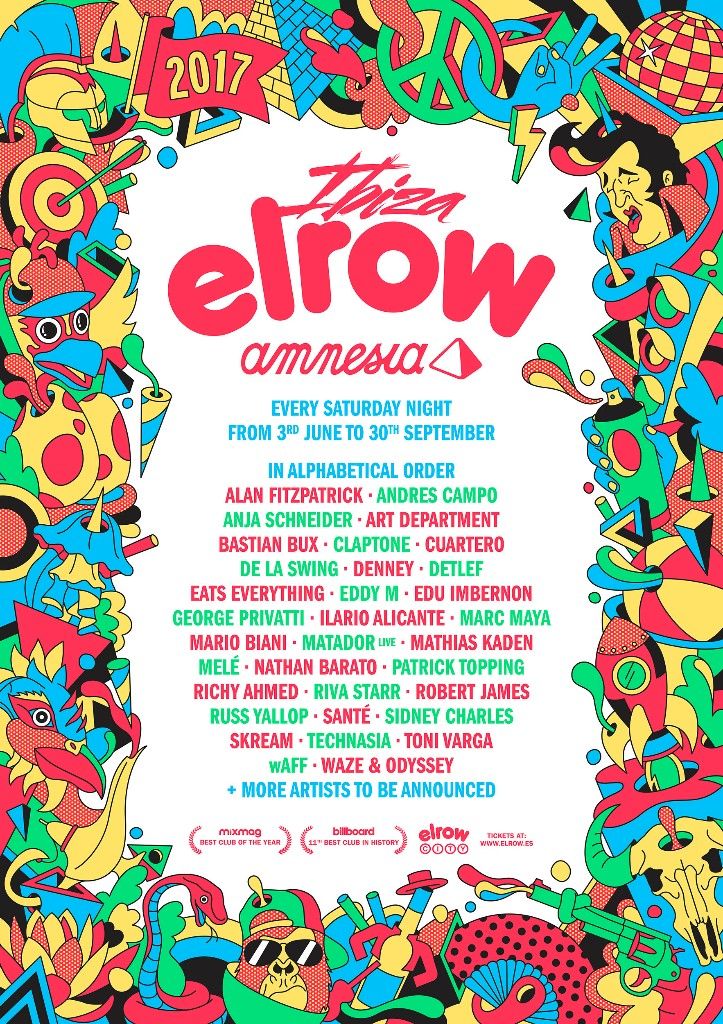 elrow announce line-up for Amnesia residency
The extravagant show will launch on Saturday 3rd June with a brand new theme set to celebrate the 50th anniversary of the 'Summer of Love'.
Having recently announced the launch of their debut festival, Friends & Family, elrow continue to up the ante with the announcement of their Ibiza residency line-up. Running every Saturday night from 3rd June to 30th September, the Spanish show creators will head to their new home at Amnesia for a run of unique shows in the club's world renowned main room and terrace – a perfect fit for elrow's off the scale scenarios and production.
Kickstarting proceedings with a brand new theme for 2017, elrow's opening show will celebrate 50 years of the 'Summer of Love', a cultural phenomenon that's psychedelic focus is a constant source of inspiration for the elrow team. Promising to deliver even more antics, acrobats and artists than ever before, elrow are set to hit the ground running for their latest Ibiza chapter with a line-up that features a huge selection of house and techno pioneers that make up the close-knit party family. With the full calendar breakdown still to be announced, names on the bill include UK selectors Skream, Patrick Topping and Eats Everything, as well as cutting edge talents such as Anja Schneider and Art Department. Brand residents De La Swing and Eddy M will also be in attendance, along with other talents such as Matador, Ilario Alicante and Cuartero ensuring elrow's uplifting authenticity never falters.
With more artists still to come plus the announcement of elrow's weekly shows, Amnesia's Saturday night slot is set to be unmissable. Tickets for the opening show are on sale now.
Full season line-up in alphabetical order:
ALAN FITZPATRICK – ANDRES CAMPO – ANJA SCHNEIDER – ART DEPARTMENT – BASTIAN BUX – CLAPTONE – CUARTERO – DE LA SWING DENNEY – DETLEF – EATS EVERYTHING – EDDY M – EDU IMBERNON – GEORGE PRIVATTI – ILARIO ALICANTE – MARC MAYA – MARIO BIANI MATADOR (LIVE) – MATHIAS KADEN – MELÉ – NATHAN BARATO
PATRICK TOPPING – RICHY AHMED – RIVA STARR – ROBERT JAMES – RUSS YALLOP – SANTE – SIDNEY CHARLES – SKREAM – TECHNASIA – TONI VARGA – WAFF – WAZE & ODYSSEY
+ MORE TO BE ANNOUNCED
Every Saturday
3rd June – 30th September
www.elrow.es/