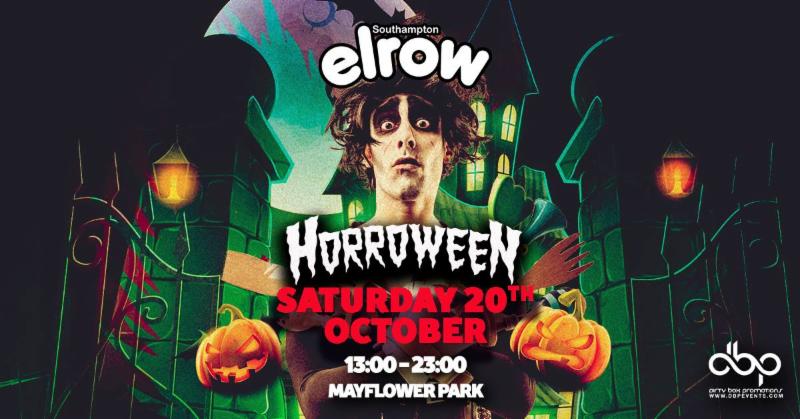 elrow bring Halloween Festival for Southampton
Following the runaway success of previous takeovers on the South Coast, elrow team up with DBP for a colossal Horroween special at Mayflower Park, Southampton on Saturday 20th October 2018.
With tickets selling out in minutes on previous visits to Switch, it makes perfect sense for the pair to plot their biggest show yet in the city. Scheduling a ten hour, daytime extravaganza, the scale has been widened in every sense as the bustling action and most exciting sounds in electronic music move outdoors to accommodate 6000 party goers.
Prepare to be terrified and exhilarated in true elrow style, as the terrifying Horroween theme plunges you into a chilling world of derelict haunted houses, disturbing dancefloors and petrifying graveyards. Alongside party zombies, fleeing priests and bewildering monsters, all must be confronted to solve the mystery of Lucy, the little girl that haunts the party from beyond the grave.
Only for the bravest of thrill seekers, elrow promises a Halloween unlike no other…if you make it out alive.
Presale tickets on sale Tuesday 3rd July at midday. General release tickets on sale Wednesday 4th July. Sign up for access to presale tickets and a chance to win the ultimate elrow experience at: www.elrow-halloween.uk
ABOUT ELROW:
elrow is an award-winning experiential event concept and party series founded in 2010 by Cruz and Juan Arnau Lasierra; the sixth generation from a dynasty of entrepreneurs also responsible for creating Monegros Festival and legendary Club Florida 135 in Fraga, Spain. From their head-quarters in Barcelona, elrow have taken the world by storm with their unforgettable party style, pairing elaborate production, interactive performers and zany characters with the best electronic music, placing them as a global reference for circus inspired parties with tickets to the visual spectaculars usually selling out in minutes. A myriad of different themes and concepts makeup elrow's zeitgeist with sub-brands including 'Rowlympics'; their own take on the Olympic games, their Brazilian jungle carnival theme, 'Sambodromo de Brasil' and flag-ship theme 'Singermorning'.
With lauded residencies in Ibiza, Madrid, London and Amsterdam already in place, 2017 has seen a game-changing partnership with live entertainment platform, Providence-Superstruct, allowing elrow to push to new heights with a Shangai debut and a festival-scale event at the Queen Elizabeth Olympic Park in August.
LINKS & FURTHER INFO:
www.elrow.com
www.facebook.com/ElrowSunday
https://twitter.com/elrow_
www.youtube.com/user/ElRowChannel
www.instagram.com/elrowofficial