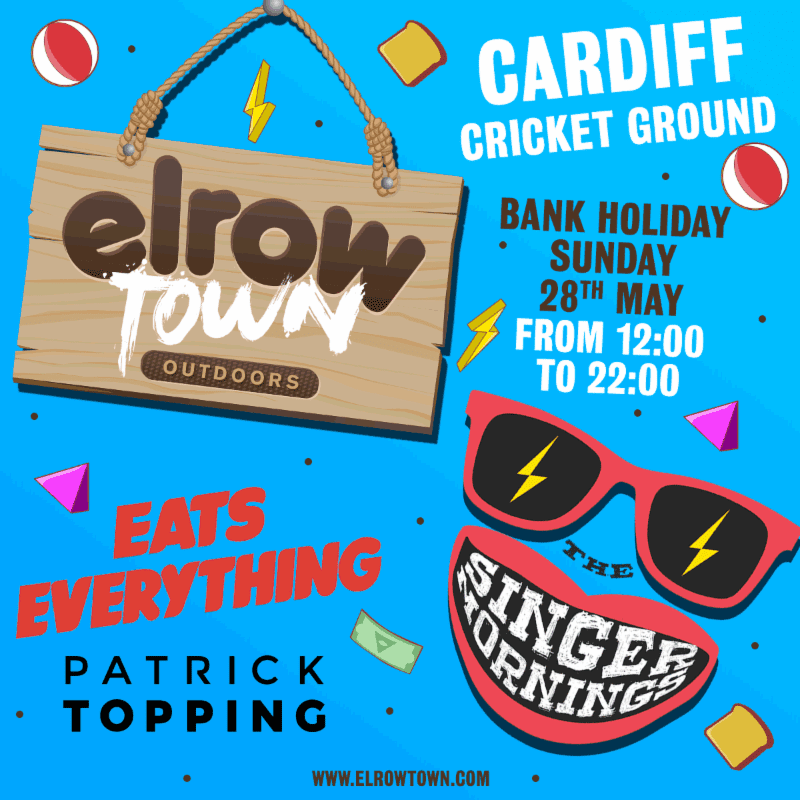 elrow debuts in Wales with Eats Everything and Patrick Topping
Legendary immersive party brand elrow, announce their Welsh debut. Landing in Cardiff, they will take over Glamorgan's prestigious Cricket ground located within the beautiful setting of Sophia Gardens. Clubland's most infectious party outfit will go all-out for the daytime extravaganza with flag-ship theme, Singer Morning on bank-holiday Sunday 28th May 2017.
Finally landing in Wales with a vibrant explosion of confetti, elrow's world-renowned production and zany performers, will be soundtracked with headline sets from master selectors, Eats Everything and Patrick Topping.
Having garnered global acclaim for their flamboyant, immersive style, Cardiff's party faithful couldn't hope for better introduction than elrow's flagship theme, Singer Morning. Inspired by Spanish concept 'cantamañanas', Singer Morning perfectly encapsulates elrow's core ethics; suspending reality to create a party utopia where anything can happen. Surprises lurk around every corner. From explorers and rock-stars to tribesmen and athletes, at Singer Mornings, you can be anything you want to be.
Going alfresco for the epic daytime debut, the stage will be set at Glamorgan's iconic County Cricket Club grounds, situated within Sophia Gardens and adjacent to the city centre and River Taff. This will be the perfect spot for elrow to show Cardiff what it is all about!
elrow Town is the concept used for the biggest daytime events that the Spanish party starters put on! This theme has previously been used for huge outdoor shows in Valencia and Poble Espanyol in Barcelona, and will be the very first time it will debut in the UK!
Singer Morning's recently announced UK debut at Tobacco Dock sold out on sign-ups in less than one hour. Tickets for elrow Town Cardiff – Singer Morning will be available for purchase on Tuesday 13th December 2016. For priority access, please register at: www.elrowtown.com/cardiffoutdoors
Head to elrow facebook to win 5x Guestlist to the Cardiff debut. Just @tag the 4 friends you would bring and then SHARE!
Ahead of the announcement elrow family resident Eats Everything said: "I love elrow, I love Wales, I love whales too but that's not relevant. Put the first two together and what have you got? MEGARAVE! I can't wait!"
12:00 – 22:00 | Sunday 28th May 2017 | The Cardiff Cricket Ground, CF11
Register for updates at: www.elrowtown.com/cardiffoutdoors