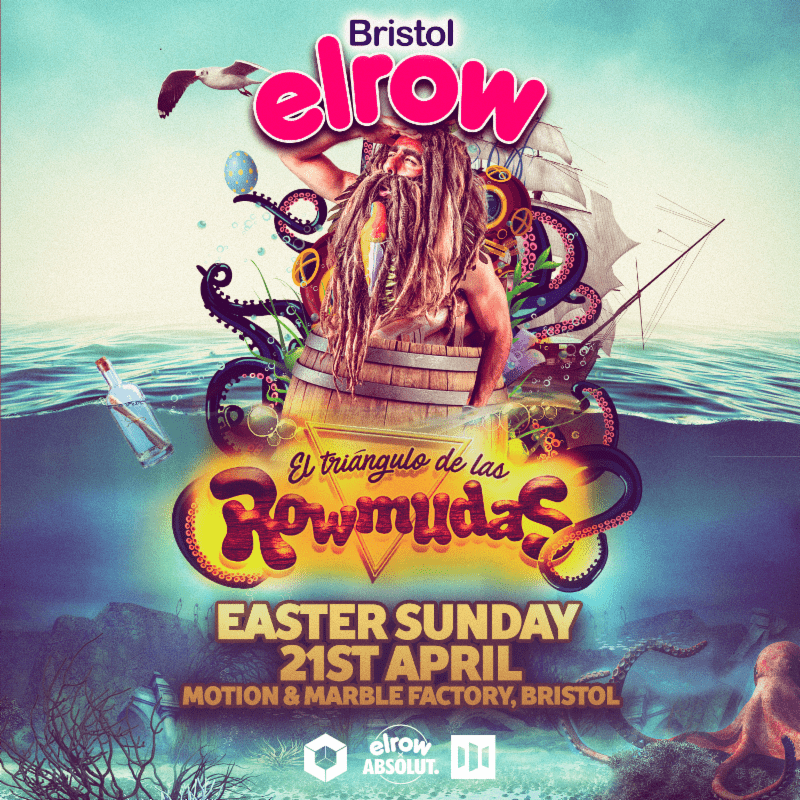 elrow Makes Eagerly-Anticipated Return To Bristol At Motion And The Marble Factory
The wait is finally over, as elrow makes eagerly-anticipated return to Bristol at Motion and The Marble Factory on Easter Sunday 21st April for a twelve hour takeover.
After helping the city see in the new year in typical elrow fashion over a year ago with two sold out shows, the time is right for Rowgelia to revisit Motion and The Marble Factory, with an array of unique characters, mind-bending production and vibrant confetti flurries all in tow, plus Rowmudas, a brand new underwater theme that's rapidly gaining acclaim across the globe.
There's no better-suited theme for a city famed for its rich maritime history, as Rowmudas plunges party-goers deep into the belly of the Craken that has swallowed your boat in one bite. This is elrow though, and the fun never stops, with the discovery of a map that will lead you on a quest to the Party Of Eternal Happiness. On your journey, you'll cross paths with pirates seeking glimmering treasure, untouched shipwrecks ready to be explored and underwater hippy communes desperate to dance with you, as Rowgelia once again leads Bristol into another delirious, unforgettable party.
Expect the biggest names in house and techno and elrow's finest residents to provide the soundtrack, with artists to be announced soon.
First access tickets will go on sale on Thursday 7th February 2019. Sign up for first access to tickets via email: http://BIT.LY/BristolEaster
Or click 'Get Started' on the FB Messenger bot and select 'Bristol': http://BIT.LY/ELROWFB
ABOUT ELROW:
elrow is an award-winning experiential event concept and party series founded in 2010 by Cruz and Juan Arnau Lasierra; the sixth generation from a dynasty of entrepreneurs also responsible for creating Monegros Festival and legendary Club Florida 135 in Fraga, Spain. From their head-quarters in Barcelona, elrow have taken the world by storm with their unforgettable party style, pairing elaborate production, interactive performers and zany characters with the best electronic music, placing them as a global reference for circus inspired parties with tickets to the visual spectaculars usually selling out in minutes. A myriad of different themes and concepts makeup elrow's zeitgeist with sub-brands including 'Rowlympics'; their own take on the Olympic games, their Brazilian jungle carnival theme, 'Sambodromo de Brasil' and flag-ship theme 'Singermorning'.
With lauded residencies in Ibiza, Madrid, London and Amsterdam already in place, 2017 has seen a game-changing partnership with live entertainment platform, Providence-Superstruct, allowing elrow to push to new heights with a Shangai debut and a festival-scale event at the Queen Elizabeth Olympic Park in August.
LINKS & FURTHER INFO
www.elrow.com
SOCIALS:
www.facebook.com/elrowofficial
https://twitter.com/elrow_
www.youtube.com/user/ElRowChannel
www.instagram.com/elrowofficial