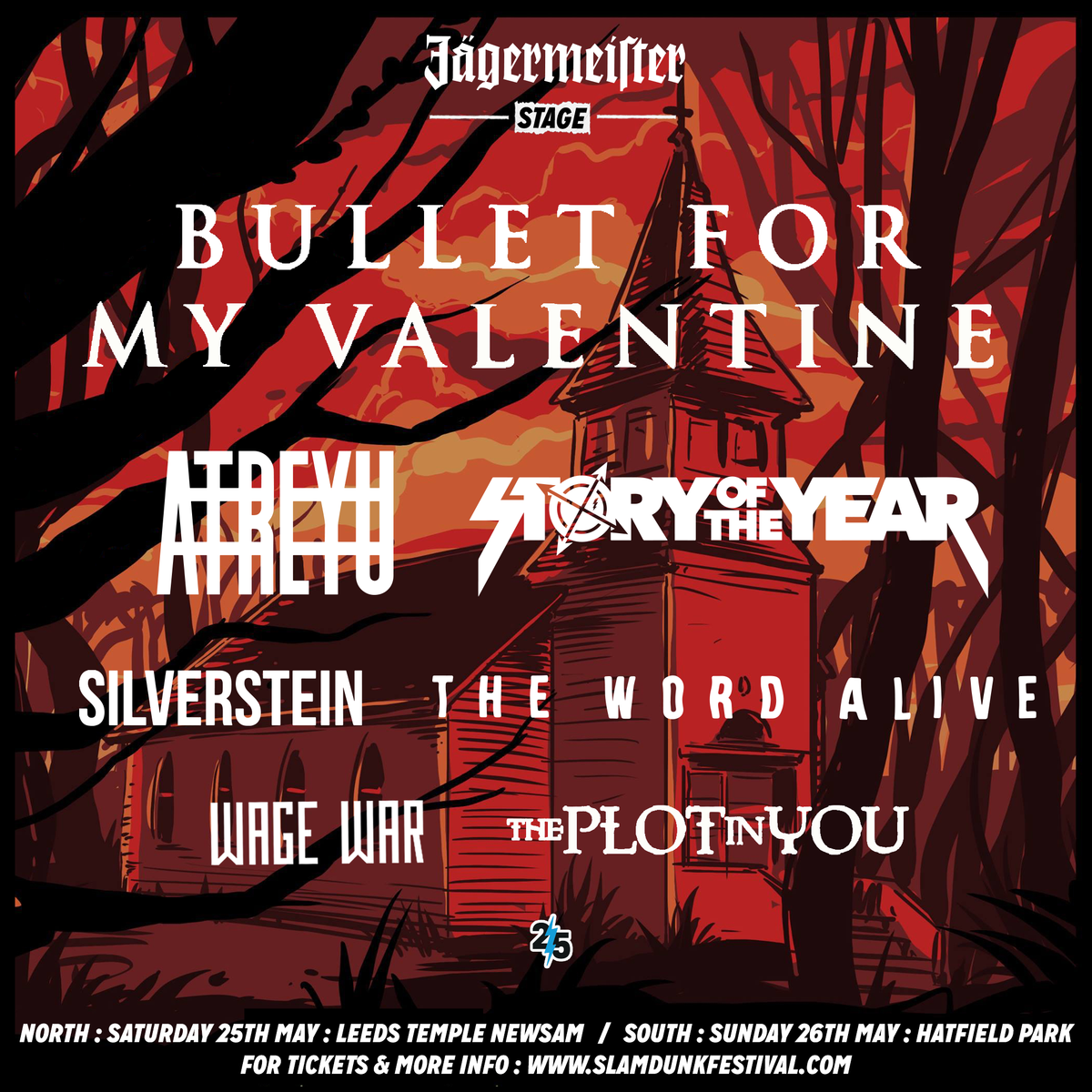 Slam Dunk Festival 2019 Reveals Full Jägermeister Stage Bill, Announces The Plot In You!
For years, the Jagermeister Stage at Slam Dunk has been an integral part of the festival's identity and is set to build on this reputation for another year, revealing the full stage line-up, completed by none other than American rock front-runners The Plot In You.
Welcoming UK metal titans Bullet For My Valentine to the festival for the very first time, the Jagermeister Stage will see metalcore stalwarts Atreyu take to the stage ahead of a highly-anticipated performance by Story Of The Year. Emo icons Silverstein, heavy figureheads The Word Alive and Floridian metalcore favourites Wage War will also be stepping onto the coveted stage following a not-to-be-missed opening performance fromThe Plot In You.
ACTS ANNOUNCED TO DATE
All Time Low, Angels Du$t, Anti-Flag, Atreyu, Bad Religion, Bullet For My Valentine, Cancer Bats, Employed To Serve, Gallows, Glassjaw, Hellogoodbye, I Don't Know How But They Found Me, Knocked Loose, Lagwagon, Less Than Jake, Lights, Mad Caddies, Microwave, Millencolin, Milk Teeth, New Found Glory, NOFX, Our Hollow Our Home, Pagan, Plain White T's, Real Friends, Saves The Day, Seaway, Silverstein, Simple Plan, Story Of The Year, The Bombpops, The Bronx, The Get Up Kids, The Interrupters, The Menzingers, The Plot In You, The Word Alive, Tigers Jaw, Tiny Moving Parts, Touche Amore, Trophy Eyes, Turnstile, Wage War, Wallflower, Waterparks, WSTR.
TICKET INFORMATION
Tickets on sale now and are available from http://slamdunkfestival.com/