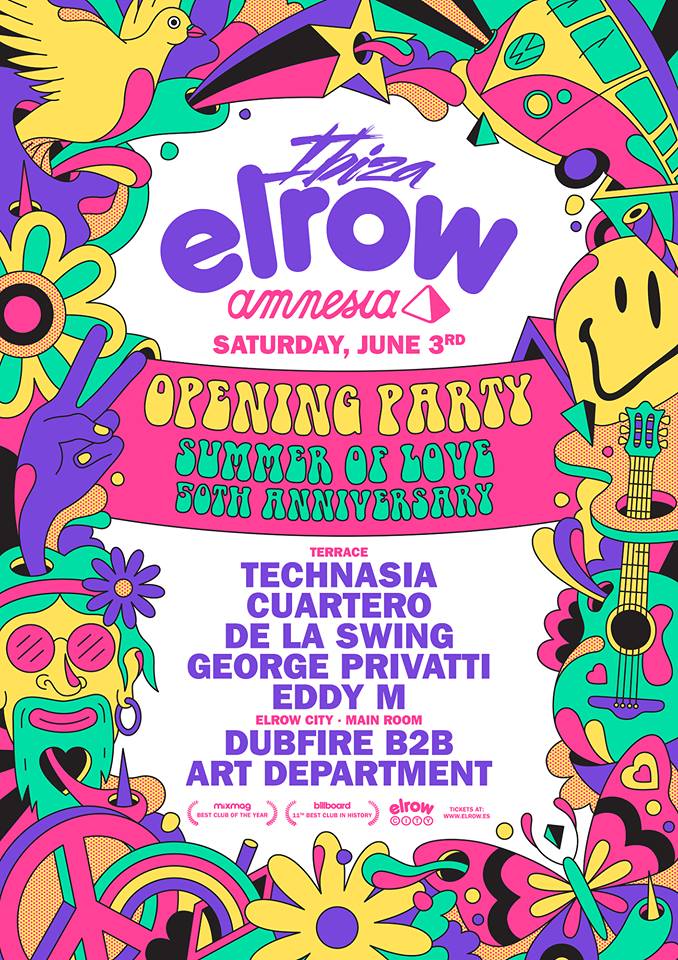 elrow reveal line-up for 'Summer of Love' opening party at Amnesia
The transgressive Spanish party starters announces Art Department B2B Dubfire, De La Swing amongst other supernovas for the first themed show of the season: 'Summer of Love'
ART DEPARTMENT B2B DUBFIRE – CUARTERO – DE LA SWING – EDDY M – GEORGE PRIVATTI – TECHNASIA
Saturday 3rd June
Amnesia, Ibiza
www.elrow.es/
After announcing a staggering lineup, plus exciting new and existing themes for their Ibizan residency at the renowned nightclub, Amnesia, the question was yet to be answered; which members of the elrow family will perform at the highly anticipated 'Summer of Love' Opening Party?
Saturday 3rd June will be an unmissable event for revellers to breathe the good vibrations and hedonism of the psychedelic and hippie years of the 60's and 70's. Spearheading the main room of elrowcity – a theme debuted in 2016 where the room's billing plays all night long to surroundings inspired by their hometown! – will be a B2B phenomenon, as the infamous electronic music act Art Department and forward-thinking selector Dubfire are confirmed. Kickstarting the terrace will be brand residents, De La Swing, Eddy M and George Privatti, accompanied by the energetic beat of Technasia and Cuartero's groove and bass style.
Summer of Love will mark the debut of the colourful party series and entice fans into a wonderland of entertainment and intrigue throughout 3rd June – 30th September but who will be revealed for the Closing Party?
ELROW IBIZA 2017
Dates: 3rd June – 30th September
Venue: Amnesia
Tickets: https://www.elrow.es/