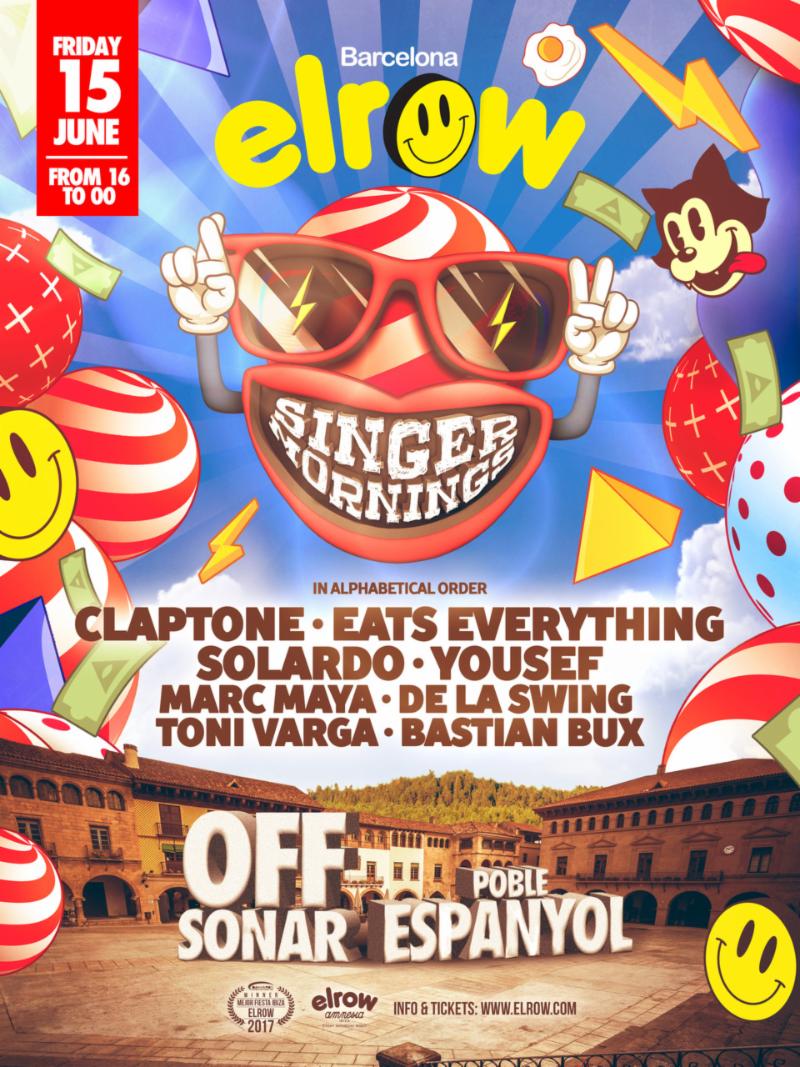 elrow Reveal OFFSónar Lineup with Claptone, Eats Everything, Solardo, Yousef and more…
elrow reveal the lineup for their unmissable, immersive spectacular, taking place on Friday 15th June as part of Poble Espanyol's debut OFFSónar series.
World-class acts Claptone, Eats Everything, Solardo and Yousef, join elrow's team of renowned residents with Marc Maya, De La Swing, Toni Varga and Bastian Bux providing the dancefloor pounding soundtrack to one of elrow's liveliest and most vibrant themes;singermorning.
The happy-go-lucky ethos of singermorning creates a wacky world of surprises where anything can happen. Characters of all shapes and forms will be helping party-goers lose themselves in the swirling confetti and free-spirited party vibe.
Designed in the style of a traditional Spanish town square, Poble Espanyol's main event space Plaza Mayor, provides a unique and unusual stage for to play-out the unforgettable madness of singermorning.
Tickets for elrow OFFSónar at Poble Espanyol are already on their third release. Remaining tickets and full details can be found here: https://www.elrow.com/en/events/388/barcelona-singermorning-06152018

ELROW OFFSónar
FRIDAY 15TH JUNE 2018 | POBLE ESPANYOL, BARCELONA
ABOUT OFFSónar
OFFSónar is a series of 9 huge parties, taking place at stunning Barcelona location, Poble Espanyol from 14th – 17th June 2018.
ABOUT ELROW:
elrow is an award-winning experiential event concept and party series founded in 2010 by Cruz and Juan Arnau Lasierra; the sixth generation from a dynasty of entrepreneurs also responsible for creating Monegros Festival and legendary Club Florida 135 in Fraga, Spain. From their head-quarters in Barcelona, elrow have taken the world by storm with their unforgettable party style, pairing elaborate production, interactive performers and zany characters with the best electronic music, placing them as a global reference for circus inspired parties with tickets to the visual spectaculars usually selling out in minutes. A myriad of different themes and concepts makeup elrow's zeitgeist with sub-brands including 'Rowlympics'; their own take on the Olympic games, their Brazilian jungle carnival theme, 'Sambodromo de Brasil' and flag-ship theme 'Singermorning'.
With lauded residencies in Ibiza, Madrid, London and Amsterdam already in place, 2017 has seen a game-changing partnership with live entertainment platform, Providence-Superstruct, allowing elrow to push to new heights with a Shangai debut and a festival-scale event at the Queen Elizabeth Olympic Park in August.
LINKS & FURTHER INFO
www.elrow.com
www.facebook.com/ElrowSunday
https://twitter.com/elrow_
www.youtube.com/user/ElRowChannel
www.instagram.com/elrowofficial