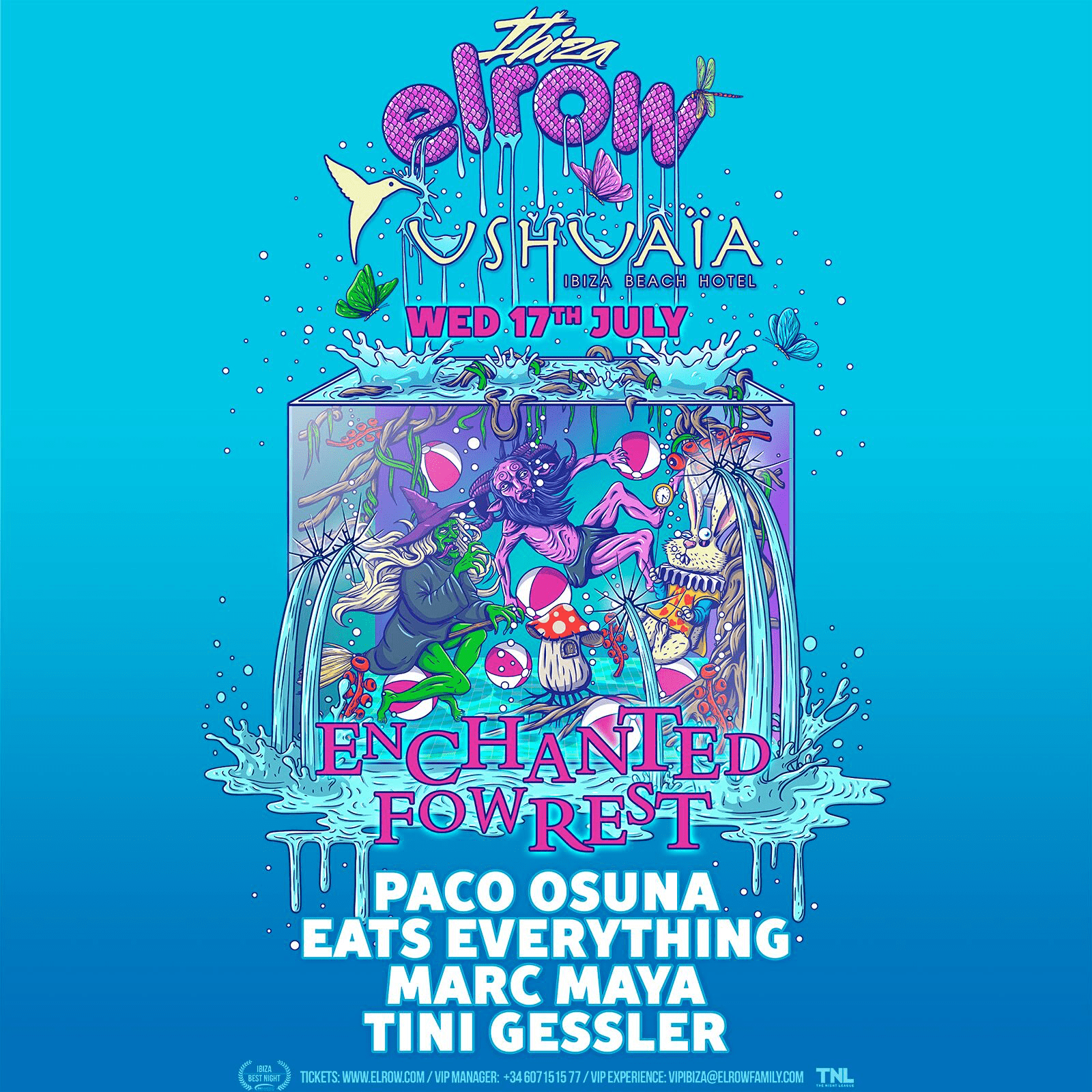 elrow reveals first line-up for 2019 Ushuaïa Ibiza series
Few event brands have achieved worldwide phenomenon status such as elrow, with lines of revellers at the door no matter the location as they bring their wacky themes and inimitable artists to stellar venues around the world. The four-date elrow series at Ushuaïa Ibiza will each be unique, as they reveal today the first theme and line-up.
On July 17th, Ushuaïa Ibiza will transform into an Enchanted Forest, another dimension where reality turns into fantasy and dreams come true. Many believe that once you enter the Enchanted Forest, the wildest corners of a person's subconscious are aroused. And those crazy enough to actually enter say that they experience inexplicable attacks of craziness and happiness, out of reach of the average human mind.
Get ready to be watched by huge trees, to dance with beautiful creatures and laugh uncontrollably until you turn into some fantastic being while listening to the best of tech-house with Paco Osuna on the bill. Along with interactive performances and a curated experimental environment of colour, British house hero Eats Everything will perform. Tons of confetti will fly through the venue while unstoppable force Marc Maya and versatile talent Tini Gessler are set to bring the enchanted realm to life where the music is simply otherworldly.
The Night League, the team behind the success of Ushuaïa Ibiza, will reveal the remaining themes and line-up soon as elrow is set to return on August 7th and 21st, and September 18th.
Tickets are available now, here. Watch out for the apparitions of dark beasts and demons who live in the Shadowlands… the most terrifying part of the Forest.
The jewel in Ibiza's party crown, Ushuaïa's dedication to bringing the most-sought after names to their world-famous stage ensures they remain one step ahead of the game every time. Based on the experiences gathered over the years, Ushuaïa Ibiza is dedicated to providing the best outdoor entertainment possible. The legendary poolside parties have been drawing in the crowds ever since the very beginning. The team behind the #1 Open Air Club raises the bar ever higher, with an impeccable lineup of superstar residents from across the electronic music spectrum playing from daytime to midnight. Not just content with packing their nights full of world class artists, Ushuaïa Ibiza constantly outdoes itself when it comes to phenomenal productions, with a different theme each night of the week. With incredible pyrotechnics, mind-blowing lighting, visuals and a state of the art soundsystem, not to mention the beautifully designed gogo costumes, as well as an abundance of confetti, streamers and CO2, it's no surprise people flock from around the world for the inimitable Ushuaïa experience.
TICKETS & ROOMS: www.theushuaiaexperience.com
USHUAÏA IBIZA BEACH HOTEL
PLAYA D'EN BOSSA, IBIZA
JULY 17
TICKETS ON SALE NOW