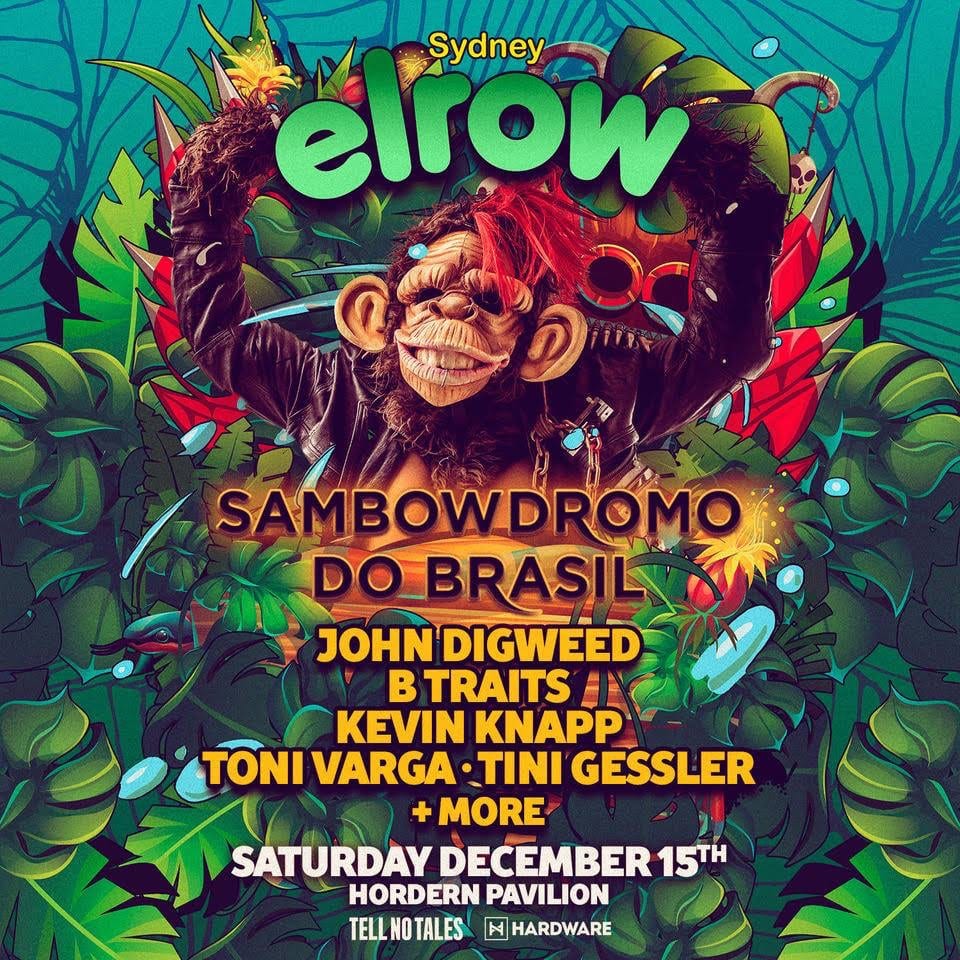 Elrow – Sambowdromo Do Brasil – Australian Line-up..
Following a sold-out Australian debut in both Melbourne and Sydney, elrow family return for another round of dance-floor theatrics and a carnival atmosphere. Those who experienced the magic last time know what they are in for! Those who missed out can expect one of the craziest parties on the planet!
Life's a carnival so you've got to get dressed up for the occasion and getting pimped up Brazilian style, isn't like going to your office party. Just grab a few feathers, drag out your grandma's old boa and start working those hips, Samba style.
Crashed DJs, pulsating rhythms, wild animals, lost explorers and fun-loving jungle dwellers. What's to go wrong? Pretty much everything, but a healthy dose of samba and carnival soon electrify this eccentric and assorted crowd. Lost in the foliage anything can happen and you're right in the middle. So get dancing!
elrow is very excited to bring the return of John Digweed after a hiatus from Australia. The legendary UK DJ returns alongside Canadian rising star B. Traits. She is joined on the bill by Elrow residents: Tini Gessler and Toni Varga and Hot Creations/Crosstown Rebels stalwart Kevin Knapp. Sydney and Melbourne will also be treated to local heroes.
"The Catalan carnival are planning world domination through colour, costumes and Tech House. Elrow has a strong claim as one of the fastest-growing, explosively popular parties in the world. Most of their events – where a popular version of house music known as 'Tech House' is combined with an overload of costume, colour and flamboyance, regularly sell out 2,000, 4,000 or 6,000-capacity event spaces within a few hours. What started as a party on the outskirts of Barcelona, in the last two years has gone to Johannesburg, New Caledonia and Peru, as well as most major centres of nightlife in the Western world, with Antarctica now the only continent untouched by the brand. "We have five teams that can deploy shows in five continents on the same weekend," says Vicenc Marti, president of the company. Asia is the current new frontier, he reveals, with shows in Taiwan, Hong Kong, Macao and the "Japanese and South Korean markets" being established.
Read 'The Independent UK' Full Article here: https://www.independent.co.uk/arts-entertainment/music/features/elrow-re….
Elrow Australia Line-Up:
John Digweed (UK)
B. Traits (CANADA)
Tini Gessler (Elrow)
Kevin Knapp (USA)
Toni Varga (Elrow)
plus local guests
For more info re the show, previous events, décor, music, performers, go to: https://www.elrow.com/en/shows/sambodromo-do-brasil
EVENT DETAILS:
Saturday 15 December – Hordern Pavilion, Sydney
Doors open: 4pm
Tickets: www.hardwaregroup.com.au
Ticket link: http://premier.ticketek.com.au/shows/show.aspx?sh=ELROHORD18
Saturday 22 December 2018 – Melbourne Showgrounds, Melbourne
Doors open: 1pm
Tickets: www.hardwaregroup.com.au
Ticket link: https://elrow-melbourne-2018.eventbrite.com.au
On-Sale starts: Friday 28th September at 10am AEST
For more information, go to:
https://www.elrow.com
https://www.facebook.com/elrowofficial
https://twitter.com/elrow_
https://www.instagram.com/elrowofficial
https://www.hardwaregroup.com.au/