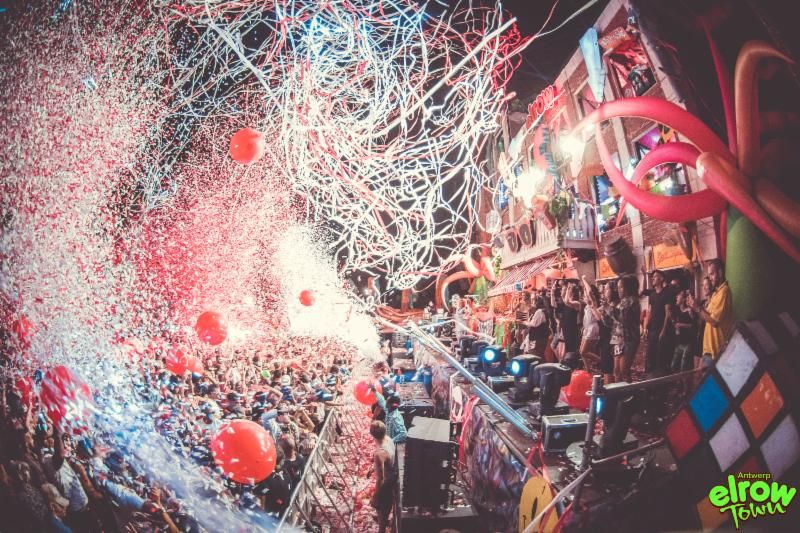 elrow Town Antwerp Unveils Stunning Lineup For Second Year, Including Jamie Jones, Joseph Capriati, Loco Dice
After the runaway success of last year's Belgium debut, elrow Town Antwerp returns with a huge pre-party on Friday 5th July 2019 and all day festival on Saturday 6th July 2019 with Jamie Jones, Joseph Capriati, Loco Dice and more.
Settling once again in the picturesque lake-park surroundings of Middenvijver, an area of outstanding natural beauty, founder & CEO of elrow Town Rowgelia and best friend Rowmeo are bringing the most astonishing, immersive party on the planet back to Belgium – and they've secured the most exciting DJs in the world to soundtrack the day for the new townspeople.
From his legendary Ibizaresidences to trailblazing Hot Creations label, Jamie Jones is an undisputed titan of electronic music and his distinct selections of infectious house are a highlight of any event, while the world renowned Joseph Capriati specialises in everything techno, releasing impressive cuts on Drumcode, Plus 8 and CLR. He'll find time in his hectic touring schedule to no doubt demonstrate why he's held in such high esteem, with Loco Dice's hard-hitting tracks causing dancefloor destruction.
There's still more to come, as a jaw-dropping bill of elrow debutants, residents and unrivalled favourites are on hand to keep elrow Town Antwerp grooving from morning through till night. Ranking as some of the most influential figures in the scene operating today, Dennis Ferrer, Cuartero, and Joyhauser rub shoulders with newer blood such as South London's Raw Silk and ZenZero, with bouncy disco provided by The 2 Bears, bruising techno from Alan Fitzpatrick and everything in between at the hands of Dense & Pika. Nobody knows how to whip an elrow crowd into a frenzy quite like the residents themselves and Marc Maya, Toni Varga, Bastian Bux and Eddy M will be on hand to do exactly that.
In an exciting first, party goers can pitch their tents as close as 50 metres away from a campsite that includes a number of different options, so they're never far away from the action. Last year, DJs wowed dancers from a breathtaking multi-storey tower-block stage and giant puppets, quirky characters, bouncing inflatables and looming stilt walkers strolled among them, and 2019 is set to offer the same thrills, spills and confetti-fuelled chaos.
Don't miss elrow! Bigger, better, more chaos, more craziness. Completely insane!
Tickets available here:
www.elrowtown.com/antwerp
FULL LINEUP:
Jamie Jones
Joseph Capriati
Loco Dice
Alan Fitzpatrick
Cuartero
Dennis Ferrer
Dense & Pika
Joyhauser
Kerri Chandler
Raw District
Raw Silk
The 2 Bears
ZenZero
Marc Maya
Tini Gessler
Toni Varga
Bastian Bux
Eddy M
Local DJs
LINKS & FURTHER INFO
www.elrow.com
www.facebook.com/elrowofficial
https://twitter.com/elrow_
www.youtube.com/user/ElRowChannel
www.instagram.com/elrowofficial