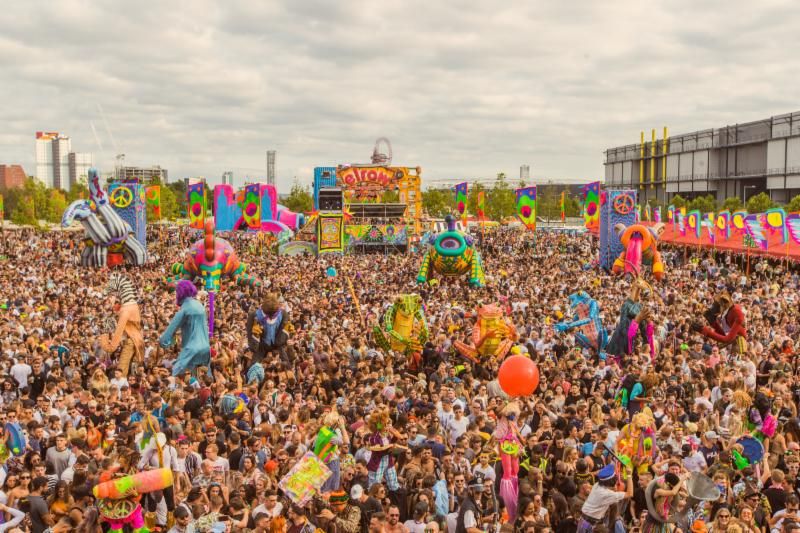 elrow Town London Unveils First Artist And Theme
Having announced Trent Park as the new home for elrow Town London, its first artist and theme can now be revealed, as Jamie Jones captains the El Triangulo de las Rowmudas megaship on Saturday 17th August 2019.
Having recently revealed plans to significantly expand this year's edition via the vast surroundings of Trent Park, one of electronic music's most influential names was needed to soundtrack elrow's biggest show to date. And Hot Creations and Paradise head honcho Jamie Jones definitely fits the bill. Locked in for an exclusive London festival appearance, Jones will demonstrate to the city's wackiest town why he's considered such a trailblazer in house, techno and much wider circles, stopping off to wow the townspeople.
He'll captain elrow Town London's megaship as it battles against the newly awoken Kraken, angry and hellbent on swallowing up the party. Luckily, no one's in the mood to slow down and a vibrant array of pirates, mind-boggling sea creatures and hippy communes under the sea will ensure the party carries on long into the night. Sandy beaches, looming palm trees and twisted shipwrecks await festival-goers, as London gets its first and last seaside town for strictly one day only.
The pre-sale has now completely sold out with over 50% of ALL event already gone! If you have not got your tickets yet, do not miss out – these go on general sale TOMORROW (Tuesday 19th March 2019) at 12pm: www.elrowtownlondon.com
ABOUT ELROW:
elrow is an award-winning experiential event concept and party series founded in 2010 by Cruz and Juan Arnau Lasierra; the sixth generation from a dynasty of entrepreneurs also responsible for creating Monegros Festival and legendary Club Florida 135 in Fraga, Spain. From their head-quarters in Barcelona, elrow have taken the world by storm with their unforgettable party style, pairing elaborate production, interactive performers and zany characters with the best electronic music, placing them as a global reference for circus inspired parties with tickets to the visual spectaculars usually selling out in minutes. A myriad of different themes and concepts makeup elrow's zeitgeist with sub-brands including 'Rowlympics'; their own take on the Olympic games, their Brazilian jungle carnival theme, 'Sambodromo de Brasil' and flag-ship theme 'Singermorning'.
With lauded residencies in Ibiza, Madrid, London and Amsterdam already in place, 2017 has seen a game-changing partnership with live entertainment platform, Providence-Superstruct, allowing elrow to push to new heights with a Shangai debut. Now elrow Town London will be the biggest event from the elrow team held in Trent Park, London (subject to licence).
LINKS & FURTHER INFO
www.elrow.com
SOCIALS:
www.facebook.com/elrowofficial
twitter.com/elrow_
www.youtube.com/user/ElRowChannel
www.instagram.com/elrowofficial