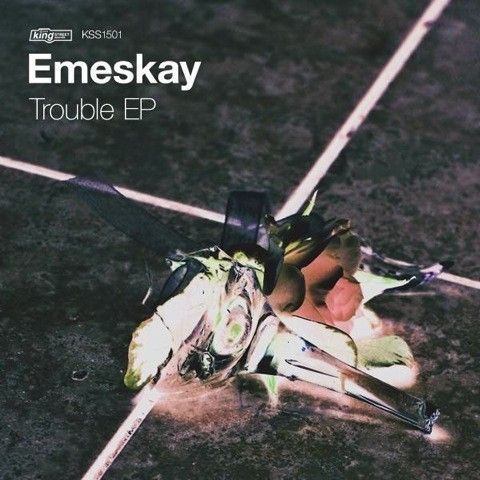 Emeskay – Trouble EP
Talented production trio Emeskay have now released their latest creation, 'Trouble EP'. This December – Mark Pierce, Scott Pierce, and Kris Bowden, a.k.a. Emeskay have released their three-track project via King Street Sounds. Formed in 2011, the Kent based production team have also been signed to numerous other labels including: Love Not Money Records, Zulu Records, Seamless Recordings, Vudu Records, Sexy Trash, Bloxbox Records, Good Lucky, Arch44, Drum Records, Unrivaled, and Sounds of Juan. The Random and TDKU residents are also very active live DJs, playing some of the biggest festivals and clubs in the UK, such as: High Definition Festival, Used and Abused in Brixton Academy, EGG, Ministry of Sound, Pacha and Crucifix Lane amongst many others. Moreover, their tracks have been featured on radio stations around the world, like: Ibiza Live, Ministry of Sound, Manchester Global, BBC Introducing Kent, and Mark Knight's Toolroom Nights. Emeskay's iconic bass driven, groovy music ideology has also allowed them to share the stage with legendary DJs, including the likes of: Loco Dice, Sidney Charles, Flashmob, Martinez, Andre Crom, and Dusky amongst numerous others.
Rooted mainly into House and Tech House the three tracks included in this EP are truly a showcase of three incredible creative minds that offer killer tunes when their efforts are joined together. The EP kicks off with its lead single 'Trouble', the song from which the EP derives its name. This House effort features a driving drumbeat, which accompanies the funky vocals and electronic riff together with the unique acoustic piano arrangement making the song sound incredibly fresh. The synth-bass lines offer an added layer of depth to the track, that when added to the many electronic effects – displays Emeskay's refined sonic tastes and aptitudes. 'Trouble' offers a remarkable grand opening to the project and leads the way to another impressive production, 'Avalon'.
Moving more towards the etcher spectrum of House, 'Avalon' features the distinctive voice of the talented Amber Jolene. Having her vocals featured on tracks signed by a line of prime labels and around appearing at some of the top clubs around London, Amber Jolene represents an ideal addition to Emeskay's productions. Once again, Emeskay draw another electrifying drum beat from their arsenal, driving the way for the hypnotic bass lines and Amber Jolene's smooth vocals to shine. Spiced up with eerie effects and a subtle synth melody in the background, Emeskay's skills and melody-producing abilities are showcased throughout this memorable package. Lastly, the instrumental version of 'Avalon' provides an epic closure to this project. Whilst stripping the track from Amber Jolene's remarkable vocals, this song gives the leading role to the amazing instrumental melodies devised by the Kentish trio, displaying another perspective on the deep and well thought out production.
Emeskay have released the EP via King Street Sounds, adding their name on the roster alongside those of: Louie Vega, Roger Sanchez, Danny Tenaglia, Alex Kenji and Larry Levan amongst other leading House stars. Establishing itself as one of NYC's most respected independent dance labels, King Street Sounds have yet again presented an EP, which will surely keep building their already famous international reputation within the House world.