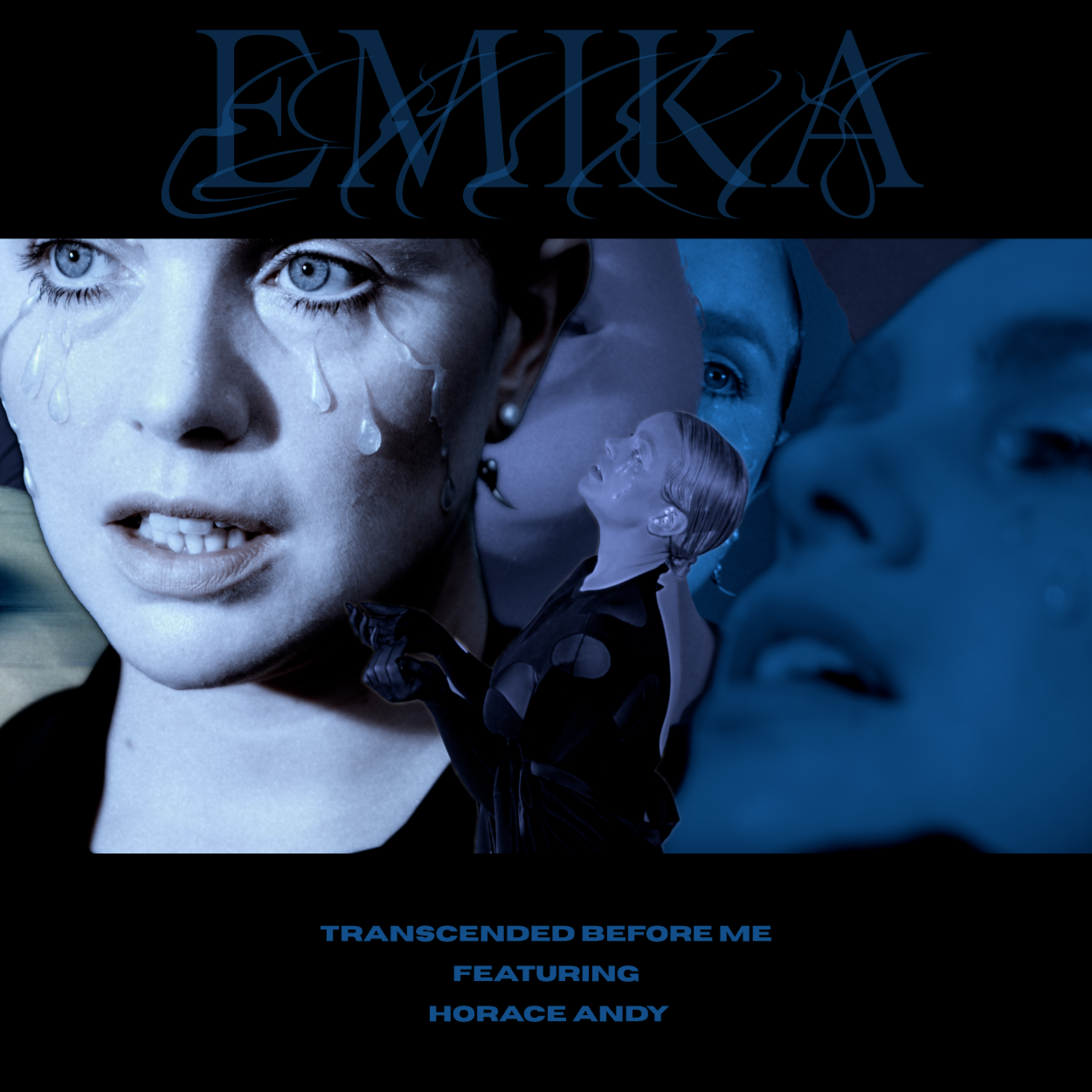 Emika marks tenth anniversary with 'Vega' – A trilogy of new music. Second single "Transcended Before Me " f
Emika will this year mark the tenth anniversary of her debut self-titled album. A new body of work titled 'Vega' will be unveiled throughout the year, comprising a trilogy of three collections of songs. This will feature some reimagined versions of classic tracks from her Ninja Tune catalogue, including 'Professional Loving' (which was sampled by The Weeknd on his track 'Professional'). 'Vega' will also showcase new material including collaborations with Horace Andy (Massive Attack), Liela Moss (The Duke Spirit), and techno behemoth Rødhåd.
Brand new track 'Transcended Before Me featuring Horace Andy' takes us deep into her universe. Icey, blue, dreamy, hypnotic, the song features soul singer Horace Andy (Massive Attack) who sings from his heart about how "the things you love the best, never ever stay, you try to hold onto it, it slips away..".  Emika's repetitive "come, come, come" sonic hook guides us through and epic journey of transcendental woosh sounds, beethoven-esque piano bass stabs, symphonic synth harmony, and in unforgettable marching beat and puts Hip-Hop, Trip-Hop and Techno into a new dimension. Emika's ice-goddess production contrasts the Earthy-tones of Horace Andy's voice and shows the world her strengths and powers as an energy priestess. Experiencing this track in headphones with your eyes closed will give you an experience to remember.
The track arrives with a psychedelic video clip, continuing Emika's Berlin Fashion Week collaboration show with DSTM, and featuring the Siciliano Contemporary Ballet. The music video was created by director Zee Marla Osh, while on an acid trip, determined to find new ideas and she awoke with the confidence that people wake up with thousands of new ideas each day, it is simply not possible that all ideas have been done before: and so this new visual was made. Emika's face layered for a blue eternity, it's a pop music video done to the highest of abstract degrees.
Emika says: "T ranscended Before Me", tells the story of how many systems, our currencies, our dreams, o  ur health, have already been decided often by generations making decisions and contracts before we were born."
Each of the three parts of 'Vega' will have a different theme and sound, demonstrating and celebrating the diversity of Emika's career to date. Where Part One explores her electronica heritage, Part Two will bring in elements of her two piano albums: Klavirni and Klavirni Temna. Part Three will move away from electronic sounds and explore the neo classic side of Emika's work, featuring a string quartet. Together, the three parts will form one brand new body of work. The complete project is funded by Initiative Musik
2021 signifies Emika's 10th year in the music industry and with that comes time for reflection. Emika says: "The challenges that lay in front of any career artist are unchanging yet simple. Self-doubt can shatter any artistic vision and the universal illusion that something's good because it's got big numbers attached to it. I've always managed to find a way past these trials, listen to my heart and push myself hard to make the most outstanding music I possibly can while having faith in my ability to sell it myself. My career path continues to be an incredibly colourful one – I've made many friendships through music and I'm grateful for everyone who has joined my journey so far."
"Transcended Before Me" feat. Horace Andy is released across all platforms on March 26.  

ABOUT EMIKA
Classically trained pianist and vocalist Emika, was born in the UK of Czech heritage. Studying in the city of Bath, she was influenced by nearby Bristol's trip hop vista, and quickly became a part of the burgeoning dubstep scene, with an interest in techno culture. Her self-titled debut album 'Emika' was released via Ninja Tune in 2011, exposing her signature sound as bass heavy electronic with staccato rhythms and vocals.
Since then, she has consistently reinvented herself and her sound. Sophomore album Dva, released in 2013, explored electronic pop and included her cover of Chris Isaak's 'Wicked Game'. It was at this time that Emika relocated to Berlin, where a nascent underground scene would further infiltrate her production aesthetic.
In 2015, Emika showcased the minimalist neo-classical Klavírní on her newly founded Emika Records. Six months later, the electronic pop beast Drei would validate her rapidly escalating talent as a beat maker and sound designer. The former opened a door to experimentation that could not be shut: "I'm known for being a shapeshifter and reinventing things. That's how life and art is, but they smash into the music industry world where everything needs to be put in a box."
In 2017, Emika's next project, Melanfonie (2017), would demonstrate outrageous ambition, utilising the power of social media to seek €25,000 in funding via Kickstarter for the classical project How to Make a Symphony. With the help of 500 financial backers, Emika headed to Prague to work with soprano vocalist Michaela Šrůmová and the 70-strong City of Prague Philharmonic Orchestra.
2018 saw Emika return to her pacey synthpop sound with a sense of maturation on her sixth album Falling in Love with Sadness. The album softened the palette with a richer, denser collection of tracks, signified by Emika's by-now trademark proclivity for lush, darkly mysterious hooks and melancholy vocals.
If the previous eight years were a process of assimilation and discovery, 2020 was one of re-evaluation. Five years after the release of her solo piano album Klavírní, a second album of solo piano works arrived in the form of Klavírní Temná. During a year of global chaos and deep introspection, the appropriately titled Chaos Star album leapt further into the technological matrix, creating an algorithmic journey in generative sound for 'committed sound explorers.
On-stage, Emika has also moved away from the well-trodden DJ path, reconceiving her Falling in Love with Sadness album for a spectacular sold out surround sound live show at Berlin's Zeiss-Großplanetarium venue. Titled If We Disappear, Emika improvised alongside visual artist László Zsolt, accompanying his uniquely engineered 360° dome visuals.
"A glamorous Zola Jesus." – Uncut Mag
"I hope she becomes very famous." – Thom Yorke
"She is sonically out of this world." – The Weeknd
"She's all ready worlds apart, worth praising to the skies." – Classic Pop Mag

"Emika's effortless performances… sound just as good, if not even better, on stage than they do on record." – DJ Mag
Follow Emika:
https://www.facebook.com/emikamusic
https://www.instagram.com/emikarecords/
https://twitter.com/emika_records