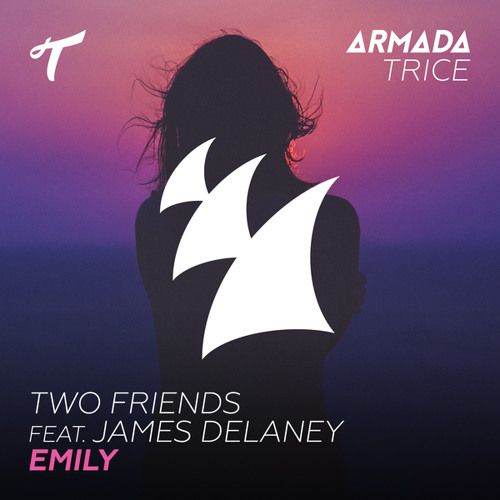 Two Friends - Emily
Enigmatic duo and certified nice guys, Two Friends, are back with upbeat original, 'Emily', out via Armada Trice.
Following on from the success of their debut EP, 'Out Of Love', which saw the duo try their hand at more pop centric textures, Matt and Eli aka Two Friends, return to their 'Soul House' sound with 'Emily', out via tastemaker imprint, Armada Trice. Featuring their signature fast-paced piano sequences that lace the track with colour and energy, as well as James Delaney's dynamic vocals, the record successfully keeps one foot in the pop world and the other in dance. Delaney, who's accomplishments include winning the NBC TV show, The Sing Off, met Eli at school. Two Friends explain how the collaboration came about and what the song means to them,
"Emily is a super fun one of ours. We actually wrote it a couple years ago and we're stoked it's finally coming out now. Been really fun teasing it at recent shows and getting all the Emily's in the crowd hyped. Eli went to school with James Delaney and we knew he'd be perfect for it- he straight-up crushes the vocals. There's not necessarily a specific Emily that we wrote this about, but Emily is more of a metaphor for a few different people in our lives, we'll say that much. And I know a lot of people can relate to those experiences where a relationship starts out super exciting and then falls into a sort of complacency, but you're still too addicted to them to leave."
Two Friends' 'Soul House' production style has proved a hit, with over twenty Hype Machine #1's and plays breaking the 40 million mark on SoundCloud and the 16 million mark on Spotify. This trend is set to continue with the release of 'Emily', which has all the hallmarks of a radio smash hit. Together with the audio comes an animated lyric video that serves as the perfect accompaniment to the track.
With a number of dates still to go on their 'Out Of Love' tour of North America, including a major homecoming gig at The Roxy in Los Angeles, the duo are far from slowing down and are set to build on this momentum into the summer and beyond. Stay up to date with all things Two Friends via their socials:
Tour Dates:
April 20th – Rumor, Philadelphia, PA
April 21st – University Of New Hampshire, Durham, NH
April 22nd – City Bar, Baton Rouge, LA
April 27th – Omnia, San Diego, CA
April 28th – UNC, Chapel Hill, NC
April 29th – TIME, Costa Mesa, CA
May 7th – Shephard's Beach, Clearwater, FL
May 27th – The Roxy, Los Angeles, CA
June 25th – Electric Forest Weekend 1, Rothbury, MI
July 1st – Electric Forest Weekend 2, Rothbury, MI