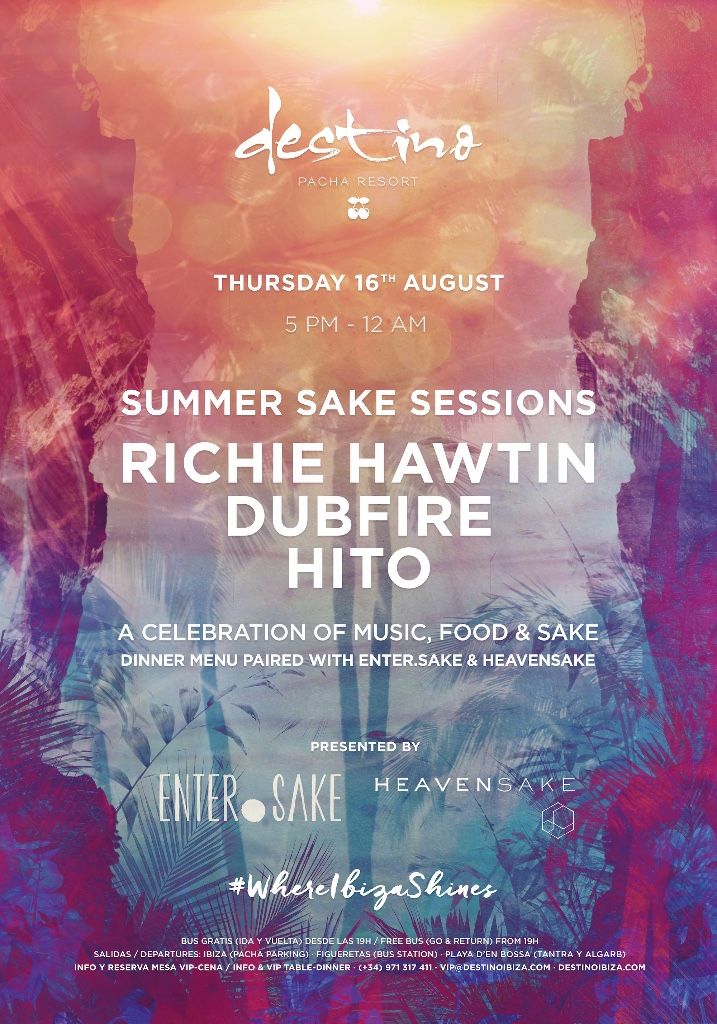 Enter.sake & Heavensake Present A Celebration Of Music, Food & Sake At Ibiza's Destino.
World-renowned musician, visionary DJ and devoted sake connoisseur Richie Hawtin is set to present his boutique, Japanese-produced and now globally acknowledged sake collection ENTER.Sake at one of Ibiza's most impressive cliff top resorts and al fresco clubbing venue's Destino.
The early evening event that overlooks the town of Ibiza, Formentera island and the Mediterranea will see an extraordinary dinner menu paired with both ENTER.Sake and HEAVENSAKE, a showcase of the finest craft sakes around, in a uniquely special setting.
HEAVENSAKE, by acclaimed champagne cellar master Regis Camus travels to Ibiza sharingENTER.Sake's commitment to excellence and of meeting the highest standard of purity and refinement.
Completing the unique paring of electronic music and the quality food and drink the Canadian icon Richie Hawtin will be joined by two further zealous advocates of Sake, techno connoisseur Dubfire and unofficial Japanese subculture ambassador Hito.
Richie has been exploring the world of sake for twenty years during his extensive trips to Japan. For the past six years, through his ENTER. events across the world, Richie has tirelessly promoted sake as a core part of the ENTER. experience. Originating inside his past residency at Space in Ibiza, Richie created Europe's largest sake bar, ENTER.Sake, stocked with special sakes not available anywhere else outside of Japan.
Richie Hawtin says: "The awareness of Sake has developed a lot since we first introduced ENTER.Sake at our ENTER. events on Ibiza over five years ago. Many friends & fans are starting to really appreciate the beauty of pairing Music & Sake together and this August we return to the island for an evening bringing it all back together again at Destino. A perfect blend of vibes from Hito, Dubfire and I, and tastes from both ENTER.Sake and our friends in this mission HEAVENSAKEI! A combination of pure frequencies and the hypnotic feeling that Sake adds to the mix!"
Hawtin has earned the Advanced Sake Professional Certification and was made an official Sake Samurai by the Japanese Sake Brewers Association in 2014 for his efforts in promoting sake abroad. Dubfire has also added to his long and illustrious two-decade-plus career by undertaking his own sake sommelier training, a further commitment to his adoration for Japanese culture and well-documented passion of gastronomy.
Carl Hirschmann, the Creative Director of HEAVENSAKE says: "Only sake has the power to bring people together and experience "A better high". Its a great pleasure to partner up with sake pioneer Richie Hawtin and his team. HEAVENSAKE and ENTER.Sake belong to the drinks of the future. Be ahead of your time…"
Summer Sake Sessions soundtracks the celebration of both Sake's rich heritage and exciting ability to be enjoyed globally including of course the white isle of Ibiza as the evenings showcase continues to push the boundaries of Richie Hawtin's cultural and entrepreneurial experiences. The event follows two successful Sake Summer Sessions events at Ouput in Brookly, New York.
Summer Sake Sessions at Destino, Ibiza Thursday 16th August