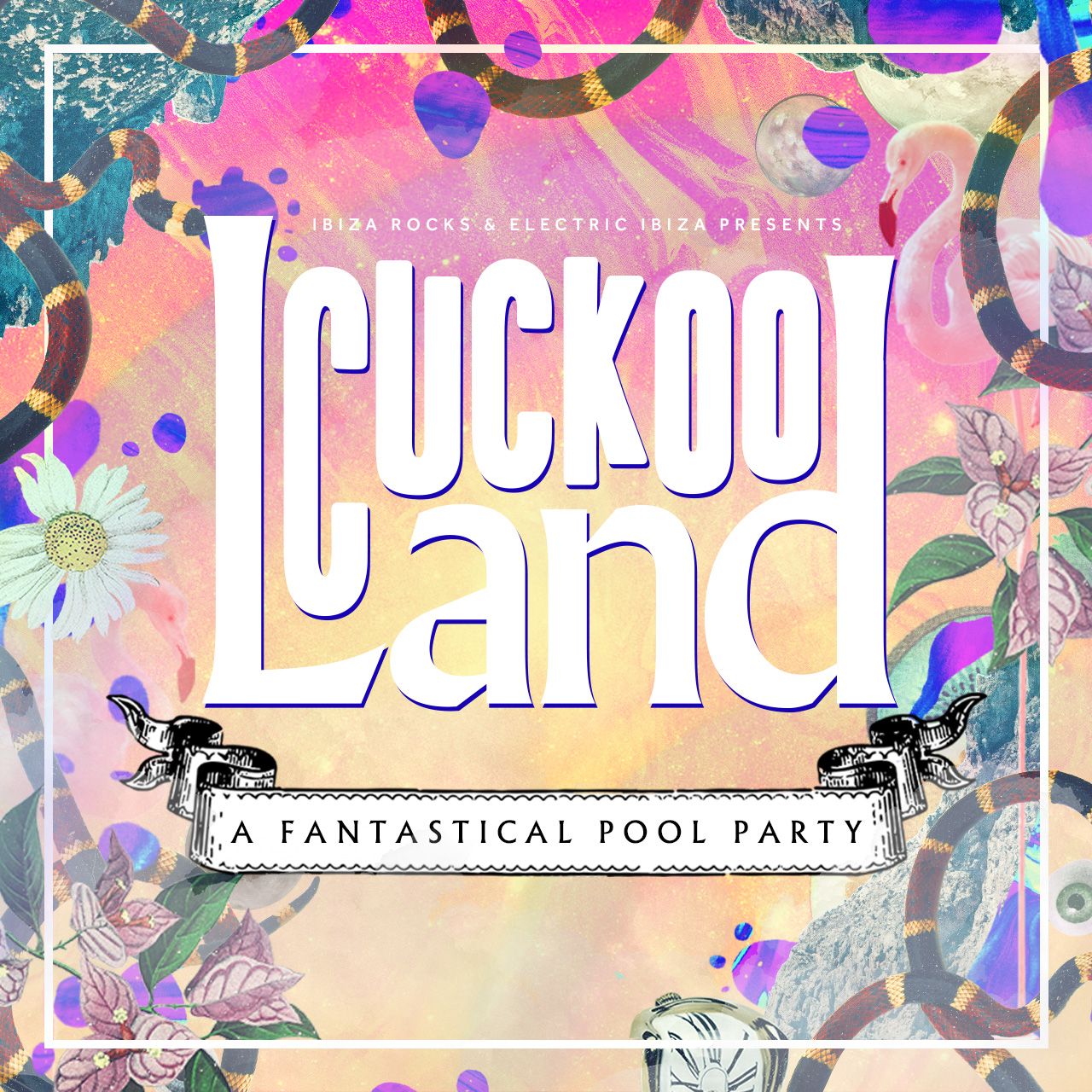 CUCKOO LAND – THE FANTASTICAL POOL PARTY
Having already announced the return of Cuckoo Land to Ibiza Rocks Hotel every Friday this summer featuring an exclusive 8-week residency from house music hero Sonny Fodera, Ibiza's favourite fantastical pool party just keeps on giving. As the only credible venue on the island to party poolside to deep house and tech in daytime, Cuckoo Land has allured an incredible selection of world-class talent including Claptone, Disciples, Waze & Odyssey, Latmun, Amine Edge & Dance and Max Chapman for headline sets across the sixteen weeks.
In collaboration with Electric Ibiza, the brains behind pioneering Ibiza brand Do Not Sleep, Cuckoo Land offers something completely different for San Antonio, and the chance to dance to a new poolside beat in daytime. This summer the sun-kissed vibes of deep disco, groove driven house and melodic tech will provide the poolside soundtrack to unforgettable Fridays at Cuckoo Land.
In addition to the huge headliners that will bring each Cuckoo Land party to the ultimate climax, the intense energy of the afternoons will be heightened by infectious sets from a cut of the most credible names in the game including Ben Pearce, Crazy P Soundsystem, Eli Escobar, Lovebirds, Mark Jenkyns, Miguel Campbell, PBR Streetgang and more.
As witnessed last summer, Cuckoo Land is about more than a physical presence: It's about a state of mind. Cuckoo Land at Ibiza Rocks Hotel – the place where daydreamers go to party poolside.
03/08: DISCIPLES | MIGUEL CAMPBELL | JAVI BORA | JAMIE ROY | DAN BLACK
10/08: WAZE & ODYSSEY | LOVEBIRDS | RAFFA FL | JAMIE ROY | CRAIG HARRISON
17/08: LATMUN | MIGUEL CAMPBELL | PIRATE COPY | JAMIE ROY | PAT HICKEY & DREW MORELAND
24/08: AMINE EDGE & DANCE | MIGUEL CAMPBELL | JAMIE ROY | PAT HICKEY & DREW MORELAND | SANCHEZ
31/08: MAX CHAPMAN | CRAZY P DJ SET | JANSONS | JAMIE ROY | CRAIG HARRISON
07/09: SONNY FODERA | WAZE & ODYSSEY | PBR STREETGANG | SAFFRON STONE | SUZEE X
14/09: CLAPTONE | CRAZY P SOUND SYSTEM | RAFFA FL | JAMIE ROY | DAN SEAMAN
21/09: CLOSING PARTY WITH AMINIE EDGE & DANCE | WAZE & ODYSSEY | HUXLEY | JAMIE ROY | PAT HICKEY & DREW MORELAND | CRAIG HARRISON
'Cuckoo Land Pool Party' at Ibiza Rocks Hotel, Fridays from 8th June to 21st September. 2pm until 9pm. Tickets onsale now from www.cuckooland.rocks
Book holiday deals direct with Ibiza Rocks for the best prices guaranteed – up to 20% cheaper than other booking agents – www.ibizarocks.com
CUCKOO LAND – THE FANTASTICAL POOL PARTY
EVERY FRIDAY FROM 8TH JUNE – 21ST SEPTEMBER
AT IBIZA ROCKS HOTEL