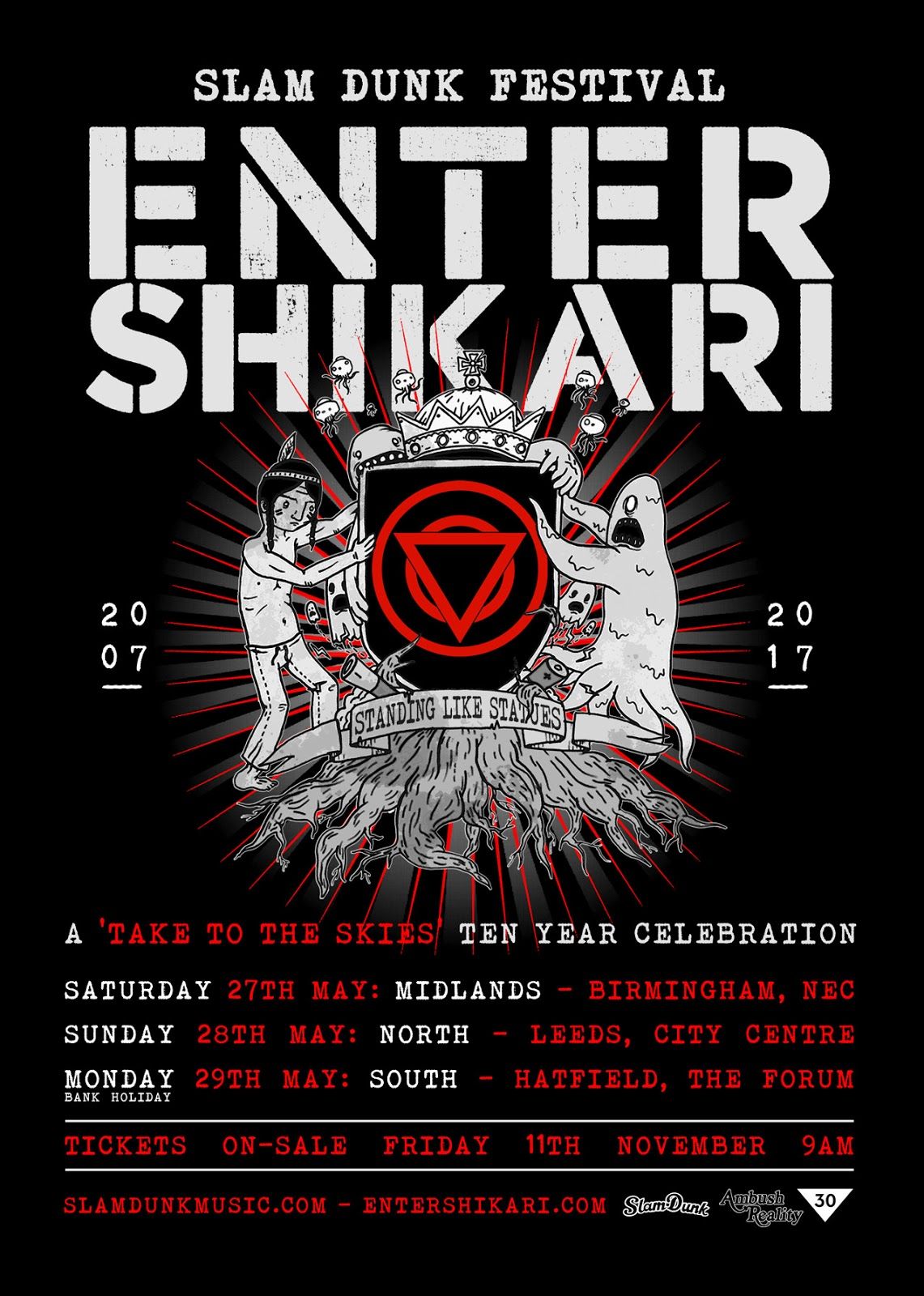 Enter Shikari Announced As UK Festival Exclusive For Slam Dunk Festival 2017
After celebrating their 10th anniversary in emphatic style earlier this year, Slam Dunk Festival is set to return in 2017, headlined by the all-encompassing force that is Enter Shikari.

Enter Shikari's unique blend of blistering rock, high-intensity electronics and impassioned rallying anthems have marked them out as one of the most important bands of the last decade. Led by the force that is frontman Rou Reynolds, Enter Shikari have become a calling card for modern rebellion, discarding any sense of genre and becoming a soundtrack all of their own in arenas around the world.

Across four studio albums and countless live spectacles, Enter Shikari have become an essential component in British rock music – influencing sounds across multiple genres and playing to thousands of fans through countless time-zones.
2017 is set to mark 10 years since the release of their landmark debut 'Take To The Skies' and to mark the occasion, Enter Shikari will be headlining Slam Dunk Festival 2017 and performing a very special exclusive UK festival set. After making their first appearance at the festival as Shikari Sound System last year, these shows are set to be packed with fan favourites, rarities and a stunning new live show that will see them lauded as hometown heroes in Hatfield as well as bigger shows in Birmingham and Leeds.

Enter Shikari vocalist Rou says:

"Slam Dunk is a festival that we've been attending from the very start – Slam Dunk South is actually on the campus of my old Uni in Hatfield!
It's grown into one of the most important festivals in alternative music, and it will be an absolute honour to headline it in 2017.
We're going to be celebrating the 10 year anniversary of our debut album Take To The Skies, which feels totally mental in and of itself.
The fact that we get to reminisce and relive tracks we recorded so long ago, and that are still held dear by so many, is something I could have never anticipated back then and fills me with appreciation for everyone that has supported this band over the years.
We'll never write another album like TTTS, as Enter Shikari isn't really a band that looks backwards, so to speak. But as this is a special occasion it's important for us to recognise the importance of this album to us, and for the family of people who have supported us since those early days. On a purely selfish note, I cannot wait to play some of the tracks we haven't played since 2007, or even ever!"

A nationwide invitation to party in the name of the alternative, Slam Dunk Festival is a rite of passage for lovers of pop-punk and rock music and is a key date in the festival calendar. Kicking off in Birmingham on Saturday 27th May, the festival will travel to Leeds on Sunday 28th May before finishing up in Hatfield on Monday 29th May, once again ensuring the Slam Dunk Festival Bank Holiday Weekend is the only place to be to catch all your favourite bands.

Slam Dunk Festival is set to get even bigger and better in 2017 with the addition of the First Direct Arena in Leeds as the second stage, another outdoor stage in Hatfield and an expanded site in Birmingham, ensuring more die-hard fans can savour the Slam Dunk experience than ever before. With tickets on sale Friday 11th November, and over 60 more acts to be announced, Slam Dunk Festival is set to define 2017 with the ultimate alternative party of the summer.

Festival Director Ben Ray says;
"I'm happy to welcome Enter Shikari to the Festival for the first time! It's always great to have another headliner from the UK, which shows how well British rock music is doing. We've also made some major changes to all 3 sites for next year so I can't wait for people to see them!"

TICKET INFORMATION
Tickets on sale at 9am Friday, 11th November here: http://slamdunkmusic.com/