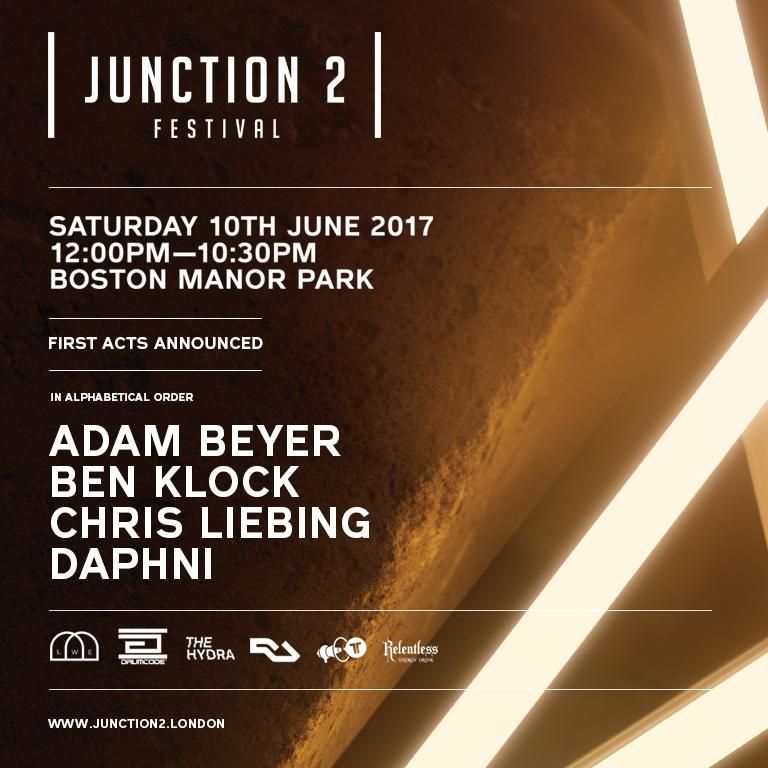 Junction 2 – First Names Announced for 2017
As the second chapter of Junction 2 takes shape, organisers reveal names of the first headline acts confirmed to perform at Boston Manor Park on Saturday 10th June 2017, setting the bar impeccably high from the start with Adam Beyer, Ben Klock, Chris Liebing and Daphni all set to join ranks.
In addition, two new stages will be woven into Junction 2's unique landscape, taking the total number to five. The new arenas open up spaces to showcase fresh sounds across a broader spectrum of electronic music whilst keeping the overall ethos of the festival.

The first of the new areas is already deep in development and is looking like a serious contender to rival the space under the bridge, while the second is primed to showcase new talent and breakthrough sounds, bringing new blood to the line up housed in a hidden enclave deep in the woods.

The first names have been released and topping the list for the second edition is the one and only Adam Beyer, the driving force behind Drumcode and Junction 2 partner. Adam will be joined by Berghain stalwart Ben Klock, uncompromising techno deviant Chris Liebing, and the inimitable Daphni aka Caribou's Daniel Snaith.
The colossal stature of the first lineup announcement, and intriguing plans for developing the site, provide a tantalising glimpse of things to come in 2017, as Junction 2 sets out to create a new precedence for electronic music festivals in London.
"When we first found the Junction 2 site last year, we sensed we were onto something special. And looking at that extraordinary space under the M4 and the parkland surrounding it, we just knew that an incredible crowd and heavyweight sound levels could create something truly amazing. We're still grinning from ear to ear – and even if our bank manager hasn't seen the funny side, we can't wait to make a start on the next chapter.
The only thing making us nervous about Junction 2 in 2017 is living up to the expectations set by 2016. We've been thinking hard about how to replicate that atmosphere and the overriding conclusion we came to was that magic ingredient was the crowd. Yes, you lovely people who trusted us, had faith and came and danced with us at Junction 2." – Festival Organisers LWE
EVENT LISTING INFO:
EVENT NAME: JUNCTION 2 2017
VENUE: BOSTON MANOR PARK, TW8 9JX
DATE: SATURDAY 10TH JUNE 2017
DOORS: 12PM – 10.30PM / LAST ENTRY 8PM
MORE INFO:
www.junction2.london
www.facebook.com/Junction2London
www.twitter.com/junction_2
www.instagram.com/junction_2