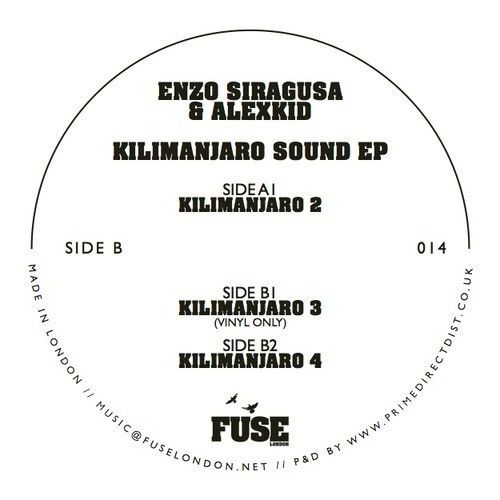 ENZO SIRAGUSA & ALEXKID – KILIMANJARO SOUND
ENZO SIRAGUSA AND ALEXKID'S JUNGLE INFLUENCED KILIMANJARO PROJECT RETURNS WITH THREE BRAND NEW UNDERGROUND MUTATIONS

Enzo Siragusa and Alexkid's Kilimanjaro project first appeared on FUSE London in late 2013 and offered a refreshing exploration of house music informed by jungle's production style. This Summer the duo are set to reunite as they continue to join the dots between House and Jungle with the 'Kilimanjaro Sound EP', the latest installment of their much-hyped project.

'Kilimanjaro 2' is a remarkably simplistic yet brutally effective opener, which kicks the EP off in fine style, effortlessly fusing elements of house and jungle together. Trademark crisp jungle drums underpin an off kilter house beat while vocal wails and a pulsating jungle reese bassline shakes the track to its core.

On 'Kilimanjaro 3', while the deadly deep bass remains, the track develops along a techier-tangent. Enzo and Alexkid strip everything back to its ferocious bare bones with an engrossing four to the floor beat complemented by mechanical swirls of sound and yet more bone-shuddering bass.

'Kilimanjaro 4' follows on another 4/4 trajectory but this time a 'hold it, now wait' Hip-Hop sample takes center stage. Supplemented by rich atmospherics and recurring blasts of bass 'Kilimanjaro 4' is another killer track made with superior standards of production quality.

On the 'Kilimanjaro Sound EP' it is clear that Enzo Siragusa and Alexkid have found a winning formula as they expertly fuse together the unmistakable guttural physicality of jungle with more delicate house sensibilities. The 'Kilimanjaro Sound EP' contains just the right mix of these elements as the duo deliver a forward-­‐thinking and unique 12" designed to send the dancefloor into overdrive.