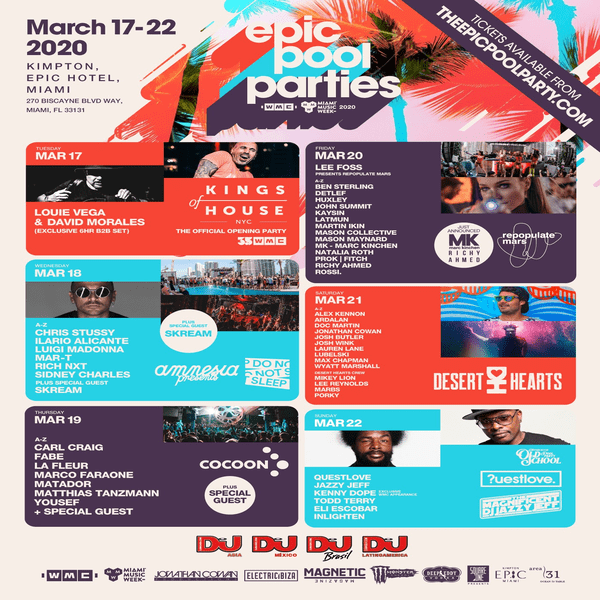 Epic Pool Parties announce full line ups for Miami Music Week
The Kimpton EPIC Hotel, Miami
theepicpoolparty.com
www.facebook.com/theepicpoolparty/
The sensational week of Epic Pool Parties at Kimpton EPIC Hotel comes to and end on Sunday March 22nd with a proper old school pool party headlined by none other than musical royalty Questlove and DJ Jazzy Jeff, plus an exclusive set from Kenny Dope, New York pioneer Todd Terry and Eli Escobar with local man INlighten rounding things out.
What's more, headliners for Cocoon on Thursday March 19th will be Carl Craig, Matador, Matthias Tanzmann, La Fleur, Matador, Yousef, Fabe and Marco Faraone, and on Saturday March 21st Desert Hearts welcome Doc Martin, Josh Wink, Lauren Lane, Josh Butler, Max Chapman, Lubelski, Ardalan, Alex Kennon and more to make this the best series yet.
These final names come on top of the already announced likes of the Official WMC OPENING PARTY, AMNESIA PRESENTS X DO NOT SLEEP and REPOPULATE MARS parties with DJs including Lee Foss, MK, Louie Vega & David Morales, Latmun, Chris Stussy, Luigi Madonna, Rich NXT, Skream, Sidney Charles, Detlef, Huxley, Mason Collective, Mason Maynard, MK, Richy Ahmed and many more.
What better way to end this marathon week of high class, cutting edge parties than with a fun-filled throwback to the old school. The Kimpton Epic Hotels gorgeous pool will bounce to the very best sounds from some key foundational figures. What can be said of first headliner Questlove, one of the most accomplished drummers in the world, someone who has worked with everyone from Common to Erykah Badu as well as his own multi-million selling band The Roots and is the in house band on Jimmy Fallon's iconic Saturday Night Live. The musical encyclopaedia brings an extraordinary array of skills and sounds.
Then comes Jazzy Jeff, the American DJ and producer legend who, after many years, continues to bring huge success with his solo projects, collaborations, mixtapes and live shows. His love of music shines through in everything he does. Over the course of his long and storied career, DJ Jazzy Jeff has achieved many accomplishments including a DMC Championship and multiple GRAMMY and American Music Awards and nominations. But he is a humble man who is still doing it as his 2002 hit said: "For Da Love of Da Game."
Playing his only set of the week in Miami will be the giant figure that is Kenny Dope, one half of Masters at Work and a studio wizard who has been devouring all things funk, house and hip hop for decades. His pioneering work in the 90s gave rise to a unique take on house that continues to this day. Next is another big hitter, Todd Terry. Over the course of 30 years, the American producer has turned out chart topping hits as well as underground anthems. Bringing a sense of swing to house music, his huge kicks really make an impact on labels like Freeze, Ministry of Sound and many others under a range of aliases. He is a true pioneer of the genre who still commands huge audiences and even more respect. Last of all is Eli Escobar, the Classic music artist who mixes up all forms of house and disco and has long been one of New York's vital players. He is joined by local star INlighten.
On Thursday March 19th, Cocoon takes charge. It is the most renowned techno party in the world thanks to its iconic Ibiza residency. Expect the full show and carnival atmosphere to roll into Miami with none other than Detroit's techno pioneer and Planet E boss Carl Craig heading up proceedings. His classy and timeless styles will be joined by the ever on form Marco Faraone, the hard hitting Irish man and sometime Minus associate Matador, Watergate's La Fleur who brings a deeper style, plus Moon Harbour's tech house godfather Matthias Tanzmann, long time UK heavyweight Yousef from Circus Recordings and a set from the revered Fabe with a special guest yet to come.
Desert Hearts have also confirmed their mouthwatering lineup for Saturday March 21st with American house mainstay Doc Martin bringing his slick west coast sounds, the always on form Lauren Lane brings her bass driven grooves, Ovum boss Josh Wink brings all his know how, and tech house hitmaker Josh Butler also joins with the likes of Alex Kennon, Dirtybird's Iranian star Ardalan, Cali native and Desert Hearts Records associate Lubelski, plus Jonathon Cowan, Max Chapman and Wyatt Marshall joined by Desert Hearts residents Mikey Lion, Lee Reynolds, Marbs and Porky.
This final reveal is a huge one that ensues there can be no better place to spend your week in Miami than at the Epic Pool Party series.
Tuesday March 17th at The Kimpton EPIC Hotel
WMC Official Opening Party
Kings of House, aka Louie Vega b2b David Morales (6 hour exclusive)
Wednesday March 18th at The Kimpton EPIC Hotel
Amnesia Presents x Do Not Sleep
Skream, Ilario Alicante, Luigi Madonna, Sidney Charles, Chris Stussy, Rich NXT, Mar-T
Thursday March 19th at The Kimpton EPIC Hotel
Carl Craig, Marco Faraone, Matador, La Fleur, Matthias Tanzmann, Yousef, Fabe
+SPECIAL GUEST
Friday March 20th at The Kimpton EPIC Hotel
Repopulate Mars
Lee Foss, Detlef, Huxley, Latmun, Mason Collective, Mason Maynard, MK (Marc Kinchen), Richy Ahmed, Ben Sterling, Martin Ikin, Kasyin, John Summit, Natalia Roth, Prok | Fitch, Rossi
Saturday March 21st at The Kimpton EPIC Hotel
Desert Hearts
Doc Martin, Lauren Lane, Josh Butler, Josh Wink, Alex Kennon, Ardalan, Lubelski, Max Chapman, Wyatt Marshall, Jonathon Cowan, Mikey Lion, Marbs, Lee Reynolds and Porky.
Sunday at The Kimpton EPIC Hotel:
Nothing But An Old School Pool Party
Questlove, DJ Jazzy Jeff, Kenny Dope, Todd Terry, Eli Escobar, INlighten