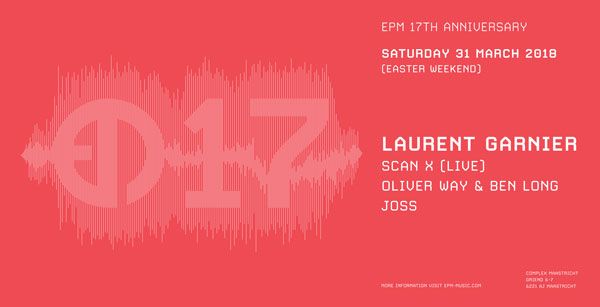 EPM 17: THE COMPLEX: Laurent Garnier, Scan X (Live), Oliver Way B2B Ben Long, Joss
EPM 17
31 MARCH 2018
Line Up:
Laurent Garnier
Scan X (Live)
Oliver Way B2B Ben Long
Joss (Artreform)
Venue: Complex, Maastricht, The Netherlands
Opening times: 22.00 – 05.00
Sound: L'acoustics
Visuals: Lucid Intervals
Tickets: € 29 Euros (on sale from 24 Jan):
http://s.epm-music.com/2rgxt00
At the turn of 2018 EPM celebrate their 17th Birthday. So of course, we needed a party, over the long Easter weekend, and with plenty of punch. Headlining is non-other than French legend Laurent Garnier whose DJ sets are always a special occasion. Joined by fellow techno countryman Scan X who plays a live set, the Gallic duo are further accompanied by EPM's Oliver Way and Ben Long who play a B2B set and from Ukraine we have house DJ/producer Joss from Artreform. Job done!
Laurent Garnier has been making the planet dance for almost 30 years. And, for all these years, his boundless energy has seen him grooving behind record decks, bouncing up and down behind studio equipment and leaping around radio studios. He is a multi-faceted artist whose impact on the music scene is far-reaching. But above all he is a DJ, a true DJ: transformed by music, passionate about the crowd. Bodies move in a trance on the dance floor, minds elsewhere. Yet he is also an explorer of old and new sounds and has an amazingly rich musical culture. He spends most of his spare time sifting through old vinyl in record shops, following the most obscure leads on the internet and listening to every single piece of music he is sent. Music, the pulse of our planet, is his Holy Grail.
He is tireless in his enthusiasm and is always bursting with new ideas and projects. As well as the demands of his DJ-ing and his radio shows, Laurent Garnier has also evolved into a well-respected music producer. His first big hits (Acid Eiffel and Wake Up), both soundtracks to the explosion of dance music in France, have paved the way for a series of albums that are both elaborate and multi-layered. From the techno undercurrents of Shot in the Dark to the ambition of Tales of a Kleptomaniac, the electronic odyssey of 30, the maturity of Unreasonable Behaviour, and the visionary escapism of The Cloud Making Machine. In the space of five celebrated albums, Laurent Garnier has embarked upon a remarkable journey. A journey marked by some incredible electronic music anthems, loved by both DJs and the public alike: Flashback, Crispy Bacon, The Man With The Red Face, Back To My Roots, Gnanmankoudji, It's Just Muzik. Put simply, the world of techno would not be the same without this irrepressible force of nature and Laurent Garnier is justly lauded as one of the greatest DJs of the last 30 years. We can't think of a more fitting way to celebrate our 17thy year. Monsieur Garnier, we salute you!
Stéphane Dri, aka Scan X, is one of the original pioneers of the French Techno scene. His career began in 1993 when he released his first two EPs on the now legendary FNAC MUSIC imprint. In 1994, another milestone was reached when Scan X released a series of EPs on Laurent Garnier and Eric Morand's label F Communications. Many of these tracks are now considered classics. Scan X's productions continued to develop as his unique style and precision matured. He has created an uncompromising universe where the profoundly intellectual is mixed with powerful dancefloor sounds. As a result Scan X has performed in the most important international music events of the past 20+ years and his live set at Complex alongside recording compatriot Laurent Garnier will be a 'Paris' match made in heaven.
Oliver Way has been a recognised figure in the techno scene for some time. As a DJ since 1991, he held residencies at Drum in Long Island (New York) and the now legendary JDP nights at The Kitchen in Dublin (located in the basement of The Clarence Hotel). His first release under his own name was on Urban Substance Records in 1998 before joining the Electro / Techno / Funk outfit Detroit Grand Pubahs in 2002, taking up the pseudonym (The Mysterious) Mr O where he produced alongside Paris the Black FU for their own label Detelefunk. More recently he has collaborated with Ben Long (Space DJz) on numerous releases and provided remixes for labels like Torque, Engineroom, Beard Man and BulletDodge Records. Late last year he delivered the first single from his forth-coming debut solo album 'From the Shadows' which drops at the end of April.
As one half of the Space DJz, alongside Bandulu's Jamie Bissmire, Ben Long collaborated on many releases including albums for Soma (On Patrol) and more recently for Advanced (Hidden Systems) before he dropped last year's solo album 'Standing Alone'. As part of the Space DJz he has toured the planet, causing dancefloor havoc with a multitude of single and EP releases such as 'Zero Crossing' (Perc Trax)', 'Rate of Change' (NovaMute), Return To Earth' (Infonet) and the classic 'AK-47' on his own Potential Recordingz. In fact there isn't a techno DJ today worth their salt who hasn't dropped a Space DJz touched production. Quite simply, Ben's earned his chops. Ben Long EPM Podcast 91.
Completing the line up we have Artreform's Joss. Kyiv-based DJ and producer Yevgeniy Joss belongs to a privileged circle of artists who have enormously influenced the development of the Ukrainian electronic scene and raised its quality bar high throughout the last 10 years. Joss has turned his passion for wax into his own international brand — Artreform Records, a label specializing in vinyl editions. Four years later today, Artreform can boast more than 25 vinyl releases in its catalogue. The imprint has put out original titles by Joss himself, as well as the singles from a number of globally recognized artists ranging from SCSI-9 and Robot Needs Oil up to Benno Blome, Frank Lober and IO. You can catch Joss in action with his recent EPM Podcast.
Visuals for the night are provided by Lucid Intervals. As a club VJ he has toured with Robert Hood on the 'Omega' album and will be providing a bespoke 3D mapped installation for the party.
EPM is an internationally recognised music company and record label with offices in London, Berlin and Nashville, as well as Maastricht. They have showcased events at ADE (Amsterdam), during Sonar at Nitsa (Barcelona), Mondo (Madrid), Es Vive Hotel (Ibiza), fabric (London), Berghain and Suicide Circus (Berlin), Doornroosje (NL) and hosted the techno stage at Solar Weekend Festival (NL).
COMPLEX is a unique location based right on the bank of the River Maas in Maastricht. Maastricht Music Hall (MMH) as it was first known is now refurbished and renamed COMPLEX. Built as a hub for creative & cultural events then venue's main use will be as a night venue, in particular for dance parties from 300 – 2000 people. The new company is a partnership between dance organizer Luc Boers (ClayDrum and Native Tone) and Hans-Paul Nieskens (festival director of Park City Live and former consultant external events Muziekgieterij Maastricht). COMPLEX is the largest venue in the city of Maastricht with a night event permit.
http://www.epm-music.com
http://complexmaastricht.nl