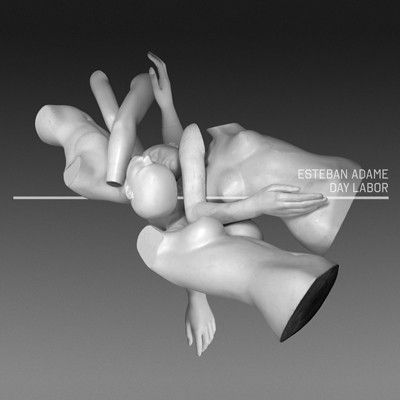 ESTEBAN ADAME – DAY LABOR
Following the album's opening single 'Home Sick' backed by a remix from MGUN earlier this spring, LA based artist Esteban Adame delivers his first album for EPM in the shape of 'Day Labor'.
"At one time I had my studio in a room in a warehouse in Downtown LA. It was an hour commute every time. Everyday felt like a grind just to get to the studio, but once I fired up the gear, everything just came together. The warehouse was next to a hardware store where day laborers would gather trying to get construction jobs. I had many conversations with them and broke bread with them several times, their stories were so amazing. I realized that my life was easy compared to theirs, and that I should not complain about my 'first world' problems given the struggles they had to overcome. This album is dedicated to Day Laborers all around the world. Stay strong, there is always another day."
'Day Labor' stirs into life with the gentle shimmering and ethereal chords of 'Rise and Shine' before the rousing blast of 'Out to Get It' sonically engulfs the dancefloor with its building swirls and chimes. 'The Grind' turns up the techno element with its hypnotic groove and clattering claps and 'Paraphernalia' maintains the dancefloor momentum with Esteban's Motor City influences coming to the fore. After the heady rush, Esteban offers some musical respite with the jazz inflected 'Handed Down' showcasing his musical talent via a stunning Rhodes solo and then first single 'Home Sick' kicks us back to the sweat box with deep techno grooves, heavy basslines and melodious synth work.
'The Reason' opened last year's debut label compilation 'EPM Selected Vol.1' and it's glorious strings and slow burning funk gave us the reason to invite Esteban back for more. 'What I Really Think' is pure West Coast tech-funk with its pulsating drive and rhythm whilst 'Another Day' sees the sun creep across a glorious tech-house groove adding a glimmering sheen and a crack in the dark before 'Friday Night DUI' brings back the night, closing out with its nocturnal, introspective motorik.
'Day Labor' is released on 05 May and will be followed by the album's second single 'Out to Get It' this summer.
Esteban Adame is a part of the new wave of artists emerging from the Los Angeles underground scene. After releasing material on Planet E, Esteban partnered up with long time friend and colleague Santiago Salazar to start ICAN Productions. As a musician, Esteban is also a member of the Underground Resistance live act Galaxy to Galaxy, as well as being part of the new six-piece ensemble, Thee Afterdark. He has also released solo productions on labels like Underground Quality and Modelhart and boasts various remixes to his credit.
Tracklist:
01 Rise and Shine
02 Out to Get It
03 The Grind
04 Paraphernalia
05 Handed Down
06 Home Sick
07 The Reason
08 What I Really Think
09 Another Day
10 Friday Night DUI