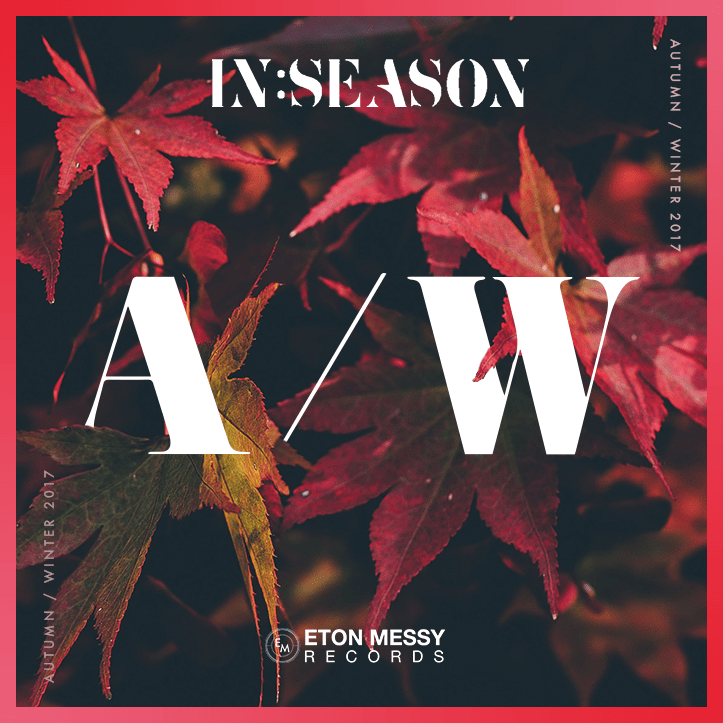 Various Artists - Eton Messy In:Season (Autumn/Winter 17)
Eton Messy continue to grow their record label with a compilation of entirely exclusive original tracks from the label, including GotSome, Catchment, Illyus & Barrientos, Martin Badder, Kry Wolf and more this October.
Eton Messy's online presence has seen them command respect as forward thinking taste-makers having launched the careers of a variety of electronic artists, pushing house, disco and garage into the forefront of the UK music scene. Nineteen tracks from as many artists sees 'In:season' expertly showcase Eton Messy's unique brand of house peppered with perfectly selected vocal samples.
The first major track of the album is GotSome's 'Sound Suite'. With a layered vocal polyrhythm that gradually evolves, a hard hitting rise and fall melody along with drums that combine tight hi hats and claps with loose congas and shakers really make this track groove.
Catchments contribution to the album comes in the form of 'Kornastone', with simple yet heavyweight percussion, the track manages to derive its depth from a superb, multi-layered, bone rattling low end, all brought together by a chilling vocal sample.
Glasgow duo Illyus & Barrientos' 'Nonsense' grows in intensity as its upbeat piano riff is subtly filtered whilst a vocal sample contributes extra rhythm as it fades in and out of the foreground and held together by classically swinging cymbals. and all of these elements are neatly juxtaposed by smooth, spaced out pads that make 'Nonsense' a delicately balanced addition to the album.
Martin Badder immediately draws us in with the inspired use of a vocal sample in 'Uguyla Mandee'. With balanced percussion, the rim shot jumps out and grabs the listener at the end of every bar. Intelligently placed and synth transitions give the track depth making Badder a worthy contributor.
Kry Wolf takes us back to the roots of electronic music with a collection of 80's inspired synthesiser obscurities and a memorable vocal with 'Music House'. Whilst some of his inspiration may have been in the past, Kry Wolf's feet are firmly planted in the present with powerful, up to date drums and bass line to match.
The rest of the album follows suit and consistently delivers grooving beats and captivating vocals that successfully promote the forward thinking ethos of Eton Messy.
The Eton Messy In:Season album drops on Eton Messy Records on 27th October 2017.
Tracklist:
1. Peasant – OutHere
2. GotSome – SoundSuite
3. Martin Badder – Ugulya Mandee
4. Grazze – Sunset In Kalee
5. Sarah Miller – Battle of Earls
6. Illyus & Barrientos – Nonsense
7. Boy 8-Bit – Want You (MasonRemix)
8. Catchment – Kornastone
9. Kry Wolf – WorkMe
10. Keenarf – Useless Activity
11. Alva – It's All Good
12. Howea – Handsome Fruit
13. Heart2Soul – La Chica
14. Gallago – Left
15. Jewel Tones – Form
16. Fran & Co – Armenian Apricots
17. Ros T – We Were
18. Jona Sul – Pentagon Jnr
19. Sunrom – Evergreen