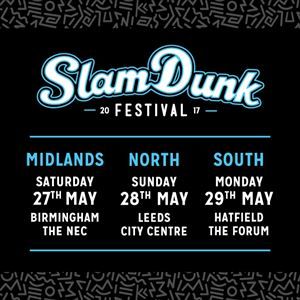 Even More Bands Announced For Slam Dunk Festival 2017
With a line-up drawing to near completion, UK's most celebrated pop-punk festival is delighted to add The Gospel Youth, Ocean Grove, Vukovi, Area 11, Sylar, Homebound, Casey and Makeout to the incredible 2017 bill. These incredible acts are set to perform on the new Breakout Stage, curated by Rock Sound Magazine at this year's Slam Dunk Festival. Keep an eye on the Rock Sound socials for your chance to play the festival!
Hailing from Brighton, treasured quartet The Gospel Youth are made from of members of past British pop-punk bands, poignant lyrics, driving guitars, all led by the soaring vocals. Recently signed to Rise Records and set to release a new album later this year, The Gospel Youth are certainly ones to watch. Also appearing on the Breakout Stage are Australian nu-metallers Ocean Grove. Armed with heavy bass and influenced by the presence of electronic producer, Running Touch, Ocean Grove are set to breath life into nu-metal as the leading light for a new generation. Experimental Scottish rockers Vukovi, who recently won hearts the hearts of many with the release of their blistering self-titled debut album will also be joining this exciting wave of new acts.
On their return to the festival, The Gospel Youth, says;
"This year's Slam Dunk line up is full of bands that helped shape us all musically. We're so excited to play along side them, and a load of other friends this year! Also Just finished recording our debut LP, so we're pumped to get back into playing some shows."

Set to cause a storm at this year's Slam Dunk Festival is Area 11. The energetic pop-punk band charted on both the UK Rock Chart and UK Album Chart last summer following the release of their album 'Modern Synthesis', making for an incredible show over the May Bank Holiday. Hopeless Records gang Sylar are armed with heavy melodies and solid rock riffs as they appear alongside explosive pop-punk outfit Homebound.
In addition to these astounding acts, Casey and Makeout are destined to make their own memories on the new Breakout stage with their debut Slam Dunk Festival performances. Recently releasing the video for their noisy and enigmatic single, 'Little Bird', the South Wales troupe are bound to draw a crowd straight to the Breakout stage. In their debut UK show, Makeout are bringing their are a unique blend of fast paced music, catchy choruses and punchy bridges to Slam Dunk Festival 2017.
On their debut performance, Area 11 bassist Kogie says;
"As a band we're fairly new to the festival game so as you can imagine we're beyond excited to be playing Slam Dunk – one of the best Rock festivals in the UK. Not to mention that the line up is insane! Really looking forward to sharing a stage with so many other great bands"
Offering an unparalleled display of pop-punk movers and shakers across 8 stages, Slam Dunk Festival is set to celebrate all things alternative as it welcomes incredible one-off anniversary performances from blistering headliners Enter Shikari, debut albums in full with American pop-rockers Cute Is What We Aim For and We The Kings, a special reunion performance from Madina Lake and the final-ever shows from We Are The Ocean. Whether you're at Birmingham on May 27th, Leeds on May 28th or Hatfield on May 29th, Slam Dunk Festival 2017 will be the ultimate alternative party of the summer.

FULL LINE-UP TO DATE
Enter Shikari, Don Broco, Bowling For Soup, Neck Deep, Less Than Jake, Reel Big Fish, Deaf Havana, Beartooth, Tonight Alive, We Are The Ocean, Crossfaith, Against Me!, The Bronx, With Confidence, Goldfinger, Mad Caddies, Waterparks, The Movielife, Frank Iero & The Patience, Decade, Zebrahead, Counterfeit, We The Kings, The Ataris, Fenix TX, Milk Teeth, The Maine, Cute Is What We Aim For, Memphis May Fire, Andrew McMahon In The Wilderness, Madina Lake, Set It Off, Citizen, Black Foxxes, Turnover, Crime In Stereo, Seaway, Fort Hope, SHVPES, Trophy Eyes, Boston Manor, WSTR, Like Pacific, Puppy, Sorority Noise, The Gospel Youth, Stray From The Path, Ocean Grove, I Prevail, Vukovi, Ice Nine Kills, Area 11, Oceans Ate Alaska, Sylar, Too Close To Touch, Casey, Makeout, MC Lars.

TICKET INFORMATION
Advance tickets £44 or £49 with after party are on sale now. www.slamdunkmusic.com
Facebook – https://www.facebook.com/slamdunkltd/
Twitter – @slamdunkmusic
Instagram – @slamdunkmusic