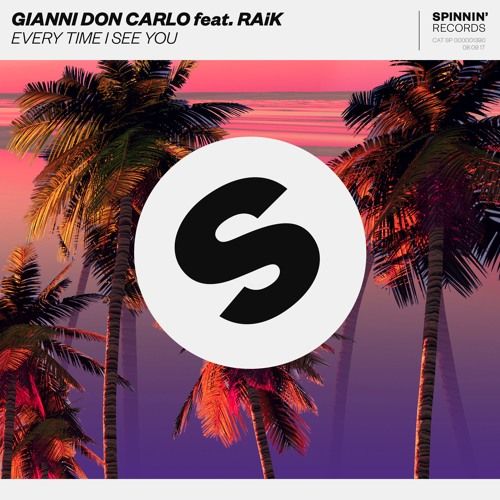 Gianni Don Carlo ft. RAiK - Every Time I See You
Belgian-born young producer Gianni Don Carlo has been riding the wave of 2017, pulling together his influences to burst into the global music scene. Hot off the heels of signing a deal with Spinnin' Records, this promising talent is ready to make an imprint on the masses. Kickstarting with his debut single Every Time I See You, this breezy summer house track arrives just in time for his 19th Birthday.
Securing international shows in the likes of Italy, Belgium, Spain and The Netherlands at the mere age of 14, it was clear from the get-go that Gianni Don Carlo was ambitious. With a successful year including a performance at Amsterdam Dance Event (ADE) and the broadcasting of his radio show on Radio Decibel, the young producer's sights are firmly set on breaking the music scene.
''I'm so happy that I can tell the world I'm releasing my first track on Spinnin' Records. When this track was in the making there was such a nice vibe whilst working with the singer, you could hear the summer was in his voice and we both felt straight away that this would be an amazingly good summer song"
Every Time I See You offers stomping house beats and poetic lyrical alchemy in equal measure. Laced with reverb-laden guitar riffs, clean drum patterns and intriguing chord progressions, this track has catchy yet sophisticated written all over it. RAiK's cleverly phrased vocal overarches the track, leading the listener into an uplifting house shape. Add to that an incessantly catchy flute melody underpinned by a tension-inducing synth bassline and we're onto a winner. Get ready to smash the repeat button, Every Time I See You is the perfect track to round off the summer.
Gianni Don Carlo's Every Time I See You is out 8th September, via Spinnin' Records.
SPOTIFY:
https://open.spotify.com/track/2rUwVA4uqylsb6OWX47jYx
SOCIAL MEDIA:
https://www.facebook.com/giannidoncarlo
https://twitter.com/giannidoncarlo
https://soundcloud.com/giannidoncarlo
https://www.instagram.com/giannidoncarlo