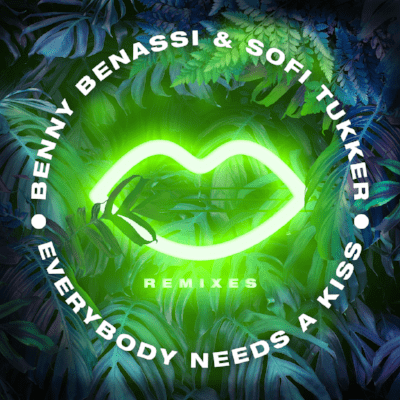 Benny Benassi x Sofi Tukker - Everybody Needs A Kiss (Remixes)
Grammy-winning Italian producer Benny Benassi and New York dance-pop duo Sofi Tukker enlist Italian duos Havoc & Lawn and MazZz & Constantin, alongside British DJ Kryder to rework their summer anthem, 'Everybody Needs A Kiss'.

With Italian duo Havoc & Lawn adding a dynamic club feel to their remix, groove maestro Kryder injects a typically Latin rumbling feel to his own rework. MazZz & Constantin, who collaborated with Benny on the original, bring darker tones to their version of the single.

Havoc & Lawn, MazZz & Constantin and Kryder's remixes all display the artistis' superb production styles and compliments the original track. The eclectic remix package follows the recently released animated video for the single.
The mastermind behind iconic dance productions 'Satisfaction' and 'Cinema', Benny Benassi recently performed at this year's Tomorrowland festival, where he played on Axwell's stage alongside Kryder. Not stopping there, the world-class DJ will bring his electrifying live sets to the UK, with highly anticipated appearances at Creamfields and SW4 this UK Bank Holiday Weekend.

Sophie Hawley-Weld and Tucker Halpern, best known as Sofi Tukker, continue to receive critical acclaim for their singles and live performances. Having previously scored huge success with their Grammy-nominated single 'Drinkee' and their smash hit 'Best Friend', the pair released their debut album Treehouse earlier this year. Following a rigorous run of festival dates this summer, the pair will embark on the European leg of their Treehouse tour next month.

Benny Benassi & Sofi Tukker – 'Everybody Needs A Kiss' (Remixes) Tracklist
1. Benny Benassi & Sofi Tukker – 'Everybody Needs A Kiss' (Kryder Remix)
2. Benny Benassi & Sofi Tukker – 'Everybody Needs A Kiss' (MazZz & Constantin Remix)
3. Benny Benassi & Sofi Tukker – 'Everybody Needs A Kiss' (Havoc & Lawn Remix)