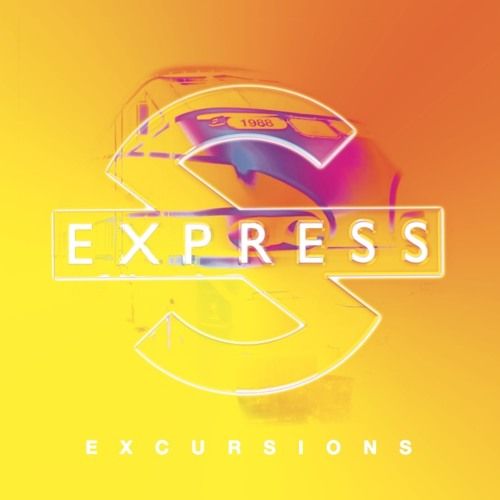 S'Express - Excursions
The debut release on Mark Moore's new Needleboss imprint has the charismatic musical maverick making an awaited electronic disco inspired incursion into the S'Express archive, bringing together a team of personally selected producers; I-Robots, Punks Jump Up, Vanilla Ace and Superman Lovers, to contribute special excursions picked from the catalogue.
The pioneering acid house breakthrough singles by S'Express, which combined the flair of disco to the edges of sampling culture and emergent dance music, first appeared on the hugely influential Rhythm King Records. S'Express led the way in a fast evolving DJ culture while also enjoying international chart success.
The demand for fresh remixes of his ground-breaking classics prompted Mark to collate a soundtrack of the bands' material from his favourite producers and pals collected throughout his individual expedition through disco, punk and dance music territories since "Theme…" exploded back in 1988.
"Excursions" forms the first release from the project and takes on two classic singles in which S'Express defined the elation and joy that shaped 88 and 89; the self titled "Theme" and "Hey Music Lover", (an early outing for Billie Ray Martin on vocals alongside Eric Robinson) as well as seminal B-Side "Funky Killer".
(With a forthcoming album, "Enjoy This Trip", pulling together other reworks from the S'Express canon, all of the mixes on "Excursions" are exclusive to the EP.)
First up, I-Robots updates "Funky Killer's" early trip-hop style lending it a darkly motoring, NYC Danceteria vibe where warped vocals, tribal beats and a thriving electro bassline meld across a Carl Craig-esque treatment. Second track, Punks Jump Up's spritely take on "Hey Music Lover", proves a more accessible disco dancefloor delight with its relentless bump and hustle groove.
Two very different remixes of "Theme" close out the EP. Vanilla Ace gives the genre bending track a more subliminal, subtle, steamy, sordid basement, dub-techno work out; whilst the Superman Lovers take an entirely different, more flamboyant approach, with a Balearic attitude on the track using lashings of Nile Rodgers-like guitar lines along with flourishes of classic Kitsuné output.
The "Excursions" EP will be followed in early 2016 by an album of new S'Express remodels, remixes and remakes "Enjoy This Trip". Artists contributing to the LP include Tom Furse (The Horrors), Horse Meat Disco, Monarchy, Jagz Kooner, Throbbing Gristle's Chris and Cosey, Reuben Wu (Ladytron) as well as Mark himself with his production partner Roland Faber.
1) Funky Killer – I-Robots Reconstruction
2) Hey Music Lover – Punks Jump Up Excursion
3) Theme From S'Express – Vanilla Ace Excursion
4) Theme From S'Express – The Supermen Lovers Remix
*** Danny Rampling names "Theme" as one of the five most iconic acid house tracks – http://bit.ly/RamplingsGuideToAcidHouse *****