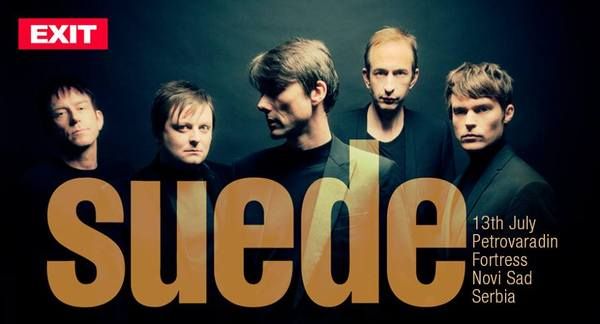 EXIT Festival Announce Suede, Explosive Stage and UKF Pre Parties
Britpop icons Suede join EXIT Adventure for the 15th Edition to headline the Main Stage at EXIT Festival alongside the already announced Daman Albarn, Gloria Gaynor, Rudimental Live, Skrillex and Stromae. Plus first acts for the Explosive Stage are revealed and three exciting pre parties in collaboration with UKF.
The 15th edition of the Best European Festival is celebrated by a big eight-day EXIT ADVENTURE that's taking us to [email protected] festival on 11th June 2014, at the Petrovaradin fortress in Novi Sad, only to continue to EXIT festival held on the same spot from 10th to 13th July, only to top it all off with SEA DANCE festival from 15th to 17th July at the Jaz beach, one of the most beautiful, smooth silky sand beaches of the Adriatic Sea.
EXIT also won the most prestigious festival award this year, 'Best European Festival', with the help of more than 620 000 votes from all over the world, in a category pitted against 360 festivals from 34 countries.
Come and join the Adventure!
SUEDE TO PLAY IN SERBIA FOR THE FIRST TIME
Eccentric icons of new glam rock and heroes of the 90s pop scene, SUEDE, with the charismatic Brett Anderson at their front, are coming to Serbia for the first time as headliners of EXIT's Main Stage on Sunday, 13th July.Mercury Music Prize winners and authors of epic hits 'Beautiful Ones', 'Trash', 'Animal Nitrate','The Wild Ones', will play their greatest hits, as well as songs from their latest, sixth album "Bloodsports." Q magazine named it one of the best albums of 2013. The final day of the festival will be the perfect time for Anderson's fans to reminisce why they had huge crushes for him and sway gently to the rhythm of the electrically charged songs of these British seducers.
EXPLOSIVE STAGE RETURNS WITH A BIG BANG!
Brace yourselves for an extreme sound at Petrovaradin fortress because EXIT's most fire-starter stage is coming back with a bang! The four days of Explosive will host more than 36 bands from 14 countries, from guerrilla underground to worldwide renown mainstream names. The energy levels of EXIT adventure are so high that last year's Riffs&Beats stage exploded, massively expanding into an even more vehement program at Explosive stage. The stage that's coming back hammer and tongs will fuel all fans of metal, punk, rock, and hardcore with bands like SABATON, MADBALL, 7 SECONDS, ARKONA, DEATH BEFORE DISHONOR, HELLER, HOBBS ANGEL OF DEATH, JAMBINAI and many others!
3 NIGHTS. 3 PARTIES. 3 SECRET LINE-UPS. 3 MASSIVE REASONS TO GET HYPED FOR EXIT!
Since making a firm party pact last year, EXIT and UKF's X-Bass night schedule takeovers are swiftly becoming the stuff of festival legend. With revelations of this year's line-up still rumbling along all the right channels, this year the relationship is set to go next level.
Each night between July 10-13 UKF and EXIT will be home to THE biggest names in all genres of dance music: Rudimental, Adventure Club, Andy C, Gorgon City, TC, Sub Focus, Pretty Lights, Fred V & Grafix, My Nu Leng, Koven, Dub FX, Dimension, Shadow Child and Jaguar Skills are all signed, sealed and ready to deliver throughout each night at the event.
To get into the party spirit, UKF, EXIT and surprise members of this white-hot line-up will be colliding one week before the event to host three very special launch events in three of the UK's most discerning party cities between July 2-4: London, Bristol and Brighton. No line-up announcements, just three unique events where anything can – and will – happen.
London's Corsica Studios, Bristol Exchange and Audio Brighton: Each venue handpicked for its intimate, instant-shindig atmosphere, these events will be three one-off parties with some serious huge talent guesting the controls. And they'll cost no more than £10.
Whether you're heading to Serbia or not, these launch parties cannot be missed. Just take one look at the X-Bass line-up again and start speculating now!
EXIT ADVENTURE TICKETS
EXIT Festival Standard 4 day ticket – £95 / 110 Euros + b/f
EXIT Festival VIP Gold ticket – £215 / 265 Euros + b/f
EXIT ADVENTURE standard ticket (EXIT + SEA DANCE FESTIVAL) standard ticket – £105 / 125 Euros. +b/f
EXIT ADVENTURE VIP Gold ticket (EXIT + SEA DANCE FESTIVAL) – £295 / 365 Euros. +b/f Camping tickets for EXIT and SEA DANCE are sold separately – £25 / 30 Euros each +b/f
Buy tickets here http://exitadventure.eventgenius.co.uk/
TRAVEL & ACCOMMODATION
Getting to EXIT ADVENTURE is easy! The nearest airport to EXIT Festival is Belgrade (Serbia) with flights from the UK with JAT and Wizz Air and many others with all European carriers. Belgrade is only one hour from Novi Sad and you easily can take a taxi or shuttle bus.
From EXIT festival (Novi Sad, Serbia) to SEA DANCE FESTIVAL (Jaz Beach, Budva, Montenegro) we recommend our EXIT party train, coach directly from Novi Sad to Budva, Montenegro. You can also book direct flights from Belgrade (Serbia) to Tivat or Podgorica airports in Montenegro. Prices start from 20 EUR.
For your way home, or your next destination from Budva, Montenegro, you can take a shuttle bus to Dubrovnik airport in Croatia which is connected to most major cities in Europe with low cost air companies. You can also use airports in Montenegro – Tivat and Podgorica or travel back to Belgrade airport by coach.
Step by step guide on all travel options here:
EXIT Trip is the Official Travel and accommodation service for EXIT Adventure with the lowest prices guaranteed! More information on packages, tickets, travel and accommodation here: www.exittrip.org
Travel packages from only £115 / 139 Euros including festival ticket, transfers and accommodation..
EXIT IS A NON PROFIT ORGANISATION:
As well as the Music, EXIT never forgets its beginnings and aims to evolutions the revolution it started more than one decade ago with several key topics to improve initiative, engagement and further development of young people. EXIT is the only music festival to be created as an effect of youth activism and aims to continue to mobilise the public opinion and thought leaders in the field of youth development on a regional and a global level.
An agreement with the cooperation of the University of Novi Sad and EXIT was signed, with a goal to promote the importance of culture, science and education among the youth and the society in general.
Through a series of public discussions, media articles, workshops, lectures by successful startups, Exit is encouraging young people to take destiny in their own hands and start their own start up business. Several workshops took place on festivals were mentors were giving free lecturing about various topics including; how to create/produce electronic music.
The leading European eco-conference Go Group in cooperation with the European Festival Association was also held, alongside a large number of socially responsible actions that were created during the festival, and whose results will come to life during the next edition of the festival.
Other projects EXIT are involved with are promoting positive role models for young people in the region and highlight all those young, talented, creative people who work hard everyday to make positive change in their own life and their community. Exit donated hundreds of free tickets to the best students, youth activists, young artists and young humanitarian workers.
EXIT. Where hedonism meets activism.
www.exitfest.org