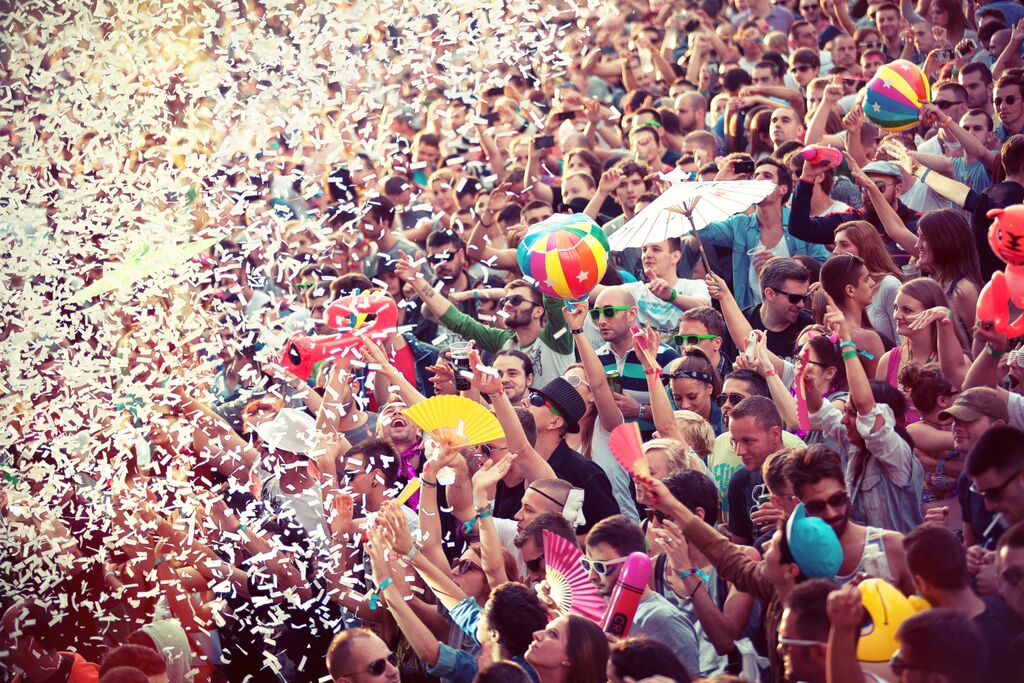 EXIT Festival Dance Arena Line Up Complete
Having built its reputation over the years for it's amazing atmosphere and energy the Dance Arena champions the who's who in the electronic music world and bringing the biggest dance acts to Serbia, 2015 will not disappoint.
Set in the awe inspiring moat of the fortress, it's that special moment when the suns rays shine over the fortress walls and your favourite tune is belting through the soundsystem and into your soul!
Watch the Exit Dance Arena 2015 Full Lineup video for a taste of what to expect:

One of the most influential performers in the history of electronic music, the legendary Leftfield, are set to perform live on 12 July at Exit festival's Dance Arena, as part of the 15th anniversary of Exit festival!. This force majeure that highly influenced the modern electronic music scene will resonate throughout the Petrovaradin fortress with revered tracks like "Open Up", "Release the Pressure", "Afrika Shox", "Afro Left", "Original", "Swords", "Phat Planet", and many more. With two Mercury Prize nominations behind them as well as the album to Rhythm and Stealth, which reached No. 1 in the UK Albums Chart. Their new album Alternative Light Source sees the band return after a 14 year studio absence and for us it's not a moment too soon!
Tropical house inventor, Thomas Jack, is set to premiere his positive summer vibes to the mt:s Dance Arena on Saturday, 12 July! The joie de vivre of house music from Australia took the internet by storm, by snatching the number-one position on The Hype Machine charts four times, thanks to hits like "Final Speech", "Symphone" and remixes of tracks "Little Talks" for Of Monsters And Men, and "Teenage Crime" for Adrian Lux.
Next to these two fantastic acts, the Dance Arena programme will be completed by its resident performers, a selection of local DJ ambassadors like including Marko Nastić, Dejan Milićević, Lea Dobričić, Marko Milosavljević, Mirko & Meex and Peppe, as well as new stars of the domestic scene Doo, Vem, Mene, Rise & 5hine i Kristijan Molnar.
Also some very exciting news to announce is that for the first time ever, the Dance Arena is taking over the Main Stage! Due to overwhelming demand, the legends of the electronic music scene, Faithless will now perform an expanded live production for the festival's finale on 12 July.
The final list of performers for Thursday, 9 July is made up of: Adam Beyer b2b Joseph Capriati, Chris Liebing, Octave One, Nicole Moudaber, Dejan Milićević, Lea Dobričić and Marko Milosavljević.
The next night on Friday, 10 July is slated for: Hardwell, Oliver Heldens, Catz 'n Dogz, Kölsch, Kill the Buzz, Mirko & Meex, and Rise & 5hine.
Saturday night fever on 11 July will be provided by: Martin Garrix, MK aka Marc Kinchen, Thomas Jack, Francesca Lombardo, wAFF, Marko Nastić, Peppe and Doo b2b Vem.
The finale on Sunday, 12 July will bring Leftfield, Dixon, Tale of Us, Simian Mobile Disco b2b Roman Flügel, Klangkarussell, Kristijan Molnar and Mene.
One of the best and eclectic lineups in Exit's 15 year history, from 9 – 18 July is madeup of Manu Chao, Mötorhead, Faithless, Emeli Sandé, Hardwell, John Newman, Capital Cities, Clean Bandit, Tom Odell, Martin Garrix, Leftfield, Tale of Us, Adam Beyer, Chris Liebing, Eagles of Death Metal, Fear Factory, Zomboy, Roni Size Reprazent, Napalm Death, Octave One and countless others for a total of 700 performers at 20 festival stages at the colossal Petrovaradin Fortress.
Ticket Offers:
The best group offer "4+1" ends soon! Gather your friends, buy 4 tickets for just Exit Festival or full Exit Adventure and you will get a fifth ticket for free! There's more: all five will also receive
Exit Camping passes, free of charge! Tickets for Exit Festival are available from £89 +b/f, at www.exitfest.org. Packages including travel and accommodation can be found at www.exittrip.org
What the DJ's say…
"Exit was unforgettable, the setting was spectacular, the line up was massive, (I will never forget that dance stage sound system as long as I live!) and the people were completely inspiring. It's a truly special festival." Annie Mac, Radio 1
"When the sun came up and to see so many people in a moat was something else" Carl Cox
"The EXIT festival is really magical! The place is unbelievable!" David Guetta
"The venue is even more impressive in reality" Dixon
"EXIT is the most magical show I've ever played. The fortress is such a unique place for a festival, you just need to see it for yourself" Dirty South
"Exit Festival's commitment to creating a legendary environment for electronic music performances has established it as one of the most revered festivals in the world" Dubfire
"I found the Exit Festival very inspirational; that so many people came together, through electronic music, for a great cause… Amazing!" Felix Da Housecat
"Wow – EXIT – what a festival! Great energy, great understanding of the music and a great place. very impressed." Giles Peterson
"Exit festival is hands down the most amazing festival" Heidi
"One of the best festivals. Amazing venue!" John Digweed
"Exit was simply amazing! Both setting and the crowd were mind-blowing." Laidback Luke
"What an amazing site to hold a festival, I wish I could have had more time to explore" Maya Jane Coles
"Best Festival in the world." Nic Fancuilli
"It was a great experience to play for such an enthusiastic crowd, placed in this wonderful Amphitheatre with this energy!" Ricardo Villalobos
"The location was amazing and to feel the warmth of the people dancing and freaking out to my music was inspirational!" Richie Hawtin
"This is the best festival in all of Europe! Skrillex
"It's a fascinating place with a raw and recent history and It's got a real energy" Tom Findlay, Groove Armada
About EXIT:
EXIT started off humbly but bravely back in 2000 when it was a student movement fighting for freedom and democracy in Serbia. Evolving from the student protests of 2000, the expression of rebellious spirit of young people in Serbia and fighting for political change and freedom. In addition, EXIT has played a vital role in bringing together the new nations of former Yugoslavia, war-torn by the events at the end of last century. It is the social importance of the Festival that made it unique and globally recognized.
EXIT is a non-corporate event with a unique history, proving that music is a universal language that can connect and bring people together to make the world a better place. EXIT is more than just a music festival, where hedonism meets activism as EXIT continues to evolve and bring like-minded people together. Exit also supports many community and humanitarian missions.
Today, EXIT is globally acknowledged as one of the most popular European music festivals winning the highly coveted title of 'Best Major Festival' at the 2014 European Festival Awards and reflects how EXIT has grown over the years attracting a global audience of 2.5 million visitors from 60 different countries. What was once a movement is now one of the most prestigious music events in the world!
EXIT where hedonism meets activism.