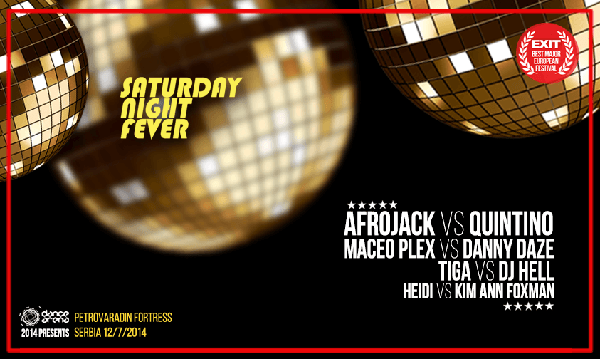 EXIT Festival Saturday Night Fever
The DANCE ARENA is burning up with exciting back to back sets for EXIT Festival's 15th edition! Not only will there be a 'Disclosure Wild Life' night on Thursday and the incredible Carl Cox vs Friends on the second night of the festival, but Dance Arena will be the host of a true Saturday Night Fever on the festival's wildest day, Saturday night, 12th July, with AFROJACK VS QUINTINO, MACEO PLEX VS DANNY DAZE, TIGA VS DJ HELL and HEIDI VS KIM ANN FOXMAN! A musical mix, all with one thing in mind, PARTY!
AFROJACK VS QUINTINO
Afrojack is one of the hottest EDM music maestros, and most influential DJs and producers. At just 26 this young man accomplished a lot! He's got a Grammy under his belt, and has been in the top 10 best DJs list for three years by DJ Magazine; Forbes tips him as the seventh most paid DJ on the planet, and he's even dated Paris Hilton! His awesome track "Selecta" brought together the young Dutchman with his country-man Quintino, so their duo set is going to show just who reigns the EDM scene.
MACEO PLEX VS DANNY DAZE
Two of the hottest DJs of the moment, Maceo Plex and Danny Daze found out they shared the same urge to get people dancing. Maceo Plex's cuban heritage fits perfectly with the Cuban influences that, along with Italo disco and techno, make up Danny Daze's sets. This duo collaborated before and pushed tracks under the combo-alias 'Jupiter Jazz', and they're definitely the hottest, most-wanted thing happening in electronic music right now.
TIGA VS DJ HELL
We promised we'd get exclusive b2b sets at Dance Arena for our 15th EXIT jubilee, but we're going to do one better – our festival will be the place where the divergent come together in confluence; where the electro colossi that never performed and for the first time ever, step together onto the same mix-table. Those colossi are none other than Tiga and DJ Hell! Tiga, the author of monumental hits like "Sunglasses at Night" and "You Gonna Want Me", and our dear friend of the festival and a welcome guest, will go head-to-head with the owner of the International DeeJay Gigolo label and one of the most creative and best german DJs ever – DJ Hell! Hell has a reputation that proceeds him and his first ever performance on the Dance Arena is certainly been hotly anticipated.
HEIDI VS KIM ANN FOXMAN

We have the highest honour of welcoming two exceptionally irresistible dames this year, who both have an uncanny infatuation with the dance floor and house music – Heidi and Kim Ann Foxman. No stranger to the Dance Arena, Heidi is infectious as she is passionate. To truly feel the insatiable passion Heidi has for music, you need only listen to her show on BBC Radio 1, or just visit one of the many Jackathon parties organised worldwide. If by any chance you're unable to do that, Dance Arena will be more than happy to oblige. Kim Ann Foxman is better known to some as the ex-member of Hercules & Love Affair, but she-s been devoted 100% to her gigs – from Tokyo to Cologne to Chicago – all the while ranking up her reputation as one of the most interesting house players in the scene. These ladies are going to be delighting us with their performance and this will be one set that will be truly spectacular.
DANCE ARENA BACK TO BACK SPECIALS
Afrojack vs Quintino, Carl Cox vs Danny Tenaglia, Ben Klock vs Marcel Dettmann, Carl Craig vs Green Velvet, Dusky vs Paul Woolford, Eats Everything vs Cassy, Heidi vs Kim Ann Foxman, Maceo Plex vs Danny Daze, Tiga vs DJ Hell, Jackmaster & Oneman presents 'Can U Dance' with more to be announced and not forgetting Disclosure presents Wildlife making the Dance Arena the place to be this summer!
Watch Heidi in action B2B with Justin Martin in 2009…
EXIT FESTIVAL TICKETS, TRAVEL & ACCOMMODATION
EXIT FESTIVAL regular 4 day ticket £95 / 110 Euros + b/f
EXIT ADVENTURE (EXIT + SEA DANCE FESTIVAL) tickets £105 / 125 Euros
Camping tickets for EXIT and SEA DANCE will be available at the price of £25 / 30 Euros each +b/f each.
Buy tickets here: www.exitfest.org/en/worldwide
Getting to EXIT is easy! The nearest airport is Belgrade, with flights from the UK with JAT and Wizz Air and many others with all European carriers. Belgrade is only one hour from Novi Sad and you easily can take a taxi or shuttle bus. EXIT Trip is the Official Travel and accommodation service for the EXIT Festival with the lowest prices guaranteed!
Travel packages from only £115 / 139 Euros including festival ticket, transfers and accommodation. More information on packages, tickets, travel and accommodation here www.exittrip.org
EXIT IS A NON PROFIT ORGANISATION:
As well as the Music, EXIT never forgets its beginnings and aims to evolutions the revolution it started more than one decade ago with several key topics to improve initiative, engagement and further development of young people. EXIT is the only music festival to be created as an effect of youth activism and aims to continue to mobilise the public opinion and thought leaders in the field of youth development on a regional and a global level.
An agreement with the cooperation of the University of Novi Sad and EXIT was signed, with a goal to promote the importance of culture, science and education among the youth and the society in general.
Through a series of public discussions, media articles, workshops, lectures by successful startups, Exit is encouraging young people to take destiny in their own hands and start their own start up business. Several workshops took place on festivals were mentors were giving free lecturing about various topics including; how to create/produce electronic music.
The leading European eco-conference Go Group in cooperation with the European Festival Association was also held, alongside a large number of socially responsible actions that were created during the festival, and whose results will come to life during the next edition of the festival.
Other projects EXIT are involved with are promoting positive role models for young people in the region and highlight all those young, talented, creative people who work hard everyday to make positive change in their own life and their community. Exit donated hundreds of free tickets to the best students, youth activists, young artists and young humanitarian workers.
EXIT. Where hedonism meets activism.
www.exitfest.org