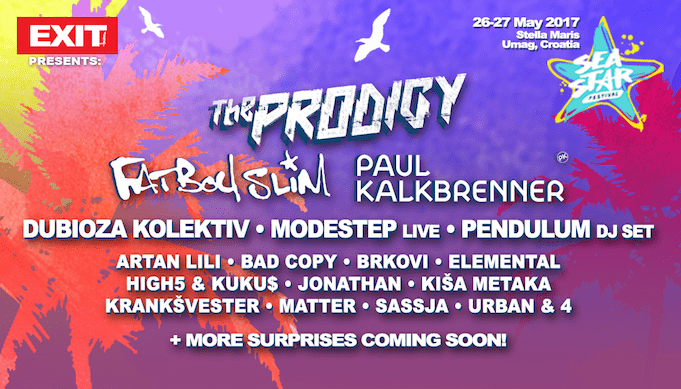 EXIT Team reveal new acts for Sea Star festival in Croatia!!
The first EXIT Summer of Love received new headliner reinforcements at its festivals located at the Adriatic coast: Fatboy Slim, Paul Kalkbrenner, Modestep LIVE and Pendulum DJ Set joined the line-up along with The Prodigy at Sea Star Festival in the Croatian seaside historic town of Umag, which will be held on May 26 and 27.
The festival tsunami that brought The Prodigy to the new Sea Star festival at the Croatian coast is now joined by an even greater wave of performers. The winner of Grammy, three BRIT and 10 MTV awards, the legendary showman Fatboy Slim will make an intro into this years official celebration of the 15th anniversary of his famous Brighton Beach party, where he performed in front of record-breaking 250,000 people! Headliner list will also include the leader of the German electronic scene, Paul Kalkbrenner, famous for stadium-size spectacles and recent Brandenburg Gate performance in front of half a million people!
Modestep, the dubstep band performing fully LIVE for the first time in Balkans, is coming to the Sea Star in Umag, the first in the line of EXIT Festival's Summer of Love 2017, and the furious quartet of new headliners in Croatia is completed by the DJ set of the Australian bass-rock band Pendulum, who are responsible for some of the greatest EXIT parties in history of the festival! The Sea Star line-up will also be fueled by some of the most prominent local artists, including Elemental, Bad Copy, Brkovi, Artan Lili, Jonathan, High5 & Kukus, Kiša metaka, Krankšvester, Matter and Sassja!
Special offer for tickets and accommodation for the great EXIT Summer of Love 2017
EXIT Team will connect four festivals in the region into one EXIT Summer of Love 2017. First in line is Sea Star, to be held on May 26th and 27th in Umag, followed by the Revolution Festival in Timisoara, June 2nd and 3rd, and right after the** EXIT Festival**, July 6th to 9th, comes the fourth edition of the Sea Dance Festival from 13th to 15th July!
EXIT Summer of Love (EXIT+Sea Dance+Sea Star Festival) ticket packages are available at http://www.exitfest.org/en/tickets Also available are separate tickets for Sea Star and Sea Dance festivals. You can save up to 50% off the final ticket price.
Check out the special offer for the Sea Star camp accommodation, Premium and Premium Plus, both with 4 stars, including electricity, drinking water, showers, toilets and everything you need, all only 100 m from the festival and the sea! The camp will be open from 24th to 29th of May. Visitors can also reserve accommodation in Sol Aurora and Sol Umag hotels, as well as Melia Istrian villas, and Sol Amfora, Sol Stella, Sol Katoro and Polynesia apartments, all of them between 100m and 1km distance from the festival, which makes Sea Star unique festival in Croatia. More on the festival and the beautiful festival site at http://www.seastarfestival.com/
Accommodation and travel arrangements for EXIT Summer of Love festivals, including EXIT, Sea Star and Sea Dance with packages combining the ticket, accommodation and transport can be found at Exit's official travel agency, ExitTrip's website: https://www.exittrip.org/