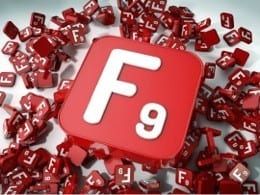 F9 Audio Launch Aims To Share Knowledge With Next Generation Of Music Producers
11th May 2015 sees the launch of F9 Audio, the new destination site for the next generation of electronic music producers. F9 Audio was conceived and created by chart-topping, Grammy-nominated producer, James Wiltshire, as a means to share the vast knowledge gathered over a 20 year career. F9 Audio will offer up and coming producers free, step-by-step video tutorials, invaluable tips and shortcuts, backed up with a unique range of in-house soundware products, utilising classic hardware as well as the latest advances in recording techniques, such as stem mastering. F9 Audio aims to become the most valuable source of free production, and music industry knowledge, available on the web; a trusted voice, helping new electronic music producers develop their skills. F9 Audio can be found at www.f9-audio.com. Tutorials are free with soundware products starting at £17.99

James Wiltshire is part of the last generation of producers to gain practical experience in the pro London studio scene before it disappeared. He joined DMC as in-house engineer in 1993, completing over 200 remixes and productions during a 5 year period. He then spent a further 5 years as an in-demand freelancer, working across every major West London studio. As the studio half of Freemasons, James has spent the last 10 years in one of the UK's most successful electronic music acts. His achievements include 5 UK top 20 hits, numerous Billboard Hot Club Play #1s, a Grammy nomination and a list of artists remixed that includes Beyonce, Kelly Rowland, Shakira, Depeche Mode, Adele, George Michael, Katy Perry and many more. He now wants to use F9 Audio to pass on every tip, trick and technique he's learned to the next generation of producers. He explains,
"As Freemasons, Russell and I were able to travel the world and DJ on every continent, except Antarctica! We did this thanks to the music we made and the skills we learnt along the way. Now it's time to open up the Studio (and the DAWs) and pass the knowledge on, in the hope that others can have the same fun I've had over the last decade."
James will use a range of bespoke F9 Audio products during his tutorials, which will be available to purchase. These are not just more generic packs of loops and samples. With an initial range including Drumtrax: House Future Classics Vol 1 (118-122BPM), Drumtrax: House Future Classics Vol 1 (124-128BPM), Zeuss FX Vol 1 and Massive: Future Classic Patches, F9 Audio products will offer something different;

Real musicianship and engineering: Nothing leaves the Studio for inclusion in the packs until it's of a quality that James Wiltshire would include it in an actual record release; quality parts, not random loops.
Classic Hardware: F9 Audio has put together an incredible collection of vintage hardware. Access a Jupiter 8 played through a Neve 1081 Pre-amp, or a TR-808 recorded via Api and Eq'd through a Chandler Curve Bender; myriad options exist for creativity and learning (see full equipment list in Editor's Notes).
Whole Song templates With Drumtrax: Pull up a Drumtrax BIG page and start writing music instantly to a ready made + complete arrangement. F9 Audio has done the laborious studio work; no need to get bogged down with hours of drum programming that can strangle creative flow. Included are fully customisable drum stems for the inspired producer.
Stem mastering of Drumtrax – The F9 Audio Drumtrax product line uses Stem Mastering, allowing a new producer to receive professionally EQ'd drum sounds and make edits to individual elements, with each one at master quality. F9 Audio have linked up with the world leader in Stem mastering: Wired Masters Chief Engineer, Kevin Grainger. (www.wiredmasters.co.uk). These drums are guaranteed to work by 2 industry professionals.
Created to work together: All parts in F9 Audio products are processed to work with one another. The whole product range is modular. For example, 4 Main keys for all musical parts.
Cross Genre: Many F9 Audio musical products are designed to work across multiple genres, from Future House to Drum 'n' Bass to media composers.
Add a Pro to your production: F9 Audio is already working with some of the world's finest musicians and working on new ways of making their talents accessible to up and coming producers.
Stress tested: Every single part of every F9 Audio pack has been tested and checked from end-user perspective. James Wiltshire has been using soundware for over 20 years and has utilised this experience to ensure everything feels right and all frustrating elements have been removed.
A key part of the F9 Audio ethos is a genuine desire to pass on knowledge, gained through experience, to a new generation of producers. This not only covers studio technique, but also how the industry works and the flow of income, an understanding of which producers will also need to succeed. Tutorial headings will include Skills, DAW, Software and Industry. F9 Audio will launch with a huge 3 part tutorial on swing in rhythm and production programming:
The Secrets of Swing – A definitive guide to the most misunderstood element of drum programming which can transform a groove in seconds if applied correctly. Part 1 is a brief history of swing including it's musical origins and the iconic drum machines that started it all and which still influence the sound of today. Part 2 covers the methods involved in applying swing inside todays DAWs and shows any tricks along the way. Part 3 Putting it all together within a composition – how to use different swings within the same track and why some parts of a bar are far more important than others when swing is applied.
Coming soon:
DAW – 10 unmissable tips for Logic Pro and Ableton : Logic and Live are now industry lynchpins and have transformed electronic music production. After 15 years of using them at the highest level, James has a kitbag of tricks. This F9 Audio tutorial reveals some of his favourites.
Software – Limiting | The Do's and Don'ts: Limiting gets things under control and LOUD, but with the wrong approach you can utterly destroy your production. F9 Audio presents a quick guide to getting this dynamic process working for you, not against you.
Industry – Figures you can't ignore | Income streams explained in the modern streaming industry: In 2015, Streaming represents 10% of the music industry. In 4 years time it will be 50% or more. What does this mean for artists, producers and writers of the future? Presented with a series of figures, from the individual's point of view.
To celebrate the launch of F9 Audio, visitors to the site can download the F9 Swing Grooves Logic & Live for free! If you use Maschine or MPC and use Logic or Ableton, this is an absolute must. It lets you add the swings of Maschine or MPC to the native Quantise systems of Logic (9+X) and Live (8+9). And for the perfect backdrop, F9 Audio is also giving a free download of classic synth wallpapers to add inspiration each time you log in!
F9 Audio is a fresh, vibrant community, for new and emerging producers and musicians to learn everything they need to know, equipping them for success in a tough business. James Wiltshire will provide a personal, honest and interactive focal point, a helping hand to take your skills forward, whatever level you're at. F9 Audio aims to set the trajectory for the next wave of electronic music superstar producers.