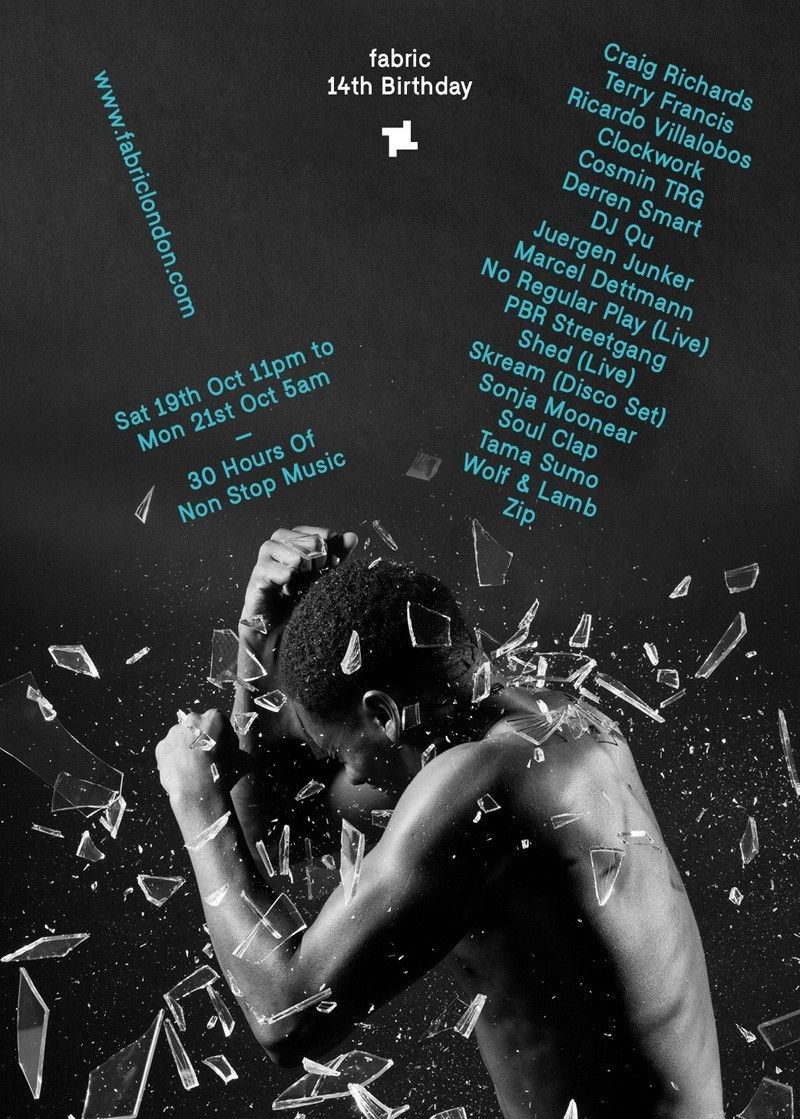 fabric 14th Birthday
A birthday is traditionally an occasion when you celebrate the anniversary of your creation, with friends and cake and balloons all of that other good stuff. But moreover it's also a time to sit back a little and take stock. And as our 14th annual celebration rolls around it's the latter we find ourselves doing, completely honoured to be able to look back at the fruits of our thirteen plus years of work, the music we've housed and the heritage we've created.
Following our previous announcement of our Friday night leg, the lineup of our mammoth Saturday through to Monday morning main event has now been officially released, featuring another incredible brace of DJ/artists/performers set to make the trip to Farringdon to help us mark our turning one year older.
Our resident team Craig Richards and Terry Francis will be joined quite emphatically by the Chilean master of tension and release, Ricardo Villalobos. The techno titan, Marcel Dettmann will perform a special 5 hour set and Clockwork will bring his bass-heavy vibrations, whilst Shed and No Regular Play are both set to deliver live performances. Perlon boss Zip, Tama Sumo and Sonja Moonear will all command the soundsystem in their own stylistic way alongside the Wolf + Lamb duo who join the birthday celebrations alongside Neurhythmics Recordings own, Juergen Junker. New York's finest dynamo, DJ Qu is also lined up along with Cosmin TRG and the irrepressible duo, Soul Clap. If that wasn't enough, the godfather of dubstep, Skream, serves a tantalising twist to the weekend with an exclusive disco set. Boogie boat, PRB Streetgang and Craig Richard's partner in Shoplifter, audio wizard Derren Smart, join all of the electronic giants above for a birthday party that's not to be missed.
Ahead of Saturday, FABRICLIVE will turn our Farringdon HQ into a relentless showdown of unadulterated vibes with a veritable who's-who of world renowned artists, featuring the likes of Oneman, J Rocc, Lil Silva, Martelo, Brtsh Knights and a super special, debut live show from Chicago rapper, Sasha Go Hard. Critical Sound and Manchester collective Hit & Run join the array with the likes of Kasra, Dub Phizix, Enei, Chimpo, Trigga and Acre all partaking in the Birthday proceedings.
FRIDAY 18 OCTOBER
doors: 10pm – 6am
price: £14-£19 advance/£20 door/£14 student and fabricfirst; £10 after 3am
ROOM ONE:
ONEMAN – 'SOLITAIRE VOL. 2' LAUNCH PARTY…
Oneman, J Rocc, Lil Silva, Sasha Go Hard (Live), Brtsh Knights, Martelo
ROOM TWO:
CRITICAL SOUND…
Kasra, Dubphizix & Strategy, Enei, Ed Rush, Foreign Concept, Ivy Lab, Emperor, Sam Binga
MCs: GQ, DRS
ROOM THREE:
HIT & RUN…
Chimpo & Trigga, Acre B2B Leadbelly, Rich Reason, Werkha, Sivey, DVWLX
MCs: Strategy, T Man, Sparks
—
SATURDAY 19 – MONDAY 21 OCTOBER
doors: 11pm Saturday – 5am Monday
price:
£25 advance weekend ticket, £27 door, £20 student and fabricfirst (price includes wristband for re-entry)
£20 Sunday tickets (valid from Sun 10am)/£15 student & fabricfirst members
ROOMS TBA:
Craig Richards
Terry Francis
Ricardo Villalobos
Clockwork
Cosmin TRG
Derren Smart
DJ Qu
Juergen Junker
Marcel Dettmann (5 Hour Set)
No Regular Play (Live)
PBR Streetgang
Shed (Live)
Skream (Disco Set)
Sonja Moonear
Soul Clap
Tama Sumo
Wolf & Lamb
Zip