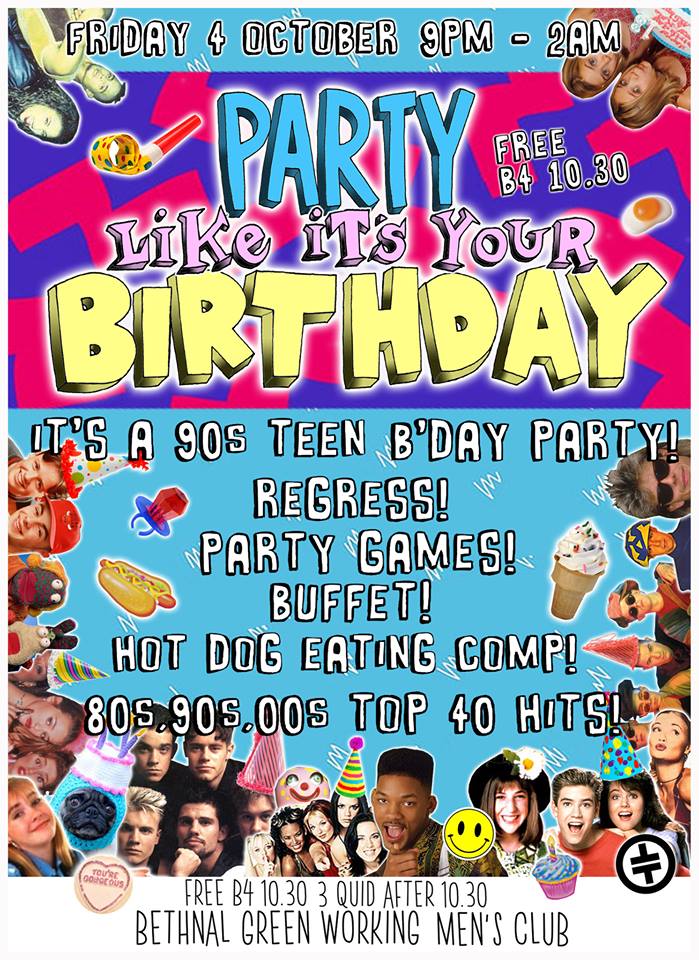 Party Like It's Your Birthday!
Join the conga line for a tasteless, tacky celebration whether it's your birthday or not!
Don your 90s birthday best, regress and party like your teenage self!
The Games Nite Crew are on hand with their very own funhouse of seriously stupid party games!
Limbo! Musical Statues! Twister!
Mum's laid on a spread.
Get your grubby mitts on some treats from the buffet! There's a cheese and pineapple hedgehog! (while stocks last!)
Mental Birthday decor! Balloons, bubbles and glitter!
Vodka jelly shots! Alcopops! Free Birthday Cake!
Surprise performers!
Uncle Phil's on the mobile disco
He'll be 'boom shakin' the room' with a mixtape full of
80s, 90s, 00s top 40 hits, novelty nonsense, tv themes, Uk garage, and chart topping dance!
Now that's what I call music!
Expect a mixtape full of all the best hip hops, cheesy pop and 90s party bops including:
2 unlimited, Ace of Base, Jazzy Jeff and the Fresh Prince, Sash, The Vengaboys, MC Hammer, Kim Wild, Shaggy, Sweet Femal Attitude, Oxide and Nuetrino, Sir Mix-a-lot, Snap, Salt'n'Pepper, Haddaway
Dead or Alive, R.Kelly, DJ Jean, Backstreet Boys, Take That, Rednex, Five, Artful Dodger…
Dance 'til you puke!
Dress up to mess up!
Wear your best party dress, borrow your mum's shoes. Dress like your fave from Saved by the bell. Think bowties + braces, hammer pants, crop tops + short shorts, scrunchies + swatch watches, mood rings Kangol hats
Free before 10.30pm
£3 after 10.30pm
If it's your birthday please get in touch for guestlist:
Email [email protected] with 'Party Like it's your Birthday' as the subject.