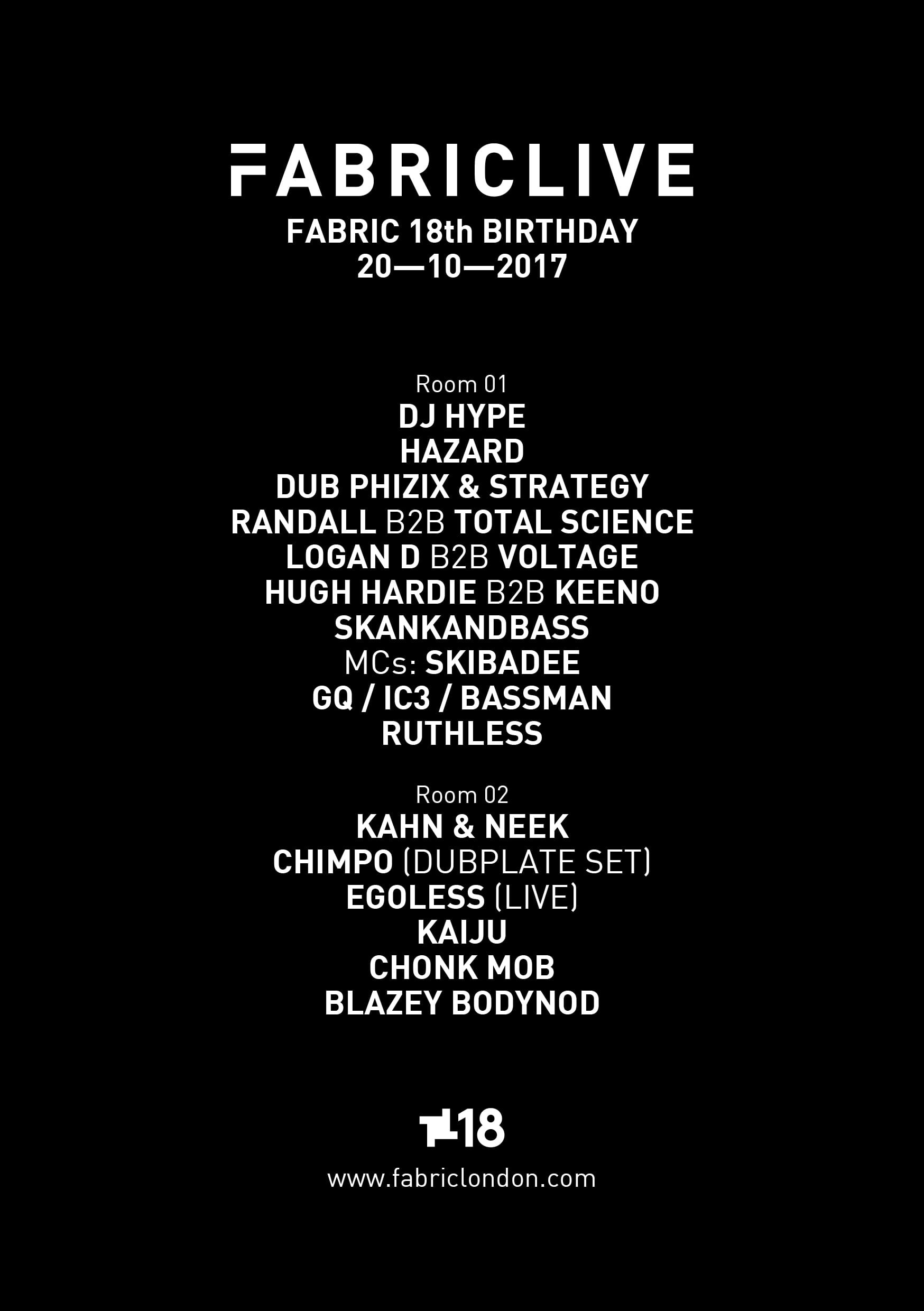 fabric 18th Birthday Update: Announcing the line for FABRICLIVE
Today we're happy to present the line-up for the FABRICLIVE leg of our 18th Birthday weekend leaning in with the return of Hype and Hazard. After what was a 15 year residency the two main figures of Playaz, Hype and Hazard return to RM1 for the first time since our reopening to deliver what will be a lesson in how to roll out the energy in DNB. Punchy rollers and sharp lines then come from two of the scene's funniest but also more importantly, most musically on point duos Dub Phizix & Strategy.
There are also three massive back to backs in store from DNB's most lauded. First up, original junglist Randall goes head to head with fellow originators of the sound Total Science. Then, two of Low Down Deep's leading selectors Logan D and Voltage prepare to go back to back harnessing the full weight of the collective's raw-edged and high powered aesthetic. The final B2B union comes from Hospital Records' Hugh Hardie and Med School's Keeno where we can expect the pair's soul inflicted and liquid tastes to riff off each other.
Room Two covers the dub weighted spectrum of sound as Bandulu Record's Kahn & Neek head up Room Two to take full advantage our Pioneer Pro Audio system's sub capabilities. Chimpo will be in the house too, with an exclusive 100% dubplate set where he's primed to drop some more than exclusive weapons. Deep Medi's newest signee Egoless will be performing live too, showcasing his heady and heavy dubwise constructs. Another of Deep Medi's lead names Kaiju will be in the place with his massive sound system ready collection. Plus Chonk Mob, a newly formed collective of Samba, Sepia, Chokez, Koma and Rygby land for the first time in Farringdon. They say they are simply "5 friends who get drunk, post memes in a group chat and make music" but we know in all earnest, they will be coming loaded with a bag full of weighty drops.
FABRICLIVE residents Skankandbass and Blazey Bodynod will also be in the house after nearly a year bedding in with their reliably killer selections.
www.fabriclondon.com