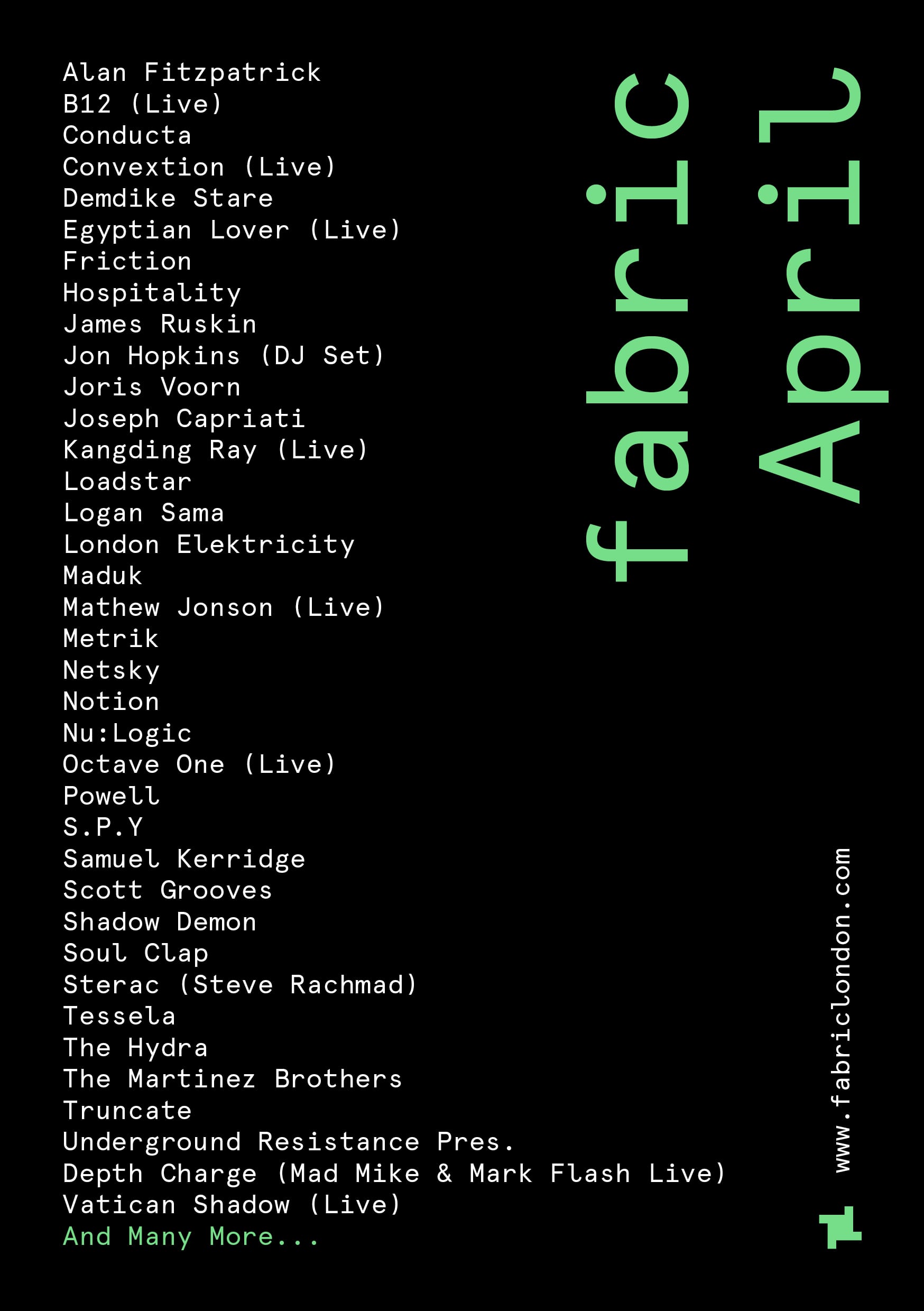 fabric announces line ups for April 2017
You get to this point in the year when, despite storm Doris' best efforts, the edge comes off the cold and there's a touch of spring in the air. It's a time when looking ahead brings about warm visions of lighter days and all around better times as we move out of the dark.

We've been looking forward to what we're planning for the coming months, too. We've announced most of our line ups in April over the last few weeks so as we finish off this last month of winter it felt like the right time to present them here.

Leading into the first bank holiday of the year, one of London's most prolific techno sessions comes to Farringdon with The Hydra Presents Blueprint in the house on Thursday 13th. Hospitality then carry on from their Tobacco Dock day session on the Friday with an on point range of talent from the iconic d'n'b label. Saturday night sees Crew Love's principal members Soul Clap and electro forefather Egyptian Lover both come to EC1 while the Sunday leg of the weekend will be revealed in due course.

Elsewhere in the month Fridays welcome Jon Hopkins for his Farringdon debut where he's curated the line up in Room One for fabric Presents while Demdike Stare crush jungle and four four together in Room Two on the 7th. Finally, FABRICLIVE return for their second date of the month on the 28th inviting Netsky to share the deep shades of his d'n'b collection.

To complete the month's events, for the rest of Saturdays we see a cast of our absolute favourite players return with The Martinez Brothers, Mathew Jonson, Joseph Capriati and Joris Voorn all set to spin.
SPECIAL OPENING
THURSDAY 13 APRIL
THE HYDRA PRESENTS BLUEPRINT…
ROOMS TBA:
James Ruskin, Underground Resistance Pres. Depth Charge (Mad Mike & Mark Flash Live), Octave One (Live), Convextion (Live), Tessela, Truncate, Samuel Kerridge, B12 (Live)

FRIDAYS

07 APRIL
FABRIC PRESENTS…
ROOM ONE:
JON HOPKINS PRESENTS…
Jon Hopkins, Kangding Ray (Live), Volte-Face
ROOM TWO:
Demdike Stare, Vatican Shadow (Live), Powell
14 APRIL
FABRICLIVE PRESENTS…
ROOM ONE:
HOSPITALITY IN THE DOCK AFTERPARTY…
London Elektricity, Metrik, S.P.Y, Nu:Logic, Maduk, Makoto, Urban Dawn
MCs: Dynamite, Wrec, Fava
ROOM TWO:
THE BLAST…
Shadow Demon Coalition feat: Trigga, Bassman & Voltage, Sir Spyro, Marcus Nasty, Nervous Horizon (Lokane, TSVI & Wallwork), Grandmixxer, The Blast DJs
MC: Koast
21 APRIL
ROOM ONE:
Artists TBA
ROOM TWO:
Artists TBA

28 APRIL
FABRICLIVE
ROOM ONE:
Netsky, Friction, Loadstar, Tantrum Desire, Levela, Conduct, Skankandbass
MCs: Script, Jakes, Linguistics
ROOM TWO:
Logan Sama, Conducta, Notion, Skepsis, Darkzy, Blazey Bodynod

SATURDAYS
01 APRIL
Craig Richards, Joris Voorn, Austen/Scott
ROOM TWO:
WE ARE THE BRAVE…
Alan Fitzpatrick, Boxia, Vertical Drop (Live)

08 APRIL
ROOM ONE:
Craig Richards, The Martinez Brothers, Bas Ibellini
ROOM TWO:
Terry Francis, Sterac (Steve Rachmad), Matrixxman
15 APRIL
ROOM ONE:
Soul Clap, Scott Grooves, No Regular Play (Live)
ROOM TWO:
Terry Francis, Egyptian Lover (Live), More Artists TBA
22 APRIL
ROOM ONE:
Craig Richards, Joseph Capriati
ROOM TWO:
KNEADED PAINS…
Terry Francis, Dense & Pika, Yotam Avni

29 APRIL
ROOM ONE:
Craig Richards, Mathew Jonson (Live), Special Guest TBA
ROOM TWO:
Terry Francis, More Artists TBA

Tickets available at www.fabriclondon.com