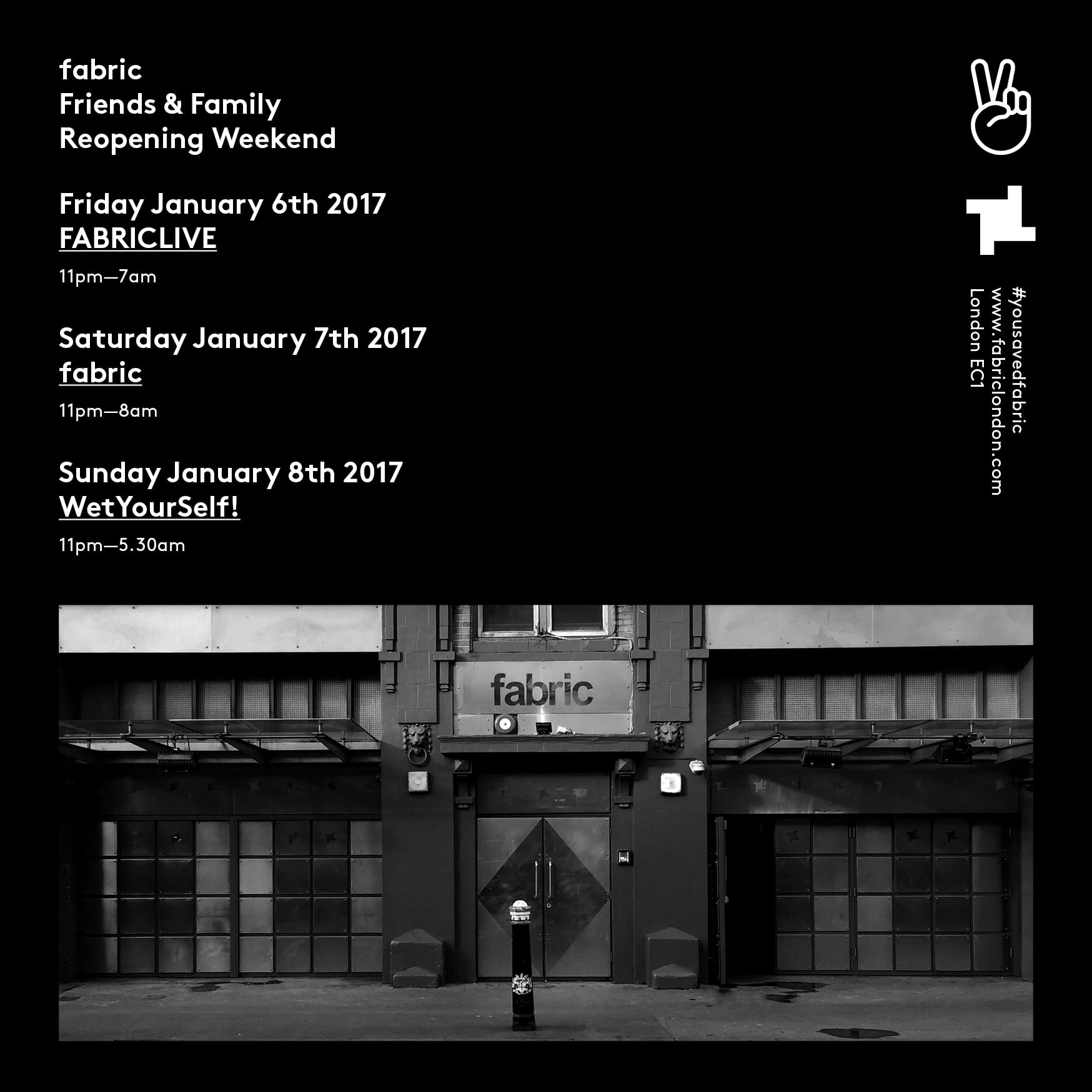 fabric Friends & Family Reopening Weekend Date Announced
It's pretty much impossible for us to put a measure on just how much gratitude we are feeling right now to be able to announce our reopening proper. We've said it before and we will keep on saying it – you are all to thank for this. The credit for this is shared among hundreds of thousands of petition signers, letter writers, donors, T Shirt bearers, artists, party promoters and more than we can ever recount. A community of people from the world over who came together and continued the principal of unity that was central to the foundation of our culture – to save us.
Now it's about what's ahead of us. We're looking ahead to filling our disco with our family of artists and club heads alike, with our sound systems including our new Pioneer Pro Audio Room Two set up pushing out mesmeric high level sound. This is what it has always been about.
And so, today we announce a weekend of events with family very much at its core to celebrate our reopening and opportunity to press restart as a nightclub. Expect the line ups to be populated with a host of unannounced special guests from our history and our future. Friday will be studded with talent from the FABRICLIVE bass weighted facet of our programming while Saturday will have Craig Richards and Terry Francis central to the proceedings. Finally, rounding out the weekend, on Sunday WetYourSelf! will be returning to continue their weekly residency with Jacob Husley and Peter Pixzel joining guests.
We hope you can join us for what will be a cherished moment in our history.
FABRIC FRIENDS & FAMILY REOPENING WEEKEND
JANUARY 6TH-9TH 2017
FRIDAY 6TH JANUARY
11pm – 7am
FABRICLIVE FRIENDS & FAMILY
Unannounced Guests On The Night
SATURDAY 7TH JANUARY
11pm – 8am
FABRIC FRIENDS & FAMILY
Craig Richards
Terry Francis
Plus Unannounced Guests On The Night
SUNDAY 8TH JANUARY
11pm – 5.30am
WETYOURSELF!
Jacob Husley
Peter Pixzel
Plus Guests TBA…
Pricing and tickets now available at www.fabriclondon.com